Paddle Board in Newport Beach
There's no doubt about it, stand up paddle boarding continues to grow in popularity everywhere. Paddleboarding is considered one of the fasted growing sports, and it looks as though that trend is continuing. There are so many things I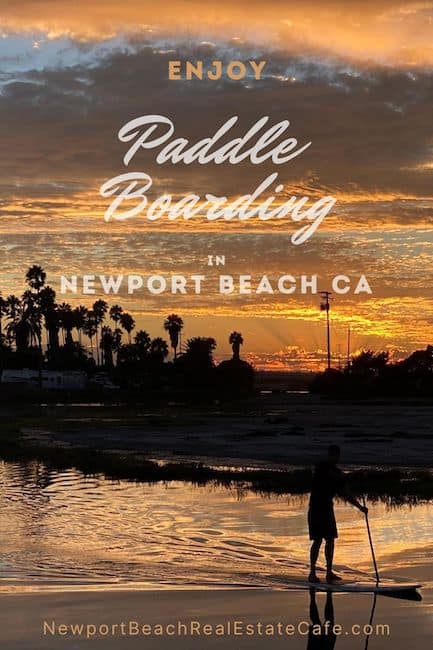 love about this sport, and it is not unusual to see people in all age groups trying it out! You might see a parent with their young child on the board enjoying the outdoors and the water. Or you may see someone in their 60's and 70's that are enjoying the beautiful water.
Stand up paddle boarding or SUP is an enjoyable way to enjoy the water. They are popular in the ocean and on lakes as paddleboarding offers the benefit of a full-body workout. Because you stand on the board at full height on your board, it provides you with the unique vantage of looking down into the water and looking ahead to the horizon.
Paddleboarding is a great exercise for all! Paddleboarding works on your balance when you are on the board. And it is a dynamic experience as there may be waves or boat wakes depending on where you decide to paddleboard. If it is windy, then you might get a better work out. Be sure to know how to swim in the event you fall in, and have an approved flotation device.
Paddleboarding is a great experience and great exercise. You can control the speed of the board and you are "one" with the water.
Where to Rent a Paddle Board in Newport Beach?
Balboa Fun Tours
2000 W, Balboa Boulevard, Newport Beach CA 92663
949-484-4600
Balboa Kayaks and Paddleboards
300 Dover Dr, Newport Beach, CA 92660
(949) 466-3721
Newport Aquatics Center
1 Whitecliffs Dr, Newport Beach, CA 92660
(949) 646-7725
Newport Paddle Company
2001 W Balboa Blvd, Newport Beach, CA 92663
(949) 873-5555
Paddle Board Newport Beach
1500 W Balboa Blvd #101, Newport Beach, CA 92663
(949) 396-4580
Pirate Coast Paddle Company
1131 Back Bay Dr, Newport Beach, CA 92660
(949) 278-0011
Where to Paddle Board
Newport Harbor in Newport Beach has many locations where it's fairly easy to launch a stand-up paddleboard or SUP. In most locations around Newport Beach, the parking is free. If you are unable to launch your paddleboard and park close by, you may need to launch and find parking elsewhere. Keep in mind that much of the parking is metered so be sure to come prepared with a credit card to pay. On summer days, parking on the Balboa Peninsula can be challenging as Newport Beach is a destination city.
Balboa Island
Balboa Island is a great place to launch a paddleboard. The streets are all named after semi-precious stones such as Opal, Amethyst Abalone, Crystal, Onyx, and Opal to name a few.
There are only two entrances to Balboa Island, one on Marine Avenue which is off Bayside Drive. The other way to access Balboa Island is the Balboa Island Ferry which has regular crossings between the Peninsula and the Island. In this area, the parking is mostly free with the exception of Marine Avenue. There are many streets and a beach to easily launch a paddleboard on the Island.
After paddleboarding, be sure to enjoy all the activities on Balboa Island's Marine Avenue. This area offers a mix of boutiques, galleries, candy shops, specialty shops, and restaurants for your shopping and dining needs.
Balboa Peninsula
The Balboa Peninsula has many locations where you can easily launch your SUP. On the Peninsula, there is some parking that is free, but if you are parking on Balboa Boulevard, all the parking is metered on the center median. Remember you are competing with the residents and other beach go-ers so it is important to plan your trip and arrive early. H Street, I Street, I Street, J Street, and K Street have good launch spots to enjoy the beautiful Newport Harbor. Keep in mind in the harbor, there will be small boat wakes as you are sharing the harbor with the boats, yachts, kayaks, and more.

Lido Isle
Another fabulous location to and launch your stand up paddleboard from is Lido Island in Newport Beach. Lido Island has small parks that are public where you can launch your paddleboard. It is usually easier to find a place to park on Lido Island than on Balboa Island or Balboa Peninsula. Be considerate of the residents and do not cross private property.
Lido Island is a highly sought after area of Newport Beach. Lido features residential homes located on the bayfront in Newport Beach. Many of these homes have slips or moorings for their yachts. Lido is located close to dining and shopping in Newport Beach as well as the sought after beaches of Newport Beach.
Upper Newport Bay
Upper Newport Bay is a great location to paddle board in Newport Beach and it is connected to Newport Harbor has good locations for launching a paddleboard. Additionally, it is a great area to explore the back bay and enjoy some nice paddling. One of the most ideal places to launch is North Star Beach that is near the Newport Aquatic Center. You can also launch from Newport Dunes and you will have to pay for parking.
Newport Beach Open Ocean
Newport Beach does have a variety of locations where a paddler can launch their board and one of those includes Blackies near the Newport Pier to paddle board in Newport Beach. If you are launching in the open ocean, you are a more advanced paddleboarder. The open ocean or surf area north of the Pier is referred to as Blackies.
It is not recommended to launch in heavy surf, and if you are not sure, then be sure to check with a lifeguard.
Paddleboarding with Pets
Perhaps you want to take your dog to enjoy the water with you when you paddle board in Newport Beach. Be sure your dog knows how to swim, and if not, then consider putting a lifejacket on the dog. You also may want to add a non-slip surface such as a stomp pad (you can find at a surfboard shop) which provides a non-skid surface and provides traction for the dog. It is a great opportunity to even improve your balance more while paddleboarding with your dog! This picture is of my Irish Setter Duffy enjoying a ride on the board.
Final Thoughts
There are several prerequisites for stand up paddling you will ensure that you have those in place first. Ensure all parties are water safe first and be sure to wear approved flotation devices. Other factors include bringing water and snacks. There are "tie-downs" on the board where you can bring bottled water in order to stay hydrated. You can also bring snacks in waterproof containers if you plan on staying on the water for some time! You can also find a waterproof pouch for your cell phone in the event you want to bring your phone and keys when you paddle board in Newport Beach. Hang it around your neck, and you will ready to go! Not a bad idea in the event you get too tired to make it back! You can find these waterproof pouches on Amazon. Happy paddling!!
About the Author
Top Newport Beach CA Realtor Sharon Paxson with Newport Beach Real Estate has written the article "Where to Paddle Board in Newport Beach CA". With experience since 2005 representing clients with their real estate transactions including home buying, home selling, and working with lease clients. We welcome the opportunity to share our knowledge and expertise and guide you through the home selling or buying process.
Photo credit J. Jacobson