Considering buying a new home, or are you a first-time buyer? Then please find a must-have checklist of items to mark off the list in the home buying process. Home buying can be a very exciting time but can cause a range of emotions. The more knowledge a home buyer has with the home buying process will allow a home buyer to be the most prepared. Knowledge is power, and if a buyer is aware of what can happen during the home buying process, having awareness can help to alleviate stress and to be prepared. The following is a home buying checklist for any home buyer.
Establish Budget
One of the very first items to consider is what a buyer can afford. Knowing what a mortgage payment and other costs help a buyer to save for down payment and closing costs
Meet with a lender and get pre-approved – establish what price that you can afford, and look at that price point. Nothing creates disappointment more quickly than looking out of your price range and then looking at what you CAN afford!
Hire a Realtor
Buyers will get lots of references for a Realtor including friends and family who may or may not practice real estate full time. It is important to interview agents and decide who is the best fit. Ask for buyer references and it is ok to ask to speak to a previous client.
Establish the mode of communication, texting seems to be the most popular, and many agents and buyers prefer it. It is nice because everything is in writing. Email or phone is another option as well. But the buyer should communicate with the agent the preferred method of communication.
Select a Realtor for your first time home purchase!
Click To Tweet
Decide on an Area
A buyer should consider the city and area they want to relocate to. Often times, buyers like to live near family and/or friends. Schools are a top consideration even if the buyer does not have children because re-selling the home at a future date keeps the buyer pool larger. Other considerations are the lifestyle of the area, is there shops and restaurants nearby, lifestyle and more.
Don't Make Any Large Purchases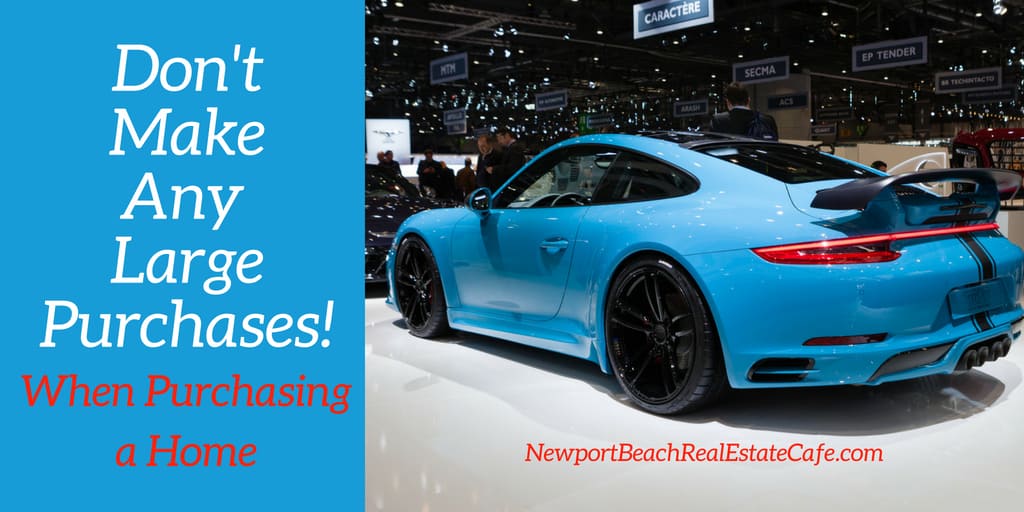 Trust me . . . I want one too!!! However, this is imperative, and it happens ALL THE TIME! After a buyer has met with a lender and the debt to income ratio has been established, if a buyer were to purchase a new vehicle, then this could change and the buyer may not qualify for the loan. Additionally, large purchases can also impact the credit when there are other inquiries on the credit report. Just wait until the home is closed, and then make your large purchase!
Utilize Home Shopping Etiquette
It is a very exciting time for a home buyer to begin their home search, and there are some considerations that need to be taken into account, and to help the buyer understand the home buying process. There is home shopping etiquette which should be followed when looking at homes. Some of these items include not calling other Realtors when you have already hired one, don't let children run through a home or pick up a home owner's possessions, not bringing your lunch into someone else's home and more.
Utilize home buying etiquette when shopping for a home!
Click To Tweet
Make an Offer
The buyer has found the ONE! The home they will make an offer on. The Realtor will guide the buyer through the purchase contract, and some important topics to consider are the purchase price, the earnest money deposit, length of escrow, type of financing a home buyer will obtain and more. The other considerations include the contingencies in a purchase agreement which can include the buyer obtaining financing, appraisal contingency, approval of HOA documents and disclosures and more. A buyer needs to perform all of their due diligence during the contingency period to ensure they are comfortable with proceeding with the purchase.
Get a Home Inspection
One other contingency is a home inspection contingency. A home inspection is a buyer expense and it is money well spent. A home inspector will inspect all the major systems of the home and document their findings. A home inspector will look at the HVAC, electrical and plumbing systems. A home inspection can trigger other inspections such as a roof inspection in the event there is water staining or signs of a leak. If there are signs of water intrusion, this can lead to a mold inspection which can be costly. Often times, buyers do not want to deal with mold, and the presence of mold can complicate the transaction including the ability to obtain a loan.
If a home is vacant, and the utilities are turned off, it is imperative to have the utilities turned on before and this can be coordinated with the listing agent.
Moving Resources
After all the contingencies have been removed, there is a close of escrow date which is established in the purchase agreement. With the closing date approaching it is wise to plan the move. Whether or not a buyer will be doing a DIY move and hiring a professional, it is important to make these preparations in advance. Cross country moves can require additional planning and be scheduling professional movers.
Turn on Utilities
A few days before the close of escrow, it is important to obtain a list of all the utilities in the area including electric, gas, water/trash, internet and more. Most of these requests can be completed online, but being prepared is key and can streamline the process. It is important to make sure the utilities are not turned off. If they are, then perhaps the garage remote will need to be re-programmed, and automatic sprinklers may also need to be set up.
Closing Day
On the date of close of escrow, the buyer has already deposited their money into escrow for the down payment, the loan will fund from the lender and then the title company will release it to record. In some areas, this can happen on the same day, other areas, the loan will fund and the property records the following day. Possession of property depends on what was agreed to in the purchase agreement. If the seller has asked for the close of escrow plus 3 days to move out, then the buyer will take possession of the property on the date and time agreed to.
Final Thoughts
Buying a home is a very exciting time and there are crucial steps in order to be successful with the purchase. Hiring a Realtor and working with that person is imperative throughout the process. Asking questions and understanding the home buying process will help relieve stress and anxiety during the home buying process. Be sure not to make any large purchases during the home buying process.
Find Other Valuable Resources for "10 Steps to Buying Your Home | Home Buying Checklist" from Real Estate Professionals Across the Country. Please check out the articles below, and please share across Social Media if you liked the articles.
17 Easy Steps for Follow for Buying a Home via Petra Norris, Lakeland, FL
Buying Etiquette 101 via Michelle Gibson, Wellington Home Team
14 Steps for Purchasing a Home via Kyle Hiscock, Rochester Real Estate
5 Things to Do Before Buying a Home via Paul Sian, Greater Cincinnati, OH and Northern KY
Home Buying Costs via Bill Gassett, Maximum Real Estate Exposure
Facts in Real Estate Home Buying via Lynn Pineda, Imagine Your House
About the Author
The above real estate article "10 Steps to Buying Your Home | Home Buying Checklist" was written by Sharon Paxson of Newport Beach Real Estate. With combined experience since 2005 with representing sellers, buyers, landlords, and tenants, we welcome the opportunity to share our knowledge and expertise and guide you through your real estate transaction.
We service the following Orange County CA areas: Corona del Mar, Huntington Beach, Laguna Beach, Newport Beach, Newport Coast, Orange, Santa Ana, Sunset Beach, Tustin and more! If you are considering selling your home, we welcome the opportunity to work with you and list your home with a top Newport Beach CA Realtor.