The bedroom is one of the most important rooms in a home. You will want to take the time to turn your bedroom into a tranquil oasis. If you take into consideration the amount of time you spend in the bedroom whether sleeping or trying to get to sleep, your bedroom should be the pinnacle of rest and relaxation. There are ways to design your home with tranquility and peace in mind. In reality, a bedroom is a place where we spend time catching up on a nap as well. There are some tips for making your home luxurious on a budget. Let's review some ways to make your bedroom your own personal sanctuary.
Paint the Walls a Neutral Palette
If you are remodeling your home, you want to consider the paint color and how the rooms go together. Try to consider painting the home a neutral palette to make the home inviting. Especially in the bedroom, you will want to avoid painting the walls with a bold or dark color. You can accent the neutral palette with furnishings, bedding, and linens.
You want to avoid being too trendy, especially in the bedroom. Trendy homes are generally not appealing to buyers and could impede your selling efforts. This is an important consideration if you are if you planning on selling the home in the future.
Window Coverings
When you are redesigning your bedroom, another area to consider is the window coverings. You will have to decide what type of window covers to select. Depending upon your view, you may want to have window coverings that you can see through such as solar shades. Solar shades do keep the heat out of the home. Other considerations for window coverings include cellular shades. They are very popular now and are very durable. For some, blackout shades are a must. If you cannot sleep with any light coming in at all, then consider adding the blackout shades. You can get these in almost any style of window coverings.
Flooring in the Bedroom
Many homeowners prefer carpet in the bedroom and quite frankly it is all personal preference. You may have hard surfaces in the rest of the home, but the bedroom is carpeted.
Ensure it is clean and vacuumed regularly. This will keep the room organized and clean. If you have hardwood floors or laminate flooring, this is an upgrade to the home. Some feel that hard surfaces are colder, so if you have hardwood floors, then consider adding a throw rug. This will help to keep the room interesting and add warmth to the room.
Consider the Outdoor Space
If your bedroom opens onto a patio or a balcony, then be sure to address that area as well. On a balcony that overlooks your backyard or a water view, consider adding a small bistro table and chairs. Be sure to tastefully accessorize your outdoor space. Adding potted plants in lovely pots will add to the ambiance. If the view from your bedroom is to your backyard or opens to your backyard, be sure that area is maintained as well. You may want to consider adding a water feature to create a soothing sound. Even if your backyard or patio is small, there are some excellent ways to create a stunning garden that is appealing and creates a soothing environment.
Consider Your Mattress
When you create a relaxing retreat with your bedroom, another extremely important factor is the mattress. Is your mattress old and sagging? Or perhaps, it is not the right mattress for your body at all. If so, that will not promote good body alignment and you may wake up feeling sore with your back out of alignment. The shoulders and hips should be in alignment to promote proper sleeping posture. If the mattress you are utilizing does not provide proper support for your body by facilitating poor sleeping posture, then it is not the right mattress for you.
A mattress must meet your personal sleeping preferences. Some people prefer a firmer mattress and others like a softer mattress. Without the right mattress, your comfort during sleep will be compromised and you can wake up feeling sore and feel tired. All mattresses will eventually wear out and the support they offer declines. You should consider replacing your mattress every 8 to 10 years. Many mattress companies now offer returns if the mattress does not work out for you! So there are some excellent options in finding the correct mattress!
Consider Some New Bed Linens
Bed linens can make a huge difference with your sleeping. If you buy linens that are not 100% organic cotton, they may not breathe and this can impact your body temperature. Not all linens are the same, so be sure to research them. You also want to purchase linens that launder well and do not end up all wrinkled when taken out of the dryer. Consider adding a new bedding set that is soothing and you will enjoy it when you walk in the room. Add some throw pillows to create accent colors.
Declutter the Nightstands and Bedroom Furnishings
You want to make sure that you declutter the nightstands and bedroom furniture. You want the bedroom to be as aesthetically pleasing as possible. Consider some family photos on the nightstands to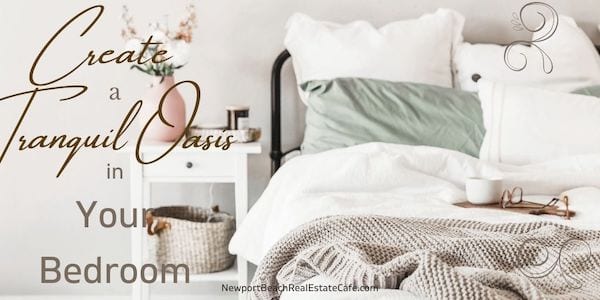 make the room inviting. You may only need the book that you are reading. Many of us do utilize tablets or iPad for reading, so you may want to have that nearby as well. If you keep your cell phone by your nightstand, then be sure to hide any wires so that it looks clean and organized.
Creating a Sitting Area
If you have the physical space in the room, create a sitting area. This will help to create a tranquil oasis. You can measure the room and calculate the square footage to help you to determine if you have sufficient space. Consider placing it near a window so that you can enjoy your view. If you are residing in a waterfront home, then perhaps you will have a water view. Add a comfortable chair or lounge and add throw pillows and blankets so that you can enjoy the day if you are reading a book or working on your computer. You want the room to feel inviting. Having a sitting place next to a balcony or a window will create an inviting feel.
How To Turn Your Bedroom into a Tranquil Oasis
Click To Tweet
Consider the Lighting
Another way to turn your bedroom into a tranquil oasis is lighting. If you have recessed lighting, you may want to upgrade the lightbulbs to LED lightbulbs. LED bulbs do utilize less energy which ultimately will make your home more energy-efficient. You can also put this type of lighting on a dimmer, so it is not a bright white when you walk in the room. You want the room to be inviting. During the daytime, however, keep the blinds open and let the natural light in. As the sun goes does, close the blinds and dim the lights in the room. If the bedroom does not have recessed lighting, then you may need to utilize lamps. Consider either a floor lamp or a lamp that sits on the
Make Your Bed
Make your bed every single day will help to create a tranquil oasis consistently. This will help you with not wanting to get back into it. This is a sign of productivity, and then your room or organized and ready when you are ready to retreat again in the evening. Be sure to launder your linens at least once a week.
Final Thoughts
You want to enjoy your bedroom as a tranquil oasis for your own peace of mind. It is for you to sleep so you can wake up refreshed every day and then be productive. You want your bedroom to be aesthetically pleasing each and every time you walk into it. Overall, all of the items listed above including the painting and updating the window coverings will boost your home value. Anytime you do any improvements to a home, you always want to keep in mind how those improvements will impact your home value. Fresh paint, flooring, and window coverings will always add value. Remember all of these items that you are doing for you to enjoy your home now, but will also create an excellent first impression if you are selling in the future.
About the Author
The above real estate article "How To Turn Your Bedroom into a Tranquil Oasis" was written by Sharon Paxson a top Newport Beach CA Realtor. Sharon has experience representing clients with their residential real estate needs in Coastal Orange County and the Newport Beach area since 2005. Reach out to her anytime to get your most pressing real estate questions answered.