First time home buyers may be considering buying a fixer-upper home for sale. It is often thought that a fixer-upper will provide a shortcut to owning a home for new home buyers. It is also a way for move-up buyers to purchase a larger home in a more desirable neighborhood. Because there is a relatively low inventory of homes right now, buyers are considering all homes including fixer-uppers. There are five tips to avoid overspending on a fixer-upper.
Understanding the Definition of a Fixer-Upper
Fixer-uppers are single-family homes that are in need of updates or renovations. There are many factors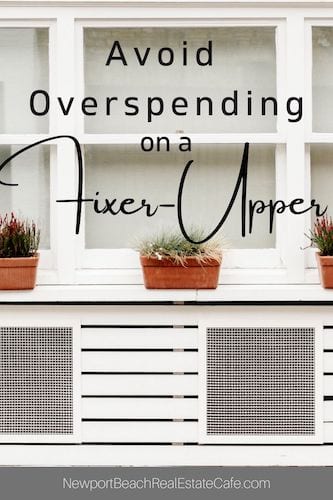 to consider when purchasing a fixer-upper so that you don't suffer disastrous financial losses. In general, fixer-uppers sell for less than similar homes that are in good condition. Depending on the extent of fixing the home needs, it may not be a good investment.
Before you begin your home search for a fixer-upper, keep in mind that home renovations are not always easy. What you may have seen on the home improvement shows may be much more involved. You need to understand what you will be in for with the scope of work and the financial implications. Home renovation projects may seem simple, however, they can become complicated pretty quickly. Once the demolition begins on the property, you may find issues that need to be addressed.
These complications cost money and take time. Time is an essential consideration especially when it will add to your monthly carrying costs.
Get a Home Inspection
One of the necessary steps is to have a home inspection before you close escrow on an investment property. A general home inspection is a non-invasive, visual examination of the accessible areas of a property. Keep in mind that a home inspection may trigger other inspections such as a sewer inspection or a roof inspection. Home inspectors will look at the systems of the home including the HVAC, plumbing, electrical, and any appliances that are staying with the home. If an inspector finds staining in the attic from a potential roof leak, they will call that out as well. It is imperative that an investor have a home inspection on the potential property they are considering.
Consider Your Budget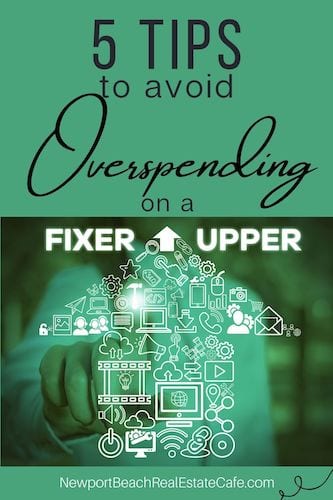 Before you even begin your home search, you will need to know how much you can afford. If you are getting a loan on the property, you will need to determine how much you can afford. If the home is a fixer-upper, the home will need to be habitable in order to get a loan on it. If the home is not habitable, lenders will not loan on the property. Then the buyer will need If not, then the purchase will need to be cash.
You will want to know the recent comparable sales of homes in the immediate neighborhood to establish the value of a home that is a fixer-upper. Plan ahead, know the price of the home, and the amount it is going to take to get it into good condition.
Cost of the Renovations
If you plan on doing the renovations yourself and have experience doing so, that is ideal. However, most home buyers and investors are not General Contractors and lack experience with home building. There are mistakes to avoid when flipping a home. If you are not going to DIY, then be sure to bring in a reputable contractor to help to give you an idea of what the costs are going to be to renovate the home. It is just a cosmetic remodel, it may be fairly easy to determine how much the costs are going to be. Depending on the finish of the items you select, that will definitely influence the price per square foot of your remodel.
You will always want to pad your budget. There are always unexpected surprises that show up when you are remodeling a home.
5 Tips to Avoid Overspending on a Fixer-Upper
Click To Tweet
Carrying Costs
Real estate is considered an asset, however, it does have liabilities that a homeowner or investor will have to pay on a monthly basis. Carrying costs can reduce the return on investment. An investor needs to factor in the cost of the carrying costs before they ever purchase a property. The carrying costs do vary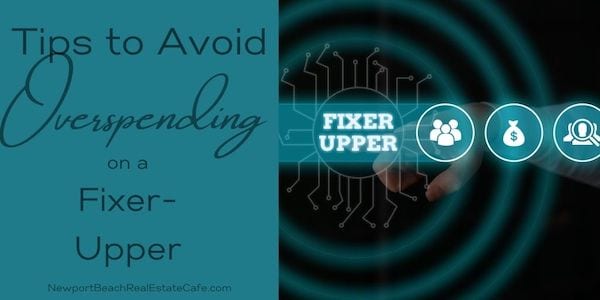 and depend upon whether the investor is doing a short term flip or investing in a property and utilize it as a long term rental.
Carrying costs are considered recurring expenses that are paid for by the investor. For example, these costs would include the amount of the mortgage payment, insurance, taxes that do need to be paid whether the property is occupied or not. Factors that affect the carrying costs include the amount of the renovation an investor is planning on completing and the type of loan they are getting. Construction loans generally have a higher interest rate. Any investor needs to calculate these costs before making an offer on a property.
Final Thoughts
Investing in fixer-uppers is not for everyone. You want to reimagine how the property can be transformed. You don't want to overbuild for the neighborhood, however, updating a home and ensuring it is done properly should yield a return on your investment.
About the Author
The above real estate article "Facts to Consider When Buying a Fixer-Upper" was written by Sharon Paxson of Newport Beach Real Estate. Having experience representing buyers, sellers, and landlords with their real estate transactions since 2005, we welcome the opportunity to share our expertise and guide you through the home buying or selling process.
We work in the following coastal Orange County CA areas including Corona del Mar, Huntington Beach, Newport Beach, Newport Coast, and more! If you are considering selling your home, we welcome the opportunity to work with you and list your home with a top Newport Beach CA Realtor.