Did you know that some improvements could actually lower the value of your home instead of raising it? Well, we all do improvements to add value to our homes. In fact, improvements are usually the first thing most people make before selling their homes. More often than not, homeowners get too ambitious and move forward with improvements without actually considering whether they will add value to the home or not.
For instance, you may think by adding cool wallpapers to all the rooms, you will make the house sell faster. This couldn't be further from the truth. Wallpaper has been, and will always be a personal choice. Whenever you make your home too personalized, it will be twice as hard to sell. Don't rely on the belief that all buyers will fall in love with your choice of prints and patterns. The odds of finding a buyer who will actually love your exact style are slim to none.
In this article, we talk about ten home improvements that could actually work against you when trying to sell your home.
Trendy Wall Colors
While a fresh coat of paint is often one of the best ways to increase your home's appeal, that won't happen if the colors are outrageous. If a buyer comes into your home and starts thinking about how they need to repaint all the rooms, you can bet your only dollar that they'll offer you less money to cover their costs. It is always advisable to use neutral colors when painting your home if you want to get the best return on your investment.
Textured Walls and Ceiling
If you thought to texture your ceiling and walls could actually add value to your home, you may want to reconsider that idea. Many people are using Venetian plaster and texture the walls. Textured walls are not as desirable as they once were.
Many older homes have popcorn ceilings which may have asbestos in them, and they can be difficult to remove. Smooth ceilings are more desirable when ceiling a home, and if you have popcorn ceilings, hire a professional to have them removed.
Selecting the Wrong Flooring
Flooring can make a huge difference in a home and there are so many options. Although, many prefer carpet in the bedrooms, having carpeting throughout the entire house may be overkill. Carpeting requires maintenance, having it professionally cleaned on a regular basis, and most buyers will rip it all out when buying a home. Consider hardwood flooring, engineered hardwood, or even tile which looks like hardwood. There are many durable options that will be appealing to buyers versus carpeting the entire home!
Countertops Which does not Appeal to the Masses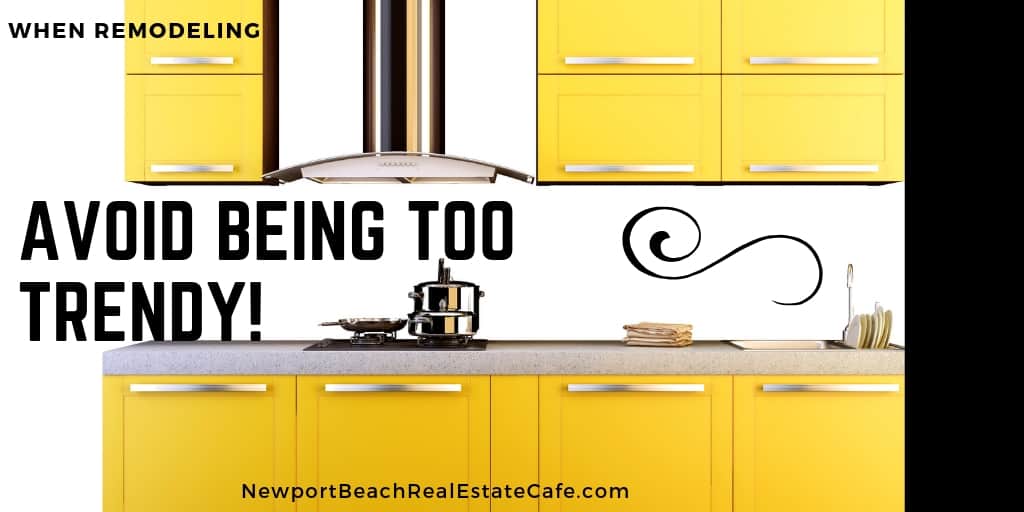 Neutral countertops will generally sell, trendy or peculiar countertops ones, not so much.
Select countertops that are current but not extreme. Many homeowners are using quartz as it is durable. Granite is still popular, however, there are other options. Some are even utilizing concrete countertops which are lovely. You will want to select countertops which are not too way out there and may turn off buyers.
Trendy Kitchen Remodel
Most buyers will appreciate a kitchen that has been updated and remodeled. Be sure to pick the style which is in alignment the style of the home. If your home is a ranch style, then you will want to avoid updating the kitchen in a contemporary style. Select beautiful countertops such as quartz and there are some products which are very durable.
If you are selling a home that is moderately priced with a kitchen that has been completely overdone, you are not going to get a return on your investment. You may end up losing the money that you invested in remodeling the kitchen!
Clutter Taking Up Space in the Bathroom
It goes without saying that bathroom renovations are a great way to increase the value of your home. But again, an average buyer will not really be interested in paying top dollar for additions which are unnecessary and do not necessarily fit the home. If you are deciding between a spa tub or a large shower, consider a shower as buyers may prefer a shower. However, you might consider a regular bathtub as parents with young children might like to utilize a tub.
Consider remodeling your bathroom in neutral tones and avoid being too trendy
Combining Two Bedrooms Into One
If your kids are all grown and no longer live with you, you might want to have a larger bedroom by turning two bedrooms into one. But buyers may not agree and will want to have a home with more bedrooms. Most of them may be looking for a place to raise their kids, and will ideally be looking for a home with extra bedrooms.
Other considerations include the home may not have as much value with fewer bedrooms and this may be reflected in the appraisal and overall sales price.
Having a Dedicated Sunroom
Yes, yes, a dedicated sunroom is definitely a favorable addition in any home, right? Who wouldn't want to enjoy the outdoors in the confines of their home? But while a sunroom is an interesting addition, it may not appeal to average buyers who may not use the sunroom very much.
Another consideration, sunrooms do not generally add living square footage. So when you are adding a sunroom which has 300 square feet and you will enjoy spending time enjoying indoor/outdoor living, you may not get a return on your investment. When the time comes for you to sell your house, that sunroom will not add livable square feet, and while it may have some value, it is not comparable to having the same square footage within the physical structure of your home.
Converting a Garage
You could convert your garage into a gym by adding rubber mats, weights, and even a treadmill. Or you might decide to add extra living space with a couch and flat-screen TV. Keep in mind buyers generally will want a garage to store the automobiles and their tools. Organize the garage and keep it in its current configuration so it presents well. Converting a garage to any other space than to store automobiles will NOT be additional living space square footage. And remember if you create living space in the garage, the original HVAC system on the house will not be routed to the garage.
Garage conversions are rarely legal, and most buyers will want to have a garage to park their vehicles in and store their personal belongings. And this is another consideration, an appraiser will not consider a converted garage as living square footage.
Luxury Landscaping with Hardscape
Adding hardscape and exterior landscaping can be expensive and be sure you are not overspending on exterior landscaping as you may not recoup your investment. Everyone appreciates a home with exceptional curb appeal. Everyone has different tastes, and many people subscribe to the less is more idea when it comes to landscaping.
Boost the curb appeal of your home, especially if you are listing it for sale. Your house has one opportunity to make a good first impression both in the photos and in person!
Takeaway
There you have it. The ten home improvements that may actually thwart your home selling efforts. So before you shell out tons of cash to do home improvements, have the end buyer in mind.
Find Other Valuable Resources for "10 Improvements That May Impede Your Home Selling Efforts" from Real Estate Professionals Across the Country. Please check out the articles below, and please share across Social Media if you liked the articles.
Another important consideration is preparing your home for sale. Michelle Gibson discusses the importance of not wasting your money on preparing your home to sell.
Jamohl DeWald shares an infographic about home improvement projects which add value and which projects do not add value.
Bill Gassett discusses home improvements that can lower value and lists other items including swimming pools and built-in fish aquariums.
Danny Margagliano discusses which home improvement projects which have a high return on investment.
About the Author
10 Improvements That May Impede Your Home Selling Efforts was written by Sharon Paxson Realtor of Newport Beach Real Estate. We have experience representing sellers, buyers, landlords, and tenants since 2005. We welcome the opportunity to share our experience and guide you through your real estate transaction.
We work in Orange County California including Corona del Mar, Huntington Beach, Laguna Beach, Newport Beach, Newport Coast, Sunset Beach, Tustin and more! If you are considering selling your home, considering listing wit ha work with a top Newport Beach CA Realtor.