Outdoor space should be considered as an extension of your home. And there is no better than the summer season to enjoy your backyard. Whether you have a balcony which may be a smaller space, a deck, a large backyard with lush landscape, there are always ways to accessorize. You will want to add a few accessories which are sophisticated and add ambiance. If the space is very small, then you definitely do not want to over-do!
Some accessories may definitely be seasonal, and there will be some items that you will want to bring in as the fall season arrives. Other decors may be brought in and stored during winter months especially if you reside in a state where there is inclement weather.
Having an outdoor space which has ambiance and is inviting is beneficial, especially if you are considering selling your home in the future. However, if you are not, create an outdoor oasis to enjoy as a homeowner!
Create Shelter and Privacy
There should be some kind of shelter to protect the outdoor space from the elements. The home may be designed with the roof architecturally designed to cover outdoor space. If there is not a covered patio of some type, there are many ways to create shade which may include a colorful patio umbrella. Patio umbrellas may have to put down during the windy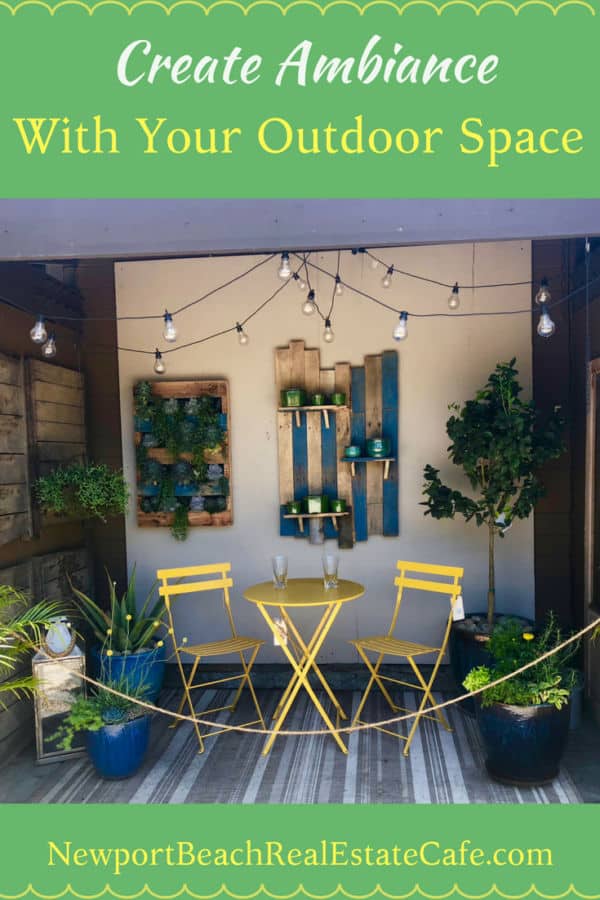 times! Privacy may be attained with the use of taller bushes, a fence or a wall.
Living Space which Opens to Outdoors
If your home has french doors or sliding doors which opens up onto your backyard that is ideal and you
want to consider the backyard as an extension of your home. Keep in mind that you will be looking out those doors and you will be able to view the beautiful outdoor space. Keep windows clean to enjoy the view of your accessorized backyard
Create Ambiance
Pick a palette and decide which colors you are going to utilize. If you are planting Agapanthus or Lily of the Nile which can either be blue or white. When choosing a color or colors to accessorize with you want to select blue or green as seen in the image. Create warmth by adding color and utilizing outdoor pillows on outdoor furnishings which will create an inviting appearance!
Another consideration when selecting the palette is that you want it to accent the home and not conflict with the color of the home. If the home is gray or neutral, adding a splash of color outdoors adds dimension.
Comfortable Seating and Lounging
When purchasing patio furnishing, most people think of a table with four chairs and an umbrella to keep the sun away. Patio furniture can be made from plastic, polymer, resin, wicker, wood, steel, wood and wrought iron. Depending on where you live some furnishings may not last as long as others. For example, if you reside on the waterfront where there is salt air, some of the items are not going to last due to the salt air. When selecting patio furnishings, decide on the arrangement you prefer and keep in mind about storage of it during the winter months. Adirondack chairs are inviting and they can also look very pretty in a front yard as well! Placing pretty pillows on those will definitely complete the look!
Add outdoor lighting to create ambiance in your outdoor space!
Click To Tweet
Lighting
Consider utilize string lights on the patio, hurricane lamps, or candles to light the area in the evenings. Remember you want the outdoor environment to be comfortable and inviting. Also, add an outdoor fireplace or firepit. Inexpensive firepits that run on propane tanks can be purchased from home improvement stores such as Walmart, Lowes or Home Depot.
Adding furnishing around these firepits to enjoy the company on the cooler evenings is a great way to spend time with family and friends during entertaining.
Outdoor Cooking
There are many options for barbeques from built-in BBQs to complete outdoor kitchens with sinks with running water. You can always have an outdoor refrigerator to have a complete kitchen. Or you may want something like a Weber BBQ which is freestanding! A reminder to keep it clean after using and then cover it will preserve the life of the barbeque. And, they look nice when covered up if you have a decent cover which has not been eroded by the weather!
Water Features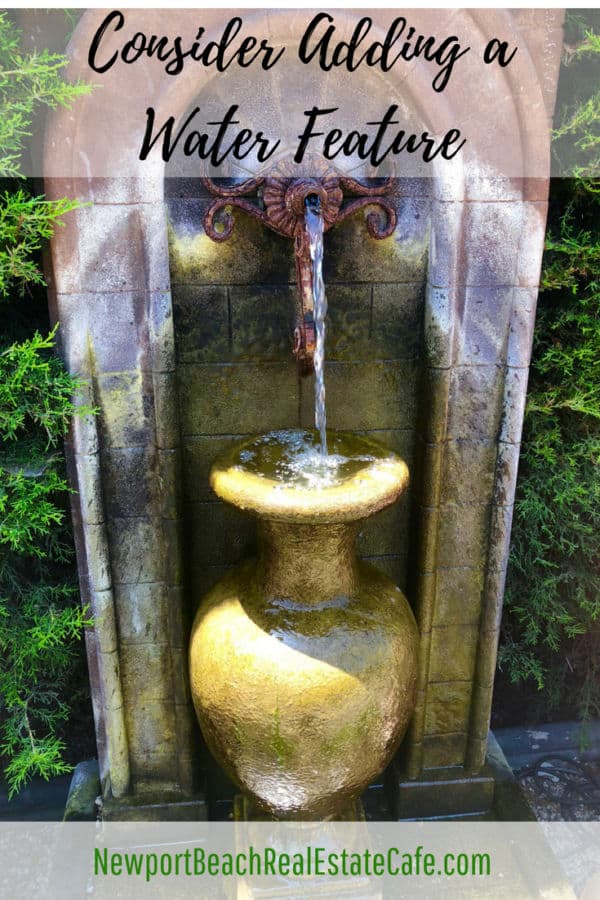 A personal favorite of mine and there are so many options to select one. Decide if you have sufficient space for a water feature, and look online at the options in places such as home improvement stores, Walmart, and Amazon. Water features add soothing sounds and visually very pretty!
Add Attractive Storage
Obtain attractive storage containers to store accessories and patio cushions during the winter months. You can find attractive deck boxes that are waterproof to store and maintain your items!
Add Unique Plants
Nurseries often have unique plants that grow in the area, and it is fun to have them planted in a unique container. Whether they are hanging or on a wall, plants can add so much to an outdoor space. Some unique plants have striking foliage which can add interest and dimension. A few might include a Staghorn fern, Fancy leaf Caladium which can have shades of pink, rabbit's foot fern, and more! It is ideal to check out your local nursery to determine which types of plants grow best in the climate in the geographic area where you reside.
Final Thoughts
Accessorize your outdoor space to create an inviting area. Your outdoor space is truly an extension of the home. The front yard should also be manicured as this will provide the ideal curb appeal. Enjoy adding some unique pieces of furniture and pillows to create an inviting area to enjoy during the summer months. A fire-pit is another way to create a conversation area, and having a water feature adds to the ambiance of the outdoor space.
Find Other Valuable Resources for "Tips to Accessorize Your Outdoor Space" from Real Estate Professionals Across the Country. Please check out the articles below, and please share across Social Media if you enjoyed the articles.
Unique Approaches to Outdoor Living Space via Debbie Drummond, Las Vegas Real Estate
Summer Home Maintenance Tips for Your Home via Kyle Hiscock, Rochester Real Estate
July Gardening Checklist via Eileen Anderson, Farmington Valley Realtor
8 Ways to Boost Curb Appeal via Michelle Gibson, Wellington Florida Real Estate
Home Improvements That Can Lower a Home's Value via Bill Gassett, Maximum Real Estate Exposure
About the Author
The above real estate article "Tips to Accessorize Your Outdoor Space" was written by Sharon Paxson of Newport Beach Real Estate. With experience since 2005 representing buyers, sellers, and landlords with their real estate transactions, we welcome the opportunity to share our knowledge and expertise and guide you through the home buying or selling process.
We service the following Orange County CA areas which include Corona del Mar, Huntington Beach, Laguna Beach, Newport Beach, Newport Coast, Orange, Santa Ana, Sunset Beach, Tustin, and more! If you are considering selling your home, we welcome the opportunity to work with you and list your home with a top Newport Beach CA Realtor.