Buying a waterfront home, there are considerations to factor in when moving to an oceanfront, bayfront, or waterfront house. Waterfront can include many locations including the ocean, bay, harbor, lake, canal, river, and more. Many of these homes are designed to be see-through and have lots of windows to take full advantage of the view! Waterfront homes will have views that are easy on the eyes, but the water can have damaging effects on the structure. Knowledge of the construction is an important fact to ensure that the building will last!
Not All Views are Equal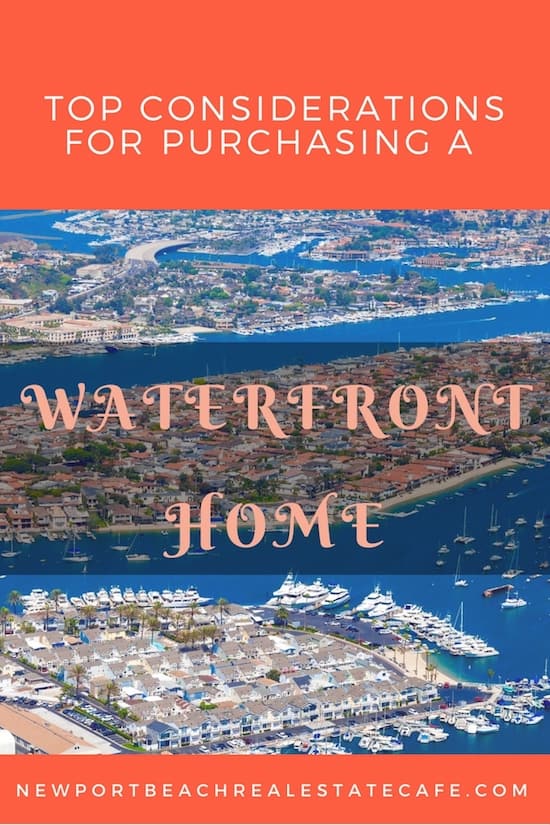 What are some of the views that you may be looking for? An oceanfront view may have a boardwalk and sand in front of it. And the bayfront homes have harbor views and they are dynamic with the changing scenery as the boats go by. Typically a bayfront home will have a higher price point than an oceanfront home.
There are whitewater views, meaning you can see the waves crashing and the "white water". There are "sit down" views, which equates to sitting down on a piece of furniture and being able to see the view.
In Newport Beach, California for example, buying a waterfront may be oceanfront, bayfront, Canal view, or back bay. And there are varying price points. Each area is going to provide you with a different lifestyle.
There are also lake-view homes and again the closer to the lake may be the most desirable. However, there are distant views where you can see the water.
If you are interested in a home located on the water that has peek-a-boo views, which means there may be a small section that can be seen. As a Real Estate professional, if the view is very tiny and does not add much, then it is not an emphasis. Homes for sale with peek-a-boo views need to be marketed accurately in the MLS and online so that potential buyers know what to expect when they preview the property.
Privacy
Living in a waterfront home on or near the water may result in having a little less privacy. Most homeowners prefer to have lower fences or even glass enclosures to maximize the view. Glass enclosures do require more maintenance and cleaning, especially near the beach! The lower fences may be a consideration if you have pets, as you want to be sure they are properly secured!
Some communities have an unspoken rule, that high fences should not be built, as they may take away from another homeowner's view.
And having lower fences and glass enclosures mean that people on the water may be able to see into the property so that needs to be factored into your move!
The parcel of land may extend into the water or there may be public access in front of the property, meaning that the public may be utilizing the area that you thought was your own!
Climate
You need to consider the climate if you are wanting to reside in a waterfront house. The climate is generally cooler, and there is moisture from the water. There can be dampness and it may take longer to dry out. If a home buyer is considering a waterfront house, take the climate into consideration. There are some who generally do not like the damp air.
The benefits are the proximity to the water and the cooler climate. There are homes in Newport Beach that do not have or need central air conditioning because it is cooler. Also living within walking distance to the water or the beach is ideal. It is a highly sought-after lifestyle.
Maintenance
Living near the water requires more maintenance. There are important considerations such as having windows cleaned on a regular basis. If you live near the ocean, the salt air can leave a buildup on exterior windows. If this is left uncleaned, then the salt can leave a white residue on the glass, which makes windows appear dirty. And the same applies if you have an exterior glass enclosure. Salt air causes corrosion of screens in their metal frames, so those generally have to be replaced periodically.
Salt air can also cause corrosion on metal surfaces which can include outdoor barbecues, patio furniture, and door hinges. It is ideal to protect your patio furniture with covers to protect it and preserve it from rusting or corroding.
What Can You Do with the Property?
If the home or condo is in an HOA, be sure to find out about the CC&R and rules and regulations of the community. If you intend to alter the property in any manner, find out before you purchase if there are restrictions on what you want to do. In Newport Beach, there are height restrictions on how tall a home located on the waterfront can be built. Additionally, HOA's may have an architectural committee that can prohibit certain remodeling to preserve the look and appearance of the association.
If it is your intention to buy a waterfront house is strictly an investment and do seasonal rentals be sure to find out if the city has any restrictions on that. In certain areas, a property has to have a particular type of zoning, such as in Newport Beach, homes that are zoned R2 are able to apply for weekly rentals. Other properties may only be allowed to lease for 31 days or more.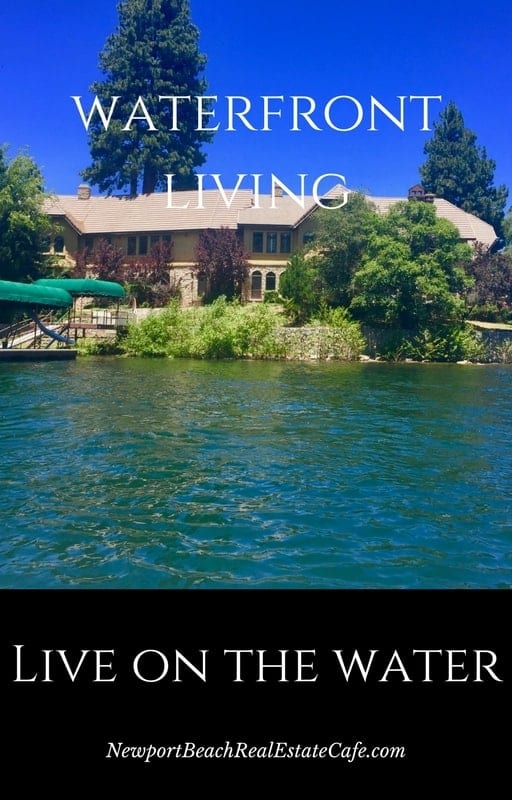 What is the Water Like?
If the property you are interested in is on a Canal, you will want to find out if you can swim in the water and if it is clean enough. You will want to determine the quality of the water.
Certain areas allow different activities including stand-up paddle which has gotten immensely popular. Kayaking is also another activity that is fun and a good workout!
If you are on the beachfront, then many enjoy activities such as surfing, body boarding or body surfing.
Lake properties may have different activities including fishing, boating, water skiing and wakeboarding. You will also want to know if the lake is private or if it is public. Private lakes do not allow all to launch their boats and utilize the lake, and in some cases reserved strictly for the residents.
Does the Waterfront Home have a Boat Slip?
Having access to the water is ideal and most that are directly in the water will want to have a deck, pier or boat slip if it is permitted. Another piece of information that is important is the depth of the water, so if a boat is allowed, you will want to know if the water is deep enough. For example, sailboats with keels have a draft that is a minimum depth of water a boat or yacht can safely navigate.
Maintenance of the dock and boat slip is another factor to consider when purchasing a home as that can be an additional expense for the homeowner.
Having an outdoor deck is desirable, to enjoy the outdoor space and of course the water view and climate! Outdoor barbecues are enjoyable as well, and an opportunity to spend time with friends and family.
Is Flood Insurance Required?
In most cases, flood insurance is required. However, inquire from your insurance company if it is required before you purchase. You will want to obtain an insurance quote as part of the contingencies in purchasing a property. Study the tide tables and be aware if this is going to be an additional expense if the buyer is considering a beachfront property.
Hire a Knowledgeable Realtor
Hire a Realtor that you can trust and actually has first-hand knowledge about residing on the water. Your Real Estate professional will be able to explain the nuances of the area, provide information about past projects including dredging. Be sure to interview your agent and ask if they have sold homes on the water previously.
Final Thoughts
Owning a waterfront home has many advantages including a lifestyle that you will enjoy. Understanding and being aware of some of the nuances and the additional maintenance is a factor to take into account prior to purchasing. If I can answer any questions about living on the water, please contact me.
Questions to Ask When Buying a Waterfront Property via Bill Gassett, Maximum Real Estate Exposure
Top 10 Tips for Buying a Waterfront House via Kyle Hiscock, Rochester Real Estate
What are the Pros and Cons of Living in a Gated Community via Michelle Gibson, Wellington Florida Realtor
What to Consider When Buying a Vacation Home via Petra Norris, of Lakeland Real Estate Group, Inc.
About the Author
The above real estate article "Top Nine Tips to Consider when Buying a Waterfront House" was written by Sharon Paxson with Newport Beach Real Estate. With over 17 years of combined experience in selling or buying, we would love to share our knowledge and expertise and guide you through the home buying or selling process.
We service the following Orange County CA areas: Corona del Mar, Huntington Beach, Laguna Beach, Newport Beach, Newport Coast, Orange, Santa Ana, Sunset Beach, Tustin, and more!