Remodeling a home is not for the faint of heart. If you have never done it, then you need to do your research before you pick up a sledgehammer and start removing the shower! Decide on the scope of the work before you begin. If you are simply remodeling a bathroom or a kitchen, then decide on what exactly you want to complete. Do you want to replace the tub in the bathroom, put in a spa tub? Or just reface cabinets in the kitchen and put in new countertops? Countertops can have an overlay and the new counter adheres to the existing one.
Consider how far you are going to take the remodel, are you going down to the studs? Replacing all electrical, HVAC and plumbing? These are all factors to consider with home improvement.
Other very important considerations are financial. Remodeling can in general always cost more than you anticipated, so it is important to have done your research, established a budget and then make a decision on what you can reasonably remodel within those guidelines. The following are mistakes that homeowners can make when beginning a renovation project!
Not Starting with a Plan
After you choose a General Contractor, then you can turn the specifications into a detailed contract of the anticipated work to be done. The plan should be written out clearly in the form of a contract executed by all parties.
The contract should in detail describe the scope of work, which materials will be utilized, cleanup, price of the project and the payment schedule. It is a good idea to meet with the contractor on a regular basis to ensure that the work is being completed in accordance with the time schedule and to the expectations established.
The contract should describe the order in which the work will be completed. For example, there is finish work which is done later in the project. It is important to modify the contract in the event you make any changes and any changes should then be changed in the contract.
Choosing the Right Contractor
This is quite frankly one of the most important items on this list! This is a make or break decision. Be sure that you fully vet the contractor, by verifying references, looking at some of the work that the contractor has completed, and communicate with past clients. Working with a reputable contractor will help to make the project go smoothly and ultimately end up with a beautiful finished product!
Start with verifying that the contractor is a licensed contractor in good standing in the city and state where you reside. You might ask if there have been any past litigation with the contractor as well. This is delicate to discuss, however good to know up front. Does your contractor use licensed subcontractors? Ensure that the contractor has insurance to work on the job. And you want to be sure that you know what the city's guidelines are about when the work can be performed. For example be aware of what time you can begin the work, and when it must be ended. And does the city allow for work to be performed on Sundays? Be aware of the requirements in the city.
Lowballing Your Budget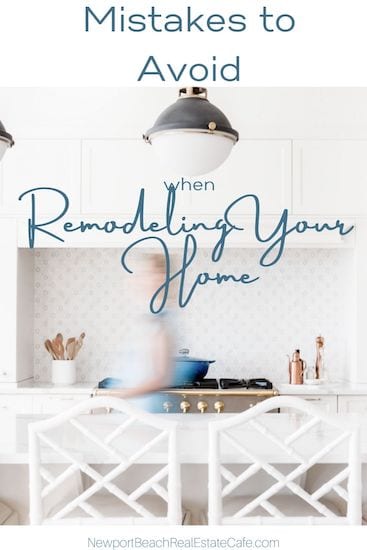 Once you have decided upon your scope of work, then you will need to establish a budget. If you are remodeling a kitchen, you will need to take into account the layout of the kitchen, cabinets, countertops, appliances, and flooring. It is essential to address the plumbing and electrical as well. If you are selecting cabinets with the melamine finish, keep in mind they may not last all that long. If the melamine is exposed to any kind of heat for a period of time (i.e. coffee maker or toaster), it can peel and will not last.
Other considerations on appliances such as a dishwasher, do you prefer a bar handles with hidden controls and towel bar style handle or a recessed handle which has visible controls. Some prefer the towel bar style handle because they don't want the water drips from wet hands opening a dishwasher down the front of their dishwasher. And then remember, does your towel bar style get in the way of any drawers that open. There are appliance showrooms such as Bosch in certain areas so you can actually go and look at the appliances and obtain the specs. It is valuable to take a trip to showrooms like this to learn about the different options with appliances.
Not Budgeting for Unexpected Costs
There are always unexpected costs!! There can be mold, plumbing leaks, wiring not to code, asbestos wrapped ductwork, popcorn ceiling, and termites! You may encounter some of these issues when a wall is opened up.
If a home is older, then the greater the likelihood that you may encounter these items. There is a risk that when a wall is opened up in an older home, you may find hidden problems that need to be addressed. These problems can simply not be ignored. The very best contractor may not be able to identify these costly unexpected obstacles before a wall is opened up!
Depending upon the area, termites may be prevalent, and termites and the damage they have the potential to cause needs to be addressed.
Ignoring Local Building Codes
It is imperative to be aware of local building codes. Additionally, if the home is located in an area governed by an HOA then there may be an architectural committee where the plans need to be reviewed and approved prior to any structural changes. Additionally, there are city permits where building inspectors will review the plans and ensure that they comply with the code, and are approved.
There are many who do work "on weekends" and at times when the building inspectors are not out. This is something that would need to be disclosed to a potential buyer in the future. If you do work without a permit, then you need to disclose it to a home buyer.
A home buyer would be able to look at the permit history on the property as well, which is always recommended to a buyer when they are buying a home.
If you are doing a major remodel, have plans drawn and get them approved by the city. If the city determines that you are performing work without the applicable building permits, then the job can be red-tagged and shut down until the permits are obtained.
Avoid Being Too Trendy
When remodeling, keep in mind you may eventually sell the home, so it is important to not be too trendy because you are taking the chance that you will build something that no one wants to buy! Even though a homeowner loves a particular style and it may not fit in an area, that may turn off potential future buyers. For example, if a home seller designs the home with a southwest design in an where there the homes are Mediterranean style then it may stand out and a turn off other buyers.
Having an accent wall or two on the interior the home may be acceptable as long as it is not too extreme. Sometimes subtlety works better and appeals to more! If the home is too trendy with a specific style or design, then the buyer pool may be smaller.
Having fresh and updated looks are great, but keep in mind that trends tend to be short-lived. If a home is too trendy it can impact the home resale value.
Cost of Materials
The cost of materials varies and depending upon what your plan is, you want to consider the costs. If for example, this remodel is for a family to reside in the property for the next 10 years, then the budget for materials may be higher. If the term is shorter, then perhaps consider less expensive materials.
You do not need the most expensive materials to obtain a specific look. Be sure to speak with your contractor about the costs. There are new countertops now including quartz which is beautiful and again varies in cost.
Be Neighborly
Be considerate of your neighbors. You may not be living in the home and are not subject to the noise and inconvenience. Keep in mind that the contractors may be taking up the parking spaces, and the neighbors are subject to the noise. Notify your neighbors of your remodeling project, and ask them to call you directly if there is a problem. Remember they are living next door to you and the noise of loud music, demolition and construction can be disturbing.
Final Thoughts
Remodeling is a big project regardless of the size of the project. Be sure to perform your research before you start to ensure you understand the financial implications of the project and how the project will impact the value. Know what you want your home to look like when you are finished. You can get ideas from visiting open houses!
Find Other Valuable Resources for "8 Mistakes to Avoid When Remodeling a Home" from Real Estate Professionals Across the Country. Please check out the articles below, and please share across Social Media if you liked the articles.
Maximizing Your Home Value via John Cunningham, Phoenix Real Estate
Home Improvement Mistakes That Impact Real Estate Value via Bill Gassett, Maximum Real Estate Exposure
Smart Renovations That Add Value To Your Home via Xavier DeBuck, Luxury Homes Johannesburg, South Africa
Should I Remodel My Home Or Move via Paul Sian, Cincinnati and Northern Kentucky Real Estate
8 Upgrades that are Not Upgrades via Michelle Gibson, Wellington Fl Real Estate
Low-Cost Home Improvements To Make Before Listing Your Home via Kyle Hiscock, Rochester Real Estate
About the Author
The above real estate article "8 Mistakes to Avoid When Remodeling a Home" was written by Sharon Paxson of Newport Beach Real Estate. With experience since 2005 representing sellers, buyers, and landlords with their real estate transactions, we welcome the opportunity to share our knowledge and expertise and guide you through the home buying or selling process.
We service the following Orange County CA areas: Corona del Mar, Huntington Beach, Laguna Beach, Newport Beach, Newport Coast, Orange, Santa Ana, Sunset Beach, Tustin and more! If you are considering selling your home, we welcome the opportunity to work with you and list your home with a top Newport Beach CA Realtor.