Going through a divorce is one of the most stressful events a person can go through. Divorce proceedings are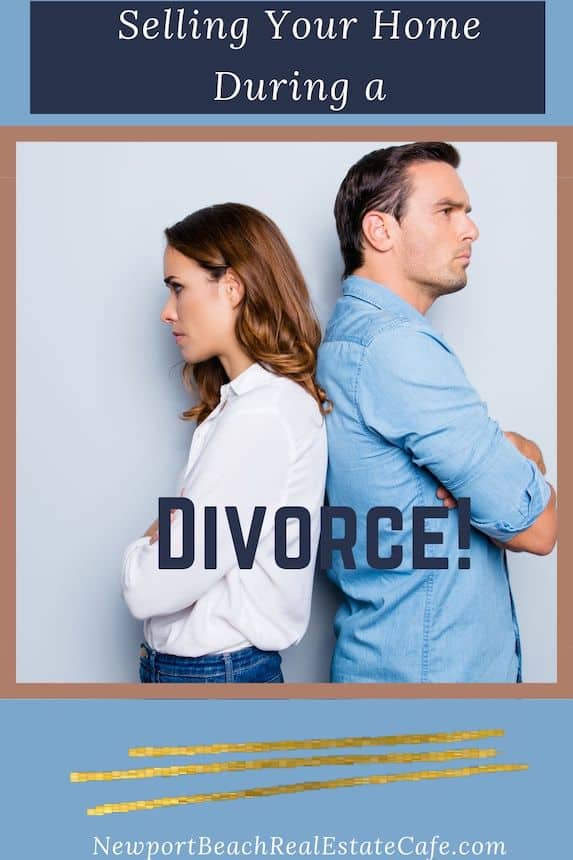 stressful enough, but when you add the selling the marital home as well, things get a lot worse. In most cases, the home is most likely the largest asset that needs to be dealt with, and one which may have many emotions tied up with it.
When going through a divorce, there are generally three options a couple can consider with regards to the marital property:
The house will be sold, dividing the proceeds between the parties.
One partner will buy out the other.
One side will remain in the home for a certain period, perhaps until a child reaches 18. Then the home would be sold at a later date.
Which choice is right for your situation, needs to be carefully evaluated, and may not be what you initially want to do. Keep in mind that emotions run very high during this time, and making decisions can be difficult. You want to ensure you are making the best financial decision for yourself and your children for the future. You do not want to look back and regret your decisions!
Legal Issues
If both sides of the divorce are able to agree on how to proceed, this is preferred. Unfortunately, it is often the case that attorneys need to be involved to make sure each party is as happy with the outcome of the situation. However, if you can be objective and try to keep the attorney's out, then you will ultimately be saving money on attorney's fees.
Generally speaking, the fairest way to deal with the situation is to sell the home and divide up the proceeds. This way you don't have to worry about the future value of the home and can use the current fair market value. Each party can then take their proceeds and invest in another property for themselves.
Income Considerations
If you decide that you want to remain in the home and have your ex sell you their share of the property to you. The mortgage you currently have on the home may be based on the income of two people, meaning that you may be in a difficult situation to afford the loan by yourself.
It isn't only the mortgage you have to think about. There are property taxes and insurance, not forgetting maintenance as well. If both parties contributed to this in the first place, it may be difficult for you to cover these costs alone.
You would have to qualify for a loan on the property and remove the other party's name from the home and from the home loan. If your ex is willing to sell you their half of the property, you can be assured they will not want their name associated with the home or any liability.
Capital Gains
You will want to take into account the capital gain on the property. Married couples benefit from up to $500,000 capital gains allowance. This is halved for single people. You may be affected by this from an increase in the value of your home, you should ensure you sell while you are still married. Be sure to consult your accountant for tax advice and capital gains.
Emotional Factors
You may have a lot of emotions linked to your home, whether good or bad. This can guide your decision about whether to sell or try to remain in the property.
This isn't something which you should ignore because you love the house or the area it is located. The home may be located in a very desirable community, and you really like the schools for your children.
If you have bad memories of living in the home, these can have an adverse effect on your future time in the house, being reminded of those things you would rather not remember. This can result in the home being sold later on anyway, so it should be considered early in the proceedings.
Keeping the House
If you wish to remain in the home there are a few options, they do come with their own problems and
dangers, however.
You may be able to take over the current mortgage if you have sufficient income to cover payments. You will need to qualify with the lender if this is going to work. Then, of course, you need to buy out your ex or set up some form of payment plan. Though, it may be difficult to arrange this unless you are on good terms.
If you are raising your children perhaps the other party will consider a co-ownership arrangement. This could mean that mortgage payments continue as they did before or the other party paying a lower percentage. This could result in the side moving out, to have problems with their credit or future loans.
Sometimes one side of the couple when going through a divorce will decide that they want the house no matter what. Perhaps they see it as a victory or as a way to get back at the other person. Whatever the reason, it can lead to financial problems down the line. This can result in people taking on more debt than they can really afford and be a mistake they greatly regret. Going through a divorce can end up costing more money than you expect, consider this and don't overextend your finances.
Selling a Home While Divorcing
The process of selling your marital home isn't too far removed from the normal process. You do need to have established how things will be divided beforehand, however when going through a divorce.
Before the house is sold, the division of the money should be predetermined and agreed upon by the parties. Then with the assistance of a good real estate agent, you should be able to get close to the fair market value of the home.
How the money is going to be divided will likely need to be worked on with your attorneys. It can be a case of looking back through your marriage history and seeking the advice of real estate appraisers to establish the value of improvements.
When this has all been worked out, it is time to find a real estate agent to market the property for you.
Choosing the Best Realtor
Whether you and your former partner are on good terms or not, you are going to want a real estate agent which has outstanding communication abilities. You will need a listing agent to sell your home. The agent will need to understand the situation and be able to work with both sides regardless of how acrimonious things are. The agent will need to be mindful of the emotions involved and the stress the parties are experiencing.
The real estate agent will have to repeat conversations and messages to both parties involved. They will have to be ready for more work than an ordinary sale and have the patience to deal professionally with it.
Both sides should be satisfied with the agent chosen. If one picks the agency to work with, it could lead to the feeling that they are biased in favor of the side which chose them. The agent chosen should work to make sure that both feel that they are fully informed and allowed to be present at any listing interview.
Selling a Home While Going Through a Divorce
Click To Tweet
The divorcing couple should be able to trust the Realtor so that they can contact the agent with any concerns. The divorce process can be a very stressful time and the agent shouldn't add to these troubles when selling a home.
There are some great ways to find a Realtor. Do some research to make sure the agency you are going to pick has a track record of success. Check their credentials and don't be afraid to ask them questions about their methods and experience. Be sure to discuss the commission with the Realtor as well. This is a more important decision than most people think, but a mistake here could be expensive and make going through a divorce more of a challenge than it needs to be.
Why is the Owner Selling?
Potential buyers will often ask why the seller is selling the home. If you decide to disclose that information that the sellers are divorcing, buyers may see blood in the water and think they can make a low ball offer! Even though you are getting divorced, be sure to consider both your's and your ex's financial status. Try to agree that you will work together to sell the home. Ultimately, it is in BOTH of your best interests!
It is also recommended to address any deferred maintenance and get the home in tip-top condition prior to listing it for sale. There are many things to do to boost the home value including a fresh coat of paint and depersonalizing the home. The last thing you want is for potential buyers to think the home is distressed. And buyers always ask . . .
Final Thoughts
Even though you are your partner are going your separate ways, try to keep the emotions at a minimum. Work together if possible to prepare your home to sell. Other factors include ensuring that you and your ex-partner work together on behalf of any children you may have. Remember, having your parents get divorced is very stressful, but add to that selling your home, and ultimately moving to a new home. Moving with children can also have its challenges, however, there are ways to make it less stressful for your children.
You can get through the process, working with a seasoned Realtor who is objective and is able to fairly communicate with both parties will help facilitate a smoother transaction. If I can answer any questions about selling while going through a divorce, please reach out to me.
Other Resources
Kevin Vitali has written an excellent post about Selling a Home While Divorcing. In the article, he discusses state laws that are going to be applicable in which state you reside. Other information includes reasons why a Judge may award one party the marital home when going through a divorce.
If you are going through a divorce, you may be considering selling your home. Bill Gassett has written a detailed post about Divorce and Selling | What you Need to Know. In this article, he discusses legal reasons for selling during a divorce, financial implications which can impact both parties in a divorce.
About the Author
The above real estate article "Selling Your Home While Going Through a Divorce" was written by Sharon Paxson of Newport Beach Real Estate. With experience since 2005 representing clients with their real estate transactions, we welcome the opportunity to share our knowledge and expertise and guide you through the home selling or buying process.
If you are considering selling your home, we welcome the opportunity to work with you and list your home with a top Newport Beach CA Realtor.