A low-ball offer is the last thing a seller wants to see when selling their home. A seller may feel very discouraged when they receive a low ball off in their home. After a seller has resided in the home for a number of years, it can be difficult to be objective and if they receive a low offer, they can be offended. Remember as a seller, you are trying to get the highest and best offer on your home, and the buyer does not want to overpay and is looking for a "deal". No one wants to leave money on the table.
Sellers may be surprised as to why they are receiving a low ball offer on their home for sale! They have done everything (well almost everything) the Real Estate agent recommended to prepare the home for sale and ensure the home is in tip-top condition to yield a market value offer, and then here comes a dreaded low ball offer!
How does a seller respond . . . well in most cases they will state they are not selling, they don't have to sell and they are not going to respond. As a Real Estate professional, it is important to prepare a seller for the possibility of a low ball offer to avoid any surprises which can create problems.
Emotions Can Run High!
It is likely that you lived in your home for many years residing in your home, raise your family, and perhaps even did renovations to make it "your home". All of these things can make your home feel like it is more than a piece of property to be sold, and your emotions can become attached to the process. However, when you are selling, it is time to turn it into a business transaction and perform all the necessary tasks to prepare your home to sell for the highest and best offer!
Should a buyer come into your home and then offer a very unsavory low offer, it will most likely offend you and then you will have to decide how to respond.
It is easy to be annoyed! If buyers are so off the chart, then perhaps it is not in your best interest to respond to them! But remember, selling a home is a negotiation, and there is give and take on both sides of the equation. If a buyer makes an offer, and a seller responds with a reasonable counter offer, those are steps to bring the deal together! What matters is bringing the buyer and the seller together with a reasonable price and other purchase terms that all parties agree upon!
Easier said than done! Sellers can be offended if the purchase price is low and then the buyer is asking for all kinds of other things such as furnishings that may have a personal attachment with the seller, the transaction can get sticky!
How Low is the Offer?
If the offer is ridiculously low, then the seller may decide not to prepare a counteroffer at all. However, if a buyer has written an offer that has room for negotiation to bring the parties together, then the seller should counter.
What are the Other Terms in the Purchase Agreement?
Look at the other terms in the purchase agreement including the amount of earnest money as the buyer should be putting some skin in the game. In some states, earnest money is 3% of purchase price and this money gets deposited into escrow after acceptance as a gesture of good faith from the buyer. This money remains refundable to the buyer until contingencies have been removed.
Consider the length of escrow as well, if the buyer is asking for a short escrow such as 30 days. Also, is the buyer offering cash or are they getting a loan? A cash buyer can close faster than a buyer who is obtaining a loan.
Is the buyer asking for other items in the offer such as refrigerator, washer/dryer and possibly even furnishings? Then that can offend a seller if the offer is very low.
Another consideration is did the offer include a pre-approval letter and proof of funds? This definitely makes an offer stronger and having a pre-approval letter from a lender shows the seller that they will be able to complete the purchase. A loan contingency will remain in place until the buyer removes that contingency, however.
How Should a Seller Respond?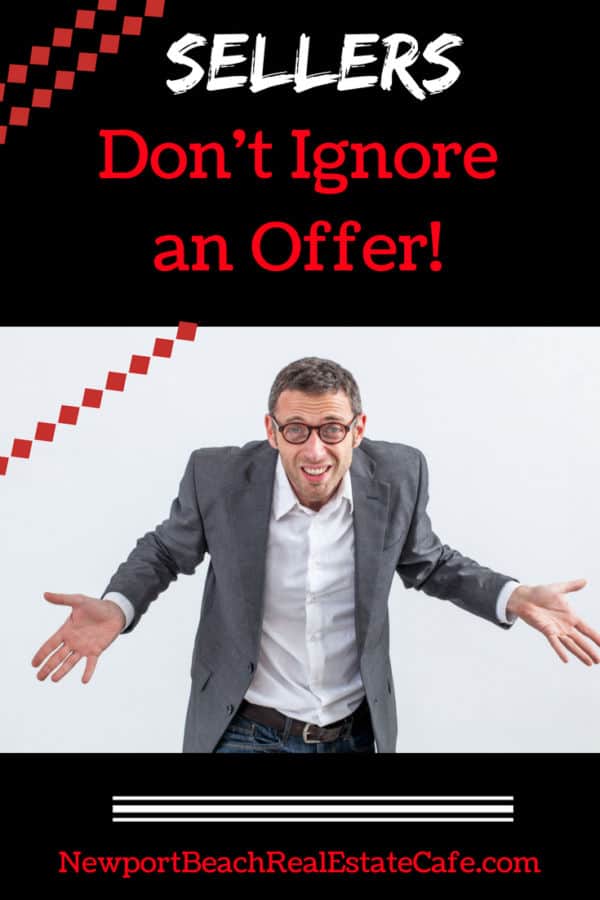 Sellers are generally irritated and sometimes they can get annoyed at their agent. Remember your listing agent is doing their job by presenting all offers to the seller. The Real Estate agent is the messenger and will attempt to work with the buyer's agent to bring the parties together.
As a seller, you can decide not to respond, or reject the offer. You can counter at a higher price if they are sure this purchase offer is too far away from market value. Or respond with a reasonable counter offer showing good faith that you are trying to work with this buyer to reach a reasonable purchase price.
Always respond to an offer! Remember it is a buyer on a hook! Don't just ignore it, as a buyer may be throwing something out there to see how the seller will respond. After a reasonable counteroffer, then the buyer may decide that they will pay market value for the property. Keep in mind, the buyer is protected by the appraisal contingency, so if they offer a higher price, the property will have to appraise for the sales price, or the buyer can cancel.
Final Thoughts
Receiving a low ball offer can be very frustrating and a seller can easily be offended. Even if you as a seller receives a low offer, you should still respond with a counteroffer to attempt to work with the buyer. Try to take the emotions out of the equation in order to achieve the highest and best offer. Remember, no one wants to leave money on the table when negotiating for a home to purchase!
Find Other Valuable Resources for "How Should a Seller Respond to a Low Ball Offer?" from top Real Estate Professionals Across the Country. Check out the articles below, and please share across Social Media
Dealing with a Low Ball Offer On My Home via Bill Gassett, Maximum Real Estate Exposure
How to Handle Low Ball Offers via Kyle Hiscock, Rochester Real Estate
5 Reasons Home Buyers May Change Their Mind About Writing an Offer via Michelle Gibson, Wellington Home Team
How to Deal with a Low Ball Offer via Paul Sian, Cincinnati and Northern Kentucky real estate
About the Author
The above real estate article "How Should a Seller Respond to a Low Ball Offer" was written by Sharon Paxson of Newport Beach Real Estate. With experience since 2005 representing sellers, buyers, and landlords with their real estate transactions, we welcome the opportunity to share our knowledge and expertise and guide you through the home buying or selling process.
We service the following Orange County CA areas: Corona del Mar, Huntington Beach, Laguna Beach, Newport Beach, Newport Coast, Orange, Santa Ana, Sunset Beach, Tustin and more! If you are considering selling your home, we welcome the opportunity to work with you and list your home with a top Newport Beach CA Realtor.