Before buying a home, you should get pre-approved for a mortgage. This information is crucial in the home buying process as you will know the price range you should be looking at when shopping for a home.
For many people, the amount of money they can spend is dictated by their personal finances and what they are qualified for with the lender. Buyers are free to qualify with who they feel most comfortable, however, be sure to choose a lender who is experienced and will be able to get the job done. This process is known as pre-approval, and all buyers go through this process. This means you will be disclosing personal financial documents to a lender including tax returns, personal bank statements, business bank statements and more.
It is easy to think that just because you have talked with your lender, all you have to do is start the home buying process, sign a few papers, and get a mortgage. Getting pre-approved is paramount before even beginning the home search process. Why waste your time looking at homes that you cannot afford!!
There are common reasons why buyers are not able to qualify for a mortgage. As a buyer, it is important to understand these reasons so that you can know how to overcome them.
Poor Credit Score
This is probably the biggest reason why most buyers are unable to secure a mortgage. Your credit score, to a great extent, determines whether you will qualify for a loan or not. It also determines the interest rates and the mortgage insurance rate on a loan.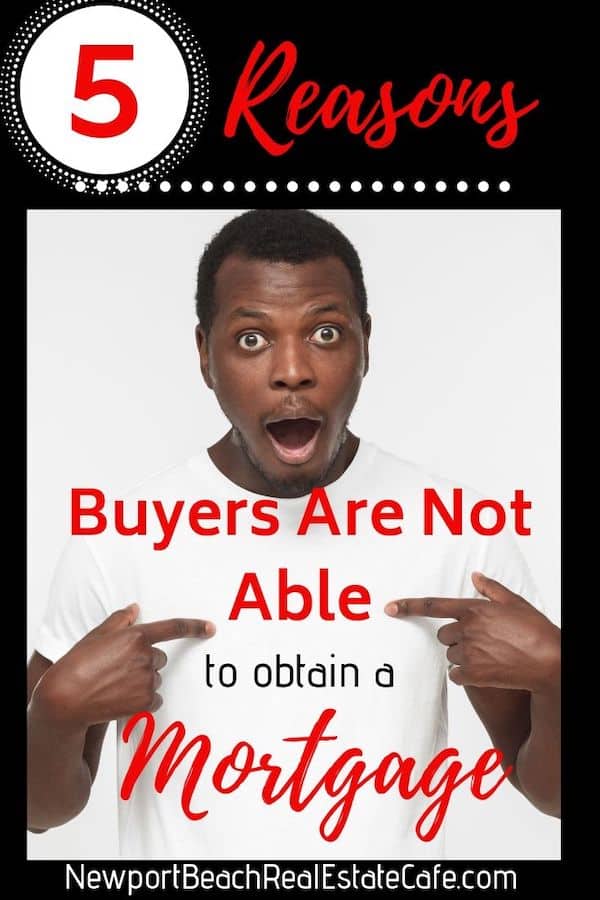 Most people do not realize when they are late for their monthly payments until the lender sends their information to credit bureaus. Late payments and non-payments will make your credit score drop down significantly. Additionally, applying for more loans and exceeding the limit on your credit cards will also negatively impact your score. Besides, bankruptcy will remain on your credit report for as much as 7 years. It is imperative to maintain your credit score.
It goes without saying that your credit score is one of the first things lenders check to know whether you are a risk or not. Apart from looking at your credit score, lenders will also check whether you have multiple late payments on your credit report. An inferior credit score is the main reason why most buyers fail to secure a mortgage. Be sure to make credit card payments before or on the day they are due. There really is NO forgiveness, and it will be reflected on your credit score. Credit scores show the amount of revolving debt along with the number of late pays.
The good news, however, is that you can improve your credit score. Also, just because you have a bad credit score, doesn't mean you will be denied a mortgage forever. It is imperative to work with a lender to improve your credit score, and lenders are able to provide advice on how to improve your score.
Not Enough Down Payment
Lenders will look at the amount of down payment you want to make when buying your future home. Generally speaking. a higher downpayment is more desirable. So to ensure you are not denied a mortgage because of inadequate savings, you should begin saving early. There are many ways to save for a downpayment on a home. Being mindful of how you are spending your money is a great way to start. Looking at un-necessary expenditures such as a trip to the coffee house for a $7 may not be a good way to spend your money!
Other times, the buyer has enough cash for a down payment, but inadequate money is left in reserves. Depending on your mortgage lender, you may be required to have enough for a sizeable down payment, and enough reserves available after all expenses.
Most home buyers fail to secure a mortgage because their lender requires a certain percentage as down payment, and they have not saved enough. Luckily for you, there are many ways you can save for a down payment for your home to increase your chances of qualifying for a loan.
Too Much Debt
When buyers are looking for a mortgage, they will likely come across the term debt-to-income ratio.' When a buyer has too much debt is definitely not beneficial because it signals that you may not be able to repay the mortgage responsibly.
A lender will analyze how much debt you have, and how much of your income remains after you settle these debts. Your debt ratio is just as important as your credit score.
Lack of an Employment History
Most lenders will look at your employment history because they want to know whether you are capable of holding down a job for an extended period such that you will be able to pay the money they intend to loan you.
If you have a short employment history, chances are you may not qualify for a mortgage. To showcase your employment history, you will have to provide a letter from your place of work as well as salary details for the period you've been employed.
Unreliable Income Sources
Another reason why most people fail to get a mortgage is that they have unreliable income sources. This may occur more often with self-employed borrowers.
If you fail to secure a loan because your income source is unreliable, you should talk to your mortgage broker on the best steps to follow. A simple letter with a good explanation of your sources of income can get you through the door. In certain cases, it may be more beneficial to rent a home versus buying a home!
Final Thoughts
If you have been denied a loan, chances are it happened because of the reasons we have listed above. Do not lose hope, however, because with a little effort on your end you can avoid all these deterrents, and be on your way to becoming a proud homeowner the next time you apply.
Find Other Valuable Resources for "5 Reasons Why Buyers Fail to Get Approved for a Mortgage" from Real Estate Professionals Across the Country. Please check out the articles below, and please share across Social Media if you liked the articles.
There are many ways to improve your credit score, and you should be working with a lender. Luke Skar has shared an excellent article about Ways to Improve your Credit Score.
If you have a high debt to income ratio, then it may be difficult to obtain a mortgage. Eric Jeanette discusses front end and back end ratios that a buyer should be aware of. Check out his post about high debt to income ratio.
Bill Gassett discusses ways to get your Mortgage Unapproved! He discusses the importance of maintaining consistent employment, avoiding applying for other loans when attempting to obtain a mortgage, forgetting to pay credit card bills and much more!
About the Author
The above real estate article "5 Reasons Why Buyers Fail to Get Approved for a Mortgage" was written by Sharon Paxson of Newport Beach Real Estate. With experience since 2005 representing sellers, buyers, and landlords with their real estate transactions, we welcome the opportunity to share our knowledge and expertise and guide you through the home buying or selling process.
We service the following Orange County CA areas: Corona del Mar, Huntington Beach, Laguna Beach, Newport Beach, Newport Coast, Orange, Santa Ana, Sunset Beach, Tustin and more! If you are considering selling your home, we welcome the opportunity to work with you and list your home with a top Newport Beach CA Realtor.