Do you need a listing agent to sell your home, the answer is yes! Are you thinking about trying to list and sell your home yourself? If you are, you should stop what you are doing and consider hiring a listing agent to represent you with the sale of our home. Homeowners think that doing it all themselves is the way to go because they will be saving money. Selling your home without the guidance if a professional Realtor is a way to sabotage your home sale!
Thanks to modern technology, many homeowners are tempted to list their homes themselves on for sale by owner websites which often make some fantastic claims. But, you need to be aware that there is much more to the home selling process than posting some pretty pictures of your home and sticking a sign in the ground! Are you aware that cities may have sign ordinances? There are many reasons why you need a listing agent.
The truth is that many homes listed by a homeowner take longer to sell, and most importantly, achieve a lower price. Do you really want to take that risk?
Professional Experience of A Real Estate Agent
First and foremost, a listing agent has a fiduciary responsibility to the seller. The Realtor acts in the best interest of the seller. It is the Realtor's job to guide you through the home selling process, from signing contracts, pricing your home, and keeping the transaction in alignment with specific timeframes.
There is more to marketing and selling your home than uploading photos to a website and listing descriptions.
It is imperative to be objective when selling your home. Just because the home across the street sold for a specific price, does not mean that your home will. There are certain features that add value to a home. Certain features such as updated kitchens will add value to a home.
Identifying Problems
A real estate agent can help you to do many things. He will negotiate on your behalf and show people around when you are
not available. Those are only two of the benefits of using an agent to sell your home.
However, there is more to home selling than meets the eye. Problem areas or a poorly maintained home will be more difficult to sell. A listing agent will point out any problems to you as they know what to look for to make sure your home sells quickly.
You should never be offended when your agent points out problems to you. It is likely that the problems he finds will be picked up on the home inspection anyway, so you may as well know about them. It is also important to prepare for a home inspection, as they generally have a laundry list of problems that the buyer may want to have repaired or renegotiate the sales price.
Ideally, it is best to have your home ready to sell by addressing any deferred maintenance so the home shows in the best condition. Other recommendations include tending to the outdoors and ensure the home has great curb appeal, as it only has one chance to make a first impression!
Qualifying Buyers
Another factor to consider is the showing instructions and do you know how to qualify a buyer before letting them into the home? You can also be opening yourself up to safety issues in the event the person looking is unscrupulous and their intentions are not good!
There are many potential buyers who are not qualified and might be looky-loos and are time wasters. You may be getting the nosy neighbor who just wants to "look".
Unless you have experience and know what questions to ask, you are going to be wasting time you could have spent with a better-qualified buyer.
The Purchase Agreement
There are documents that should be utilized when selling a home. You will want to know if you are taking a risk with getting under contract. Your Realtor will ensure that the buyer has been pre-approved and provides financials to the seller. Additionally, the earnest money deposit should be a certain percentage of the purchase price.
Even if you list your home on a for sale by owner website, you completing contracts without any representation. You will be surprised how many regulations and laws come into play. The website may recommend a legal service, but there are some serious downsides to that idea.
First of all, you are not likely to ever meet the people representing you face to face. They are going to be handling a large amount of money and deal with many issues which could potentially pop up. Would you really be comfortable with that?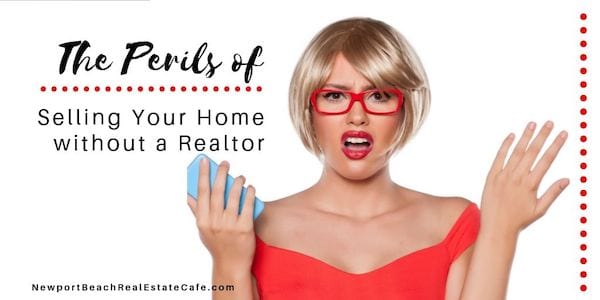 In the long run, recommended legal services can end up costing you a lot of money, and TIME. Remember that time is money and dealing with documents that you do not utilize on a daily basis can take a long time.
Appraisal Issues
If a buyer is obtaining a loan, then they will need to have an appraisal. Another job that your listing agent will do is meet the appraiser at the home and provide comparable sales so the home comes in at the contracted price. There may be reasons why a home does not appraise, and if it does not, the buyer may want to renegotiate the purchase price, or might even walk away from the property. No one wants to overpay for a property.
Final Thoughts
If you hire a listing agent, you will pay a commission. However, the property will be marketed professionally, and the agent will guide you through the home selling process.
The advantages of using local real estate to sell your home always outweigh the cons. The right agent will have both local knowledge and professional experience to complete the process.
Find Other Valuable Resources for "Do I Need a Listing Agent to Sell My Home?" from Real Estate Professionals. Please share on Social Media if you enjoyed the articles.
Petra Norris has written an excellent article about why selling a home without an agent is a bad idea. She discusses how often for sale by owner sellers will overprice the home.
Danny Margagliano has shared information about selling a home without a real estate agent. He discusses establishing the valuation of the property and much more.
When selling a home without an agent, it is imperative not to make costly makes! Eileen Anderson discusses educating yourself about the real estate market, staging and much more!
About the Author
The above real estate article "Do I Need a Listing Agent to Sell My Home?" was written by Sharon Paxson of Newport Beach Real Estate. With combined experience since 2005 with representing sellers and buyers, we welcome the opportunity to represent you.
We service the coastal Orange County CA area including Corona del Mar, Huntington Beach, Newport Beach, Newport Coast, Tustin and more! If you are considering selling your home, we welcome the opportunity to work with you and list your home with a top Newport Beach CA Realtor.