What are the Signs You Hired the Wrong Realtor
You do not want to hire the wrong Realtor. Are you considering purchasing a home? If so, you want to make sure that you hire the right agent to represent you in the home buying process. You want to hire a knowledgeable and professional real estate agent. When considering hiring an agent, make sure you ask all the right questions. You want to have someone guide you through the home buying process to ensure it is a successful and positive experience as well.
One of the most important steps is in finding the right Realtor to represent you and purchase your home which is probably the largest investment you will ever make. Therefore, you need a professional who works well with others.
The Home Buying Process
A seasoned professional Realtor will explain the home buying process before you even start to look at homes. Looking at properties is probably the most exciting part of the home buying process, but steps need to be taken before you start. Create a home buying guide so that you know the home buying process.
The steps to the home buying process are as follows:
Establish a budget
Meet with a lender and obtain pre-approval
Hire a Realtor
Determine needs versus wants
Establish the area you want to reside
Find a home
Make an offer
Offer accepted
Don't make any large purchases
Get a home inspection
Make a request for repairs
Get an appraisal
Remove contingencies
Close escrow
Seems simple, right? Well, anything can happen and it is nice to know the possibilities of what can happen during the home buying process and avoid home buyer mistakes.
Anticipating What Can Happen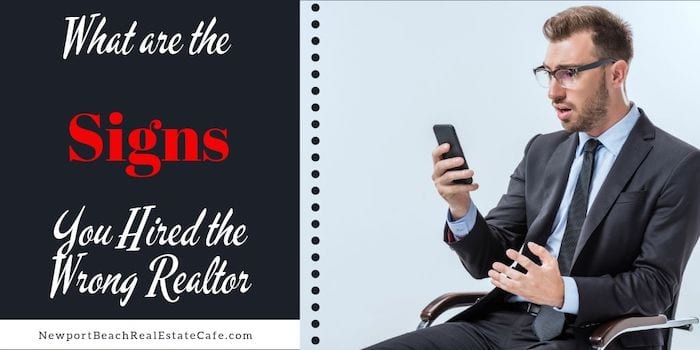 A professional Realtor should be able to explain what can derail a real estate transaction. It is also imperative that you hire a competent lender to ensure they are able to get the job done. The lender's role is of equal importance when purchasing a home if a buyer is obtaining a mortgage.
It is important to know what can happen during the home buying process, so a buyer is not surprised or shocked! If the buyer is a first time home buyer, then they might not have any idea about the process and what to anticipate. If it is explained to them in advance, this will help to prepare for any unforeseen problems that may arise.
Be Objective
Remember this is a business transaction, however, emotions do run high because it will be your personal residence. When looking at the different areas you want to live in, consider the comparable sales in the area. Also, ask your agent to look at the sales for the past five years to determine how the area has appreciated or not.
What are the Signs You Hired the Wrong Realtor?
Click To Tweet
Look at other communities as well that your agent suggests to you. Also, do your homework, you can find a lot of community information on the internet. You want to find the best neighborhood to live in and consider the schools. Whether you have children or not, it is important to consider the schools as that is an important resale consideration.
Is Your Agent an Alarmist?
Remember that YOU are purchasing the home, not the agent! During the home inspection, is your agent pointing out every
single thing that is wrong with the house? And now you have doubts? The home inspector tells you that it is a good house, and there are some minor things that need to be addressed, what do you do? Who is the expert?
Remember, it is a house, it is not rocket science. Unless the house has obvious signs of obvious structural defects, foundation cracks, major pest infestation, water intrusion or mold, then most items can be addressed. As a buyer, it is your right to have the home inspected to ensure you will be able to address any defects that are found within the home. And you may have friends or family members who are really good at "fixing" things, and you should invite your friends and family to the home as well to provide their input about the "condition" of the home. It is always a good idea to have another set of eyes on a home.
The agent should offer to bring in experts to determine what needs to be repaired and the expense involved.
Ultimately, as a buyer, you make the decision as to whether or not you want to proceed with the home purchase or not.
Home Repair Requests
Is your agent asking you to make unrealistic home repair requests? Are they telling you that a few loose tiles in the kitchen floor will need to have the entire flooring replaced? For a few loose tiles that can easily be repaired? You are taking the chance that you will offend the seller and they won't repair anything.
Back to anticipating what can happen! Generally speaking, residential purchase agreements state the home is being purchased as-is! That means the home is being sold in its current condition. Your agent should be explaining this to you and showing you what sections in the contract that the seller is under NO obligation to make any repairs. If all parties are showing good faith, then the seller may repair some items. Or the seller may offer to leave credit in escrow, or the seller may not agree to any buyer requests. So as a buyer, it is good information to know that can happen before it does! I always tell buyers that the seller is under no obligation per the contract.
Signs You Hired the Wrong Realtor
Disorganization – if your Realtor appears to be disorganized with home showings, has a difficult time setting up appointments, they may lack the experience needed to work with a home buyer.
Goes on Vacation without Telling You! – Everyone deserves a vacation, right? If you are actively working with an agent, they better be telling you they are leaving and who they going to have cover for you in their absence.
Not Timely – showing up late to scheduled appointments or failing to show up at all is a red flag!
Unresponsive or Poor Communication – This is one of the most important factors in a real estate transaction. Establish right up front the style of communication preferred. If the buyer is a busy professional and is not able to answer the phone, they may prefer texting during the day.
Lack of Confidence – Asking questions right up front about their experience and their knowledge of the area is very telling. If the agent appears uncomfortable answering any questions, they may not have the confidence or experience to guide you through the process.
Folds Easily During Negotiations – If you began your relationship with your agent by asking them to reduce their commission to represent you and they conceded without much of a fight, then they may lack the negotiation skills during a transaction.
Lack of Internet Presence – In today's times, a Realtor needs to have a strong web presence. The internet is the main channel for real estate information and your agent should be on top of it.
Does Not Have MLS or Supra Key – An agent who does not have MLS access is not a member of the board. The MLS and Supra key are necessary tools of the trade. Your agent should not only have access to the MLS but be equipped to show you every listing that you want to view.
Does Not Offer Any References – Agents should offer references or testimonials about their experience.
Final Thoughts
Buying a home is probably the single largest investment you will ever make. It is important to be fiscally responsible and you want it to be a positive experience. Emotions can run high during the home buying process, and knowing what to anticipate in advance can reduce stress. Utilizing an experienced professional Realtor who can guide through the process can certainly make a difference.
Find Other Valuable References for "Did Your Real Estate Agent Blow Up the Deal?" from Real Estate Professionals Across the Country. Check out the articles below, and please share on Social Media if you found the articles helpful.
There are signs that you may have hired the wrong real estate agent including poor communication. Paul Sian has written an excellent article Telltale Signs You Hired the Wrong Agent.
Bill Gassett has written a very detailed article Signs You Hired the Wrong Agent. He discusses agents failing to utilize all resources, no confidence or negotiating skills.
Hiring the wrong real estate agent when buying a home happens all of the time. Michelle Gibson has written an excellent post about 8 Signs You Hired the Wrong Agent. Buyers may not be aware they hired the wrong agent because they are not sure what a real estate agent is supposed to do.
About the Author
The above real estate article "Signs You Hired the Wrong Realtor" was written by Sharon Paxson at Newport Beach Real Estate. With experience since 2005, we welcome the opportunity to work with you.
We work with clients within the coastal Orange County CA area including Corona del Mar, Newport Beach, Newport Coast, Tustin, and more! If you are considering selling your home, we welcome the opportunity to work with you and list your home with a top Newport Beach CA Realtor.