Are you considering hiring a Realtor? If you are considering selling your home, hiring the right Realtor makes a difference when selling your home. Be sure to perform your own due diligence when hiring a Realtor and vet the person who you are considering hiring. Be truthful with yourself, and determine how you are finding your Realtor that you plan to interview. Are they leaving a notepad at your door once every two weeks?
There are many styles of Real Estate marketing and farming a neighborhood is one way for an agent to get their name in front of home sellers. Geographic farming is where an agent will either mail or drop a market update, notepad or another item at your home to create name recognition! And after seeing the name enough, then a home seller may decide that person is the neighborhood expert! Farming has been around for years! So do you think when you list your home with someone who farms, that is how your home will be marketed?
A more effective way to find your Realtor may be to Google the neighborhood and evaluate the results. At the top of the Google search (and along the side), there are generally paid ads, and once the budget for those ads is exhausted, the ad goes away. That type of marketing is PPC (pay per click).
When you find the results that are not ads, those are considered organic results. Organic results are a result of work and effort. Finding those organic results are a good indicator of who has a strong internet presence. A Realtor who has an epic website and strong social media presence will be able to more effectively market a listing by utilizing social media and blogging.
Ask How Long Have You Been in Real Estate when Hiring a Realtor?
This is an important first question, but asking how long an agent has been active in Real Estate is important! The entry-level for someone obtaining their license is not that challenging and someone may have had their license for 20+ years, but have not ever sold a home! You will want to hire an agent who has some history selling homes and be able to provide that information to you as a seller.
Hiring a professional real estate agent makes a difference with not only the marketing of the home, managing the listing, setting up showings, handling the negotiations in a professional manner, managing the escrow and ensuring the property closes!
Are you a Full-Time Real Estate Agent?
This goes along with how long someone has been in the field, are they a full-time agent? Real Estate is a dynamic business and you will want your agent to have knowledge of any contractual changes or MLS (Multiple Listing Service) requirements.
Hiring a part-time agent is not going to cut it. If a home is listed for sale and not on a lock-box for showings, then they need to be available to show the home! And present it in the best possible light to a prospective home buyer. Or if a Realtor has another job, they might not be available to answer the phone if a potential buyer contacts the listing agent about the property.
Ask the agent if they are on a team, or will they will the one to work with you directly. If an agent is on a team, you may not always be talking to the same person.
What Brokerage do You Work With?
Ask the real estate agent which brokerage they hang their license with and the reasons. Realtors are independent contractors and they generally hang their license at a brokerage, unless they are a broker themselves. Inquire as to what makes that brokerage different from literally all the hundreds of other ones. Is it a large corporate umbrella, boutique, or local brokerage. I think it is important if the brokerage has some type of local philanthropic activity that gives back to the community.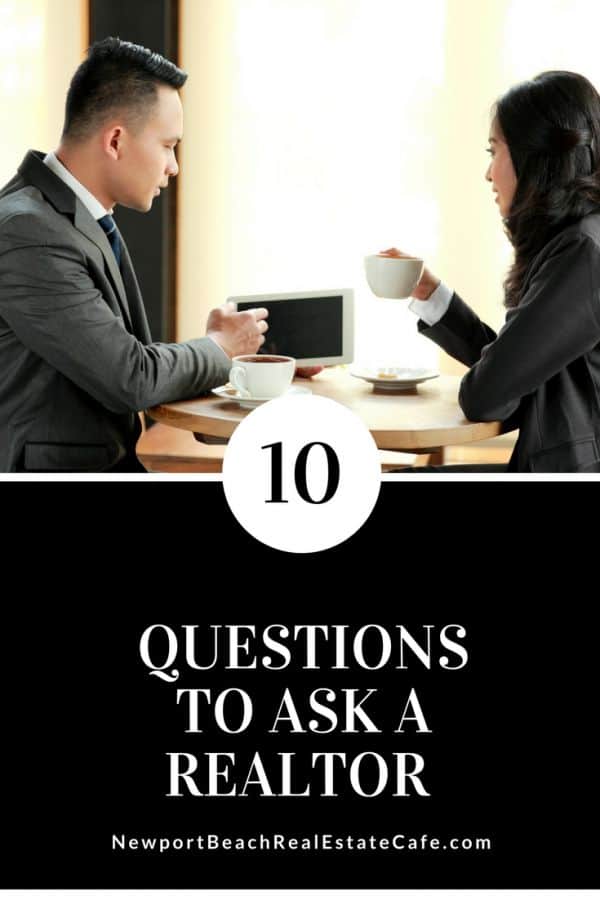 Do You Focus on a Specific Area?
When hiring a Realtor, it is important for a Realtor to have knowledge of the nuances of the neighborhood, be aware of what schools the children attend if there are local events to be able to clearly articulate that to a potential buyer.
Whether or not a Realtor lives in the community is not important in my opinion, as they can still have knowledge of the area. Knowing the number of homes in the area, the zoning, if short-term rentals are permitted and more is vital to a home seller. There can be set back determinations in certain areas, especially if the home is in a coastal area.
There can also be height restrictions on how high a home can be built! Agents need to be cautious with what representations are being made to a buyer, because if a buyer purchases a home with the intent to add a third story and the listing agent said they could, and that is not permitted at the city, then there could be a lawsuit!
How Are Your Going to Market My Home?
One of the first questions a home seller asks is how do you plan to market the home. That is usually after they ask how much you want to list it for!!!
Marketing is important, and it needs to be planned and completed before it ever hits the MLS. Having stellar photography makes a difference when a prospect is viewing the home online. If the photography isn't compelling, that buyer might not even take the time to come and view the home live!
Do You Have a Real Estate Blog or a Website?
Over 90% of home buyers will find their home online sometimes even before the buyer's agent can find it. Buyers are savvy and they utilize the internet to perform their home search. It is not uncommon for a buyer to send their Realtor a new listing that just came on the market!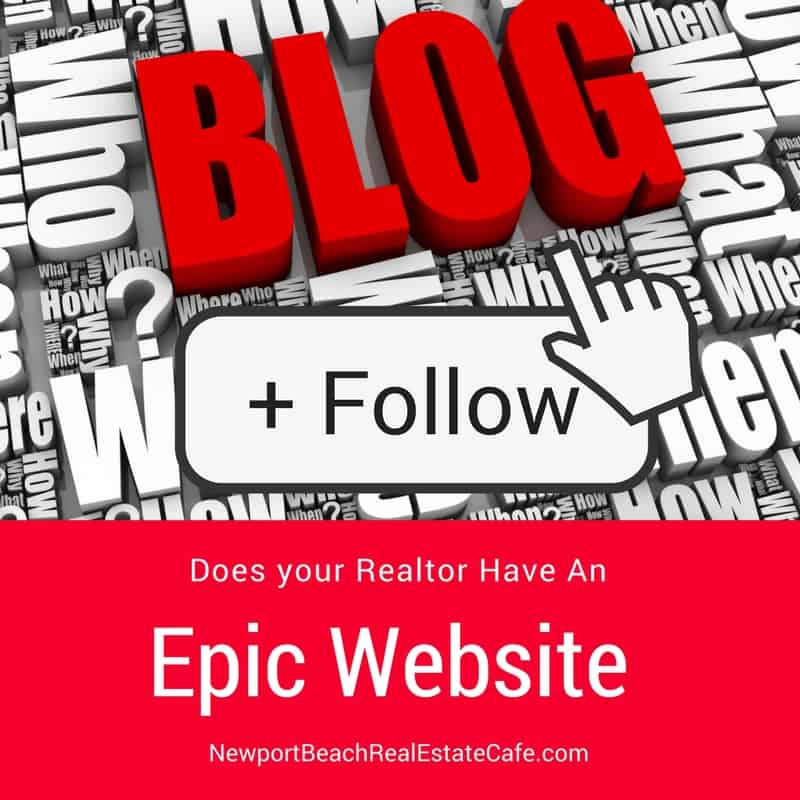 Realtors who have epic websites and real estate blogs are continually providing important and relevant information that a home buyer will find online. Many real estate agents who may be under a large corporate umbrella, and may not have their own blog or website at all. The benefits of having an individual website are preferable to being under a corporate umbrella as the information provided is local information and in most cases is managed by the local Realtors.
A Realtor who blogs consistently will have higher traffic on their website which ultimately means to a seller, that their home will have more exposure!
Do You Utilize Social Media?
What social media sites an agent uses can make a huge difference when hiring a Realtor. Also, utilizing social media effectively helps to create followers and online relationships. Social media sites such as YouTube, Pinterest, Facebook, Twitter, Instagram and more can create huge exposure for your listing. Agents who utilize social media may also have community videos which can be added to all these sites in addition to photographs.
Do You Hold Open Houses?
This is an important question to ask a Realtor. If the home is vacant and staged then a seller may want a few open houses. Open houses are not always an effective marketing strategy and inviting strangers into the home can make the home subject to burglary or vandalism. They also can create additional wear and tear on the home. This is a decision between a home seller and the Realtor.
Do you Utilize a Professional Photographer?
Utilizing professional photography is recommended unless the Realtor is proficient at taking and editing their own photos. Ask for examples of photographs of prior listings.
Selling a vacant home can be challenging as photography of a vacant home can be challenging and often times the rooms are not able to be differentiated without the furnishings. Staging a home can make a make a huge difference both online and in person. A buyer is able to see themselves living in the home with furniture and accessories.
Other questions on this topic include, will they utilize a drone or have aerial photos taken. Aerial photos help to give perspective to the area, and what is located around the home as to what it backs up to such as a lake, ocean, bay or wooded area. Aerial photos are particularly important to be utilized with oceanfront or waterfront homes. Homes that are located on the waterfront have a higher value, and this needs to be emphasized with the marketing of the home.
Do You Have Testimonials that You Can Share?
Ask for testimonials from the agents you are interviewing. It is also fair to ask to speak with a seller to see how the process went. It is important for a Realtor to have testimonials that can be backed up by speaking with one or two if needed! I offer this to my sellers if they would like to speak with someone about the services offered.
Final Thoughts
When selling your house, remember this may be the single largest transaction that you will have, so hiring a professional Realtor who can guide you through the home selling process and will yield you the highest amount of money in the shortest period of time. Don't be afraid to ask questions, not only of yourself, and make sure you are hiring the agent who you feel will do the best job.
Be sure to perform your own due diligence when hiring a Realtor, and ask the questions about being full time or part-time, whether or not they work with a large corporate company or a boutique. There are many options, but marketing will provide you with the greatest amount of exposure exposing your home to as many prospects as possible.
Find Other Valuable Resources for "What Are 10 Essential Questions to Ask When Hiring a Realtor?" from Real Estate Professionals Across the Country. Please check out the articles below, and please share across Social Media if you liked the articles.
How to Interview a Realtor When Selling via Kyle Hiscock, Rochester Real Estate Blog
16 Questions to Ask a Realtor via Lynn Pineda, Imagine Your House
How to Interview a Realtor via Bill Gassett, Maximum Real Estate Exposure
How to Hire a Top Realtor via Eileen Anderson, Farmington Valley Realtor
Questions to Ask a Realtor When Selling, via Michelle Gibson, Wellington Home Team
Interview Questions to Ask When Selling via Xavier DeBuck, Luxury Homes in Johannesburg
About the Author
The above real estate article "What Are 10 Essential Questions to Ask When Hiring a Realtor?" was written by Sharon Paxson of Newport Beach Real Estate. With combined experience since 2005 with representing sellers, buyers, landlords, and tenants, we welcome the opportunity to share our knowledge and expertise and guide you through your real estate transaction.
We service the following Orange County CA areas: Corona del Mar, Huntington Beach, Laguna Beach, Newport Beach, Newport Coast, Orange, Santa Ana, Sunset Beach, Tustin and more! If you are considering selling your home, we welcome the opportunity to work with you and list your home with a top Newport Beach CA Realtor.