Internet Marketing
Internet marketing is one of the most important marketing that will be done when selling your home. When you are considering selling your home, you will have to select your Realtor and this is one of the most important considerations in the home selling process. Most prospective home sellers may believe that most Realtors are similar with respect to marketing your home, but in fact, that is not the case.
It is important for a real estate agent to have a strong internet and social media presence. Social media is a very important and effective tool for marketing. Social media and internet marketing can be leveraged to provide maximum exposure for a home for sale.
The following are some considerations when listing your home for sale when choosing a Realtor to sell your house.
Does Your Realtor Have an Epic Website?
A website is a virtual store that provides information to consumers and it has a domain name. Web pages are the building blocks and they contain information that is provided to consumers and to those who surf the web!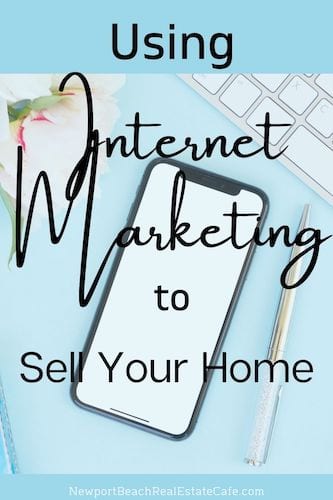 Many real estate agents who may be under a large corporate umbrella, and may not have their own blog or website at all. There are benefits and reasons why having an individual website is preferable to being under a corporate umbrella and they include information provided is LOCAL information and are managed by local real estate professionals who reside in the area. If a real estate agent does not have their own website, then how will your home be featured?
Over 90% of home buyers begin their home search online, and there is more than one place a buyer will look to find a home for sale. They might search specifically for a neighborhood, or they might search for homes in a specific school district.
Having an epic website takes time and it takes work to continue to add content on a consistent basis. Does it rank well, and are there a variety of topics on the website other than listings and who the agents are in the company? There are many companies who have websites that are just that, listings that are auto syndicated, information about the company and a list of the agents. And often times the only thing those websites want from the consumer is their name, phone number, and email address!!!
Does the website have IDX? IDX is an acronym for Internet Data Exchange and this enables real estate professionals to display property listing data on their websites within a certain MLS
area. There are IDX companies that offer this to real estate professionals. I do believe it is important to have IDX and the listings syndicated on a real estate website. The only time a listing is not displayed is if the owner opts out of 3rd party syndication, or the Broker opts out.
If a real estate agent tells you that they will list your home on their website, keep in mind it will be listed on thousands of other real estate sites including Zillow, Trulia, & Redfin. It is important to have a website that will be found at the top of the search engines, not buried on page 10 of Google!! There literally are thousands of websites, and each one is like a grain of sand on the beach. The key is . . . having the website get found!!
Importance of Blogging
Real estate professionals who blog on a consistent basis get more traffic on their websites. It takes time and effort to continually write and generate new and valuable content. Real estate professionals who have taken the time to learn and educate themselves about how to generate traffic on their websites are definitely not the norm. There are real estate professionals who do understand search engine optimization and take the time to learn if there are new algorithm changes which can impact a website, and how to make adjustments for any changes.
Adding quality content on a real estate website to provides value to the reader. Then that agent will be known as the expert and the go-to professional.
Another question to consider is the real estate professional the neighborhood expert? Providing information on websites about the different communities and areas, including the number of homes in an area, floor plans (if they are not custom homes), schools that the children attend and local amenities will benefit a buyer obtaining information about an area.
Here is an example of a neighborhood page which provides valuable information to a buyer who is interested in learning about an area and potentially moving there. And local area information should include photos (their own – not pirated from someone else's site – more on this in another post) and videos to showcase the area. You can check out my YouTube channel here for community videos.
There is no magic potion or secret sauce! Blogging takes dedicated and consistent effort to maintain a website and to continue to publish quality material that will be found by the search engines including Google, Bing, and Yahoo for years to come. The search engines have a memory and what is published. Blogging produces increased traffic with improved positioning in the search results.
Importance of Social Media Presence
Social media is a social interaction interacting with other people by sharing information with them and receiving information from different social media sites.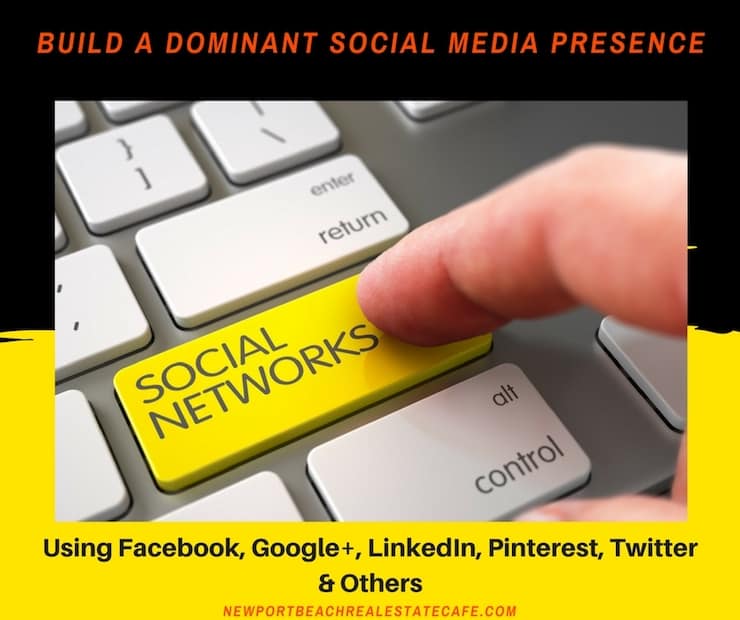 Important social media sites include Facebook, Google+, LinkedIn, Pinterest, Instagram, and Twitter. There are many others and it takes time to develop a dominant online presence and have followers and getting followers does not just happen overnight. Followers can be "purchased" however many of those accounts are not real accounts. It takes time and effort to develop online relationships.
Social media is not a one-way endeavor. Social media is about having conversations and sharing of information online. The idea is to be the go-to expert, there should be posts which offer value to the reader.
Importance of a Following on Social Media? Utilizing social media and internet marketing should be natural and not be a "bulletin board" where it is a one-way street – there should be reciprocation and conversations online.
I share other professionals content daily because the value of their content is important and there are excellent posts for home buying and home selling.
Should an Agent Purchase Top Placement of Search Engines?
When you do a Google search, have you ever noticed the ads at the very top, bottom and along the side of the search? Those are ads are paid for, and are referred to as pay per click. So once the budget for those ads is exhausted, then the ad goes away. Then if your property listed for sale is an ad, it may be there for a shorter period of time.
It is preferable to have organic results versus paid advertisements. Organic traffic is what most webmasters strive to achieve. This results in higher placements within the search engines.
Organic results are what appears with a search term because of it's relevance to the search terms as opposed to paid advertisements. Organic search traffic results in improved positioning in the search results for specific terms.
Final Thoughts
You have a choice when you are selling your home, and you should choose your real estate professional carefully. Having a strong online presence will be beneficial to a home seller because the home for sale will get more exposure and continued exposure. The continued exposure means that the property will be shared across the social media platforms, and the more exposure, the more likely your home for the seller will find a buyer.
If I can answer any questions about the importance of a strong internet presence and social media following, please contact me.
For other information about "5 Important Facts About Internet Marketing & Selling Your Home" from other Real Estate Professionals around the country, please check out the articles below, and please share across Social Media if you liked the article.
Best Real Estate Tips for Selling a Home via Bill Gassett, Maximum Exposure Real Estate
How To Get More Traffic To A Real Estate Website And Blog via Kyle Hiscock, Rochester Real Estate Blog
Marketing Strategies Expert Realtors Use To Help Sell Your Home via Paul Sian, Cincinnati and Northern Kentucky Real Estate
5 Things to Expect When You Choose the Wrong Realtor via Lynn Pineda, Boca Raton South Florida Real Estate
Pinterest Hacks – 11 Tips & Tricks for Massive Traffic to Your Blog via Debbie Gartner, The Flooring Girl
Thinking of selling your home? I have a passion for Real Estate and welcome the opportunity to share my marketing expertise and knowledge! Please contact me!