Home renovations generally improve home value. However, there are some that do not typically add home value. If you have been considering selling your home, you may be asking yourself which home renovation project will provide the best return on investment. It is a good idea to ask what home renovations don't add value when considering home renovations.
Many home renovations can add appeal to your home, it's essential to know what home renovations will increase your property value and which won't. Check out 7 home renovations that will decrease your property value. You may ask yourself what home renovations don't add value?
Converting a Bedroom into a Large Closet
Converting a bedroom into a closet might seem like a good idea for those who have huge wardrobes, and accessories, and are fashion enthusiasts. Still, it comes with several downsides that should be considered before embarking on these types of home renovations.
Converting a bedroom into a closet can significantly reduce the value of the home. Buyers typically want to see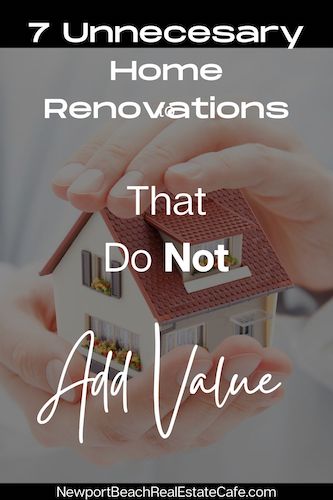 bedrooms that can be used as a bedroom. A home without a sufficient number of bedrooms may be less attractive to potential buyers. If the plan is to sell the home in the future, converting a bedroom into a closet could be a bad decision that results in lower home value.
Another downside to consider is the loss of functional space. A bedroom can be used for many purposes, including a bedroom, home office, home gym, or guest room. When a bedroom is converted into a closet, it limits the home's versatility and can make it less useful overall.
Another factor to consider is the cost of converting a bedroom into a closet can be quite expensive, especially if significant modifications are necessary for home renovation.
Rather than converting a bedroom for home renovation, use a closet organization company to organize existing closets to maximize functionality. Maintain the bedroom as a tranquil oasis for residents and guests.
7 Unnecessary Home Renovations that Do Not Add Home Value
Click To Tweet
Adding a Sunroom
Many homeowners believe that adding a sunroom to their house will provide a good return on investment, the reality is that it may have the opposite effect. A well-designed sunroom can be a functional and enjoyable space, there are several reasons why adding a sunroom can decrease home value.
Firstly, not all buyers may share the same enthusiasm for a sunroom. Some potential buyers may not appreciate the additional space that the sunroom provides, especially if it comes at the expense of other more important features like a larger kitchen or a bigger backyard. This means that the sunroom can actually decrease the pool of potential buyers, ultimately lowering the home's overall value.
A poorly designed sunroom can actually detract from the home's appearance and appeal. If the sunroom is not well-integrated with the existing architecture of the home or if it looks out of place, it can actually make the home look less attractive, leading to a decrease in value. A sunroom may not be included in the home's overall square footage.
Adding a sunroom can be expensive, especially if it requires extensive modifications to the home's existing structure. If the cost of adding a sunroom is not justified by the added value it brings to the home, it can actually be a financial burden that decreases the home's overall value. An important factor to consider is that oftentimes a sunroom does not have HVAC and therefore relies on the room next to it. Many sunrooms are closed off with sliding doors.
An appraiser may not consider the additional square footage when performing a home appraisal that a sunroom offers and therefore, results in a lower appraised value.
7 Unnecessary Home Renovations that Do Not Add Home Value
Click To Tweet
A sunroom can be a great addition to a home, it's important to carefully consider the potential drawbacks before completing these home renovations. Homeowners should make sure that the sunroom is well-designed, well-integrated with the existing architecture, and will add value to the home before deciding to move forward.
Alternatively, consider enhancing your existing outdoor space with updated patio furniture, string lights, and potted plants to add greenery. A water feature can be a nice addition to your outdoor space.
Choosing to Update Outdoor Kitchen Vs. Updating Your Interior Kitchen
Outdoor kitchens are great for entertaining guests and enjoying the beautiful weather, updating your indoor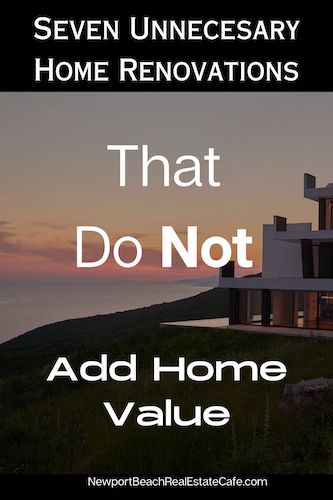 kitchen should take priority over your outdoor kitchen. The indoor kitchen is the heart of the home and is used for more than just cooking. Your kitchen is considered a gathering place for friends and family, a place to prepare meals, and a storage space for food, groceries, and cooking equipment.
Updating your indoor kitchen is an important home improvement. It can improve the functionality and energy efficiency of your home. Upgrades such as new appliances, lighting, and flooring can also increase the value of your home. Additionally updated countertops with backsplash can keep the home current. Buyers always appreciate new cabinets.
If you decide to update your outdoor kitchen, you will not have the same benefits since it is not used as frequently and does not impact the overall livability of your home. An outdoor kitchen is desirable, but only if your indoor kitchen has been updated.
Creating an outdoor kitchen will enhance your home's appeal, it should not be a priority over updating your indoor kitchen. Instead, consider investing in both, but prioritize the indoor kitchen as it is the hub of your home.
Instead of adding or updating an outdoor kitchen, consider spending that money on updating the interior kitchen. An outdoor kitchen is not a great investment if the one inside needs remodeling and updating. When a homeowner is considering their options, choose to remodel the indoor kitchen before building an outdoor one.
Designing a Home that is too "Trendy"
In general trendy designs do not last. They are short-lived and therefore will only be popular for a short period of time. When it comes to home decor and design, it's easy to get caught up in the latest trends.
Homes that are too trendy can be a turnoff to buyers. When a home is decorated entirely in the latest trends, it may feel impersonal. It is difficult to maintain, as trends change so quickly.
On the other hand, homes with timeless design elements and personal touches are much more appealing to the majority of buyers. These homes have a sense of warmth and personality that trendy homes often lack. They also have staying power, as classic design elements never really go out of style.
It may be fun to incorporate some trendy pieces into your home decor, but it's important to do so in moderation. A home that is too trendy can quickly become unappealing, while a home with a mix of classic and trendy design elements will always be in style. An important consideration is that when a seller is selling their home, they want it to appeal to the majority of those viewing the property.
Considering sticking to neutral paint colors and avoiding trendy designs that potential buyers cannot imagine themselves living there.
High-End Kitchen Appliances
Replacing appliances in a kitchen that's in need of updating will not necessarily add value to the home when considering home renovations. When it comes to selling a home, many homeowners believe that investing in the most high-end kitchen appliances will increase their home's value and lead to a higher sale price. However, in reality, high-end kitchen appliances may not have a good return on investment when it comes time to sell your home
Buyers often have different preferences when it comes to kitchen appliances. While some may appreciate the very high-end appliances, others may not.
High-end appliances are often expensive to purchase and install, which can eat into potential profits when selling a home. Some of these appliances require specific service personnel in the event the appliance needs to be serviced.
Ultimately, while high-end kitchen appliances may be desirable, they may not necessarily lead to a higher sale price. Homeowners should carefully consider their investment and weigh the potential return on investment before making any major upgrades.
Instead, homeowners should focus on making updates and home renovations that have broader appeal, such as fresh paint, updated flooring, and modern lighting fixtures.
Converting a Garage into Living Space
Converting a garage to a living space can be a tempting option for homeowners who need extra living space when considering home renovations.
Firstly, garages are often considered essential features of a home and a secure place to park vehicles. Garages are also utilized for storage. By removing this feature, you may make your home less appealing to potential buyers.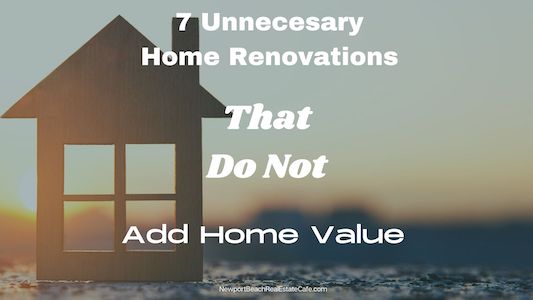 Secondly, converting a garage to a living space may violate local building codes and zoning laws. This can result in fines, penalties, or even the need to reverse the home renovations in order to comply with regulations, which can be costly and time-consuming.
If the conversion is not done professionally or if it significantly alters the flow and functionality of the home, it can negatively impact the overall value of the property. Remember that garages do not have HVAC, so it would not have heating or cooling.
Other factors would be adding plumbing if adding a bathroom to the area. It is not ideal to convert a garage to a living space, as there are some neighborhoods that require the homeowner to utilize the garage for their vehicles.
Instead of converting a garage to a living space, consider organizing your garage to make it functional.
Does a Pool add Value to Your Home?
Generally speaking, a pool may add value to a home. The amount of value depends on several factors.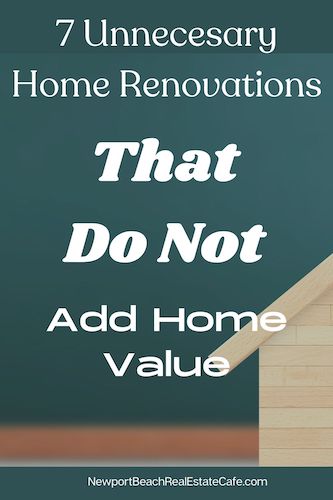 Homes that are located in warmer climates such as Arizona may have an increase in value due to the warmer climate. A pool in a home in a warmer climate may add value to the home. Homes that are located in a colder climate where pools are not as common may have a negative impact on home value.
The quality and condition of the pool can affect its value-adding potential. A well-maintained, high-quality pool is more likely to add value to a home than a poorly maintained, outdated pool.
The cost of building and maintaining the pool needs to be considered. If the cost of designing, building, and maintaining the pool is higher than the value it adds to the home, then it may be a cost. Homes with pools also have liability. Homes with pools need to have the area safely fenced.
Final Thoughts
The worst ROI home improvements can greatly impact a home's value. Home renovations should in general improve overall home value. It is important to consider what renovations will yield the best return on investment. Fresh paint and flooring are always a good investment with regard to a home renovation as the home appears clean and fresh.
About the Author
The blog post "7 Unnecessary Home Renovations that Do Not Add Home Value" was written by Sharon Paxson, a top Newport Beach Real Estate Agent. With experience since 2005, representing buyers, sellers, landlords, and tenants, we welcome the opportunity to share our expertise with you and guide you through your real estate transaction.