When you organize your garage, it is highly satisfying. The garage is an often-overlooked storage space that can be incredibly useful. However, if it's not organized correctly, it can be a total mess. It is easy to lay things down in the garage only to create an even bigger mess. Or homeowners will box up items and store them in the garage taking away limited floor space. There are many tips on how to organize a messy garage. You can decide how to organize your garage on a budget.
You may ask yourself What is the best way to organize a garage? We have some answers for you. Here are 8 tips to help you organize your garage in just a few easy steps:
Evaluate the Layout of Your Garage
When you organize your garage, evaluate the layout of your garage and work to maximize its space. If you have a large garage, break it up into smaller spaces by grouping items by use (e.g. tools, bikes, car parts, lawn equipment). This will help you better see what's available and make it easier to find what you're looking for. There are some great garage setup ideas that will help you to be organized.
If you have a two-car garage, typically they are approximately 400 square feet. Sometimes they can be larger. Having a three-car garage will provide more storage area.
Keep in mind that you need to retain space to park your vehicle in the garage. There are some neighborhoods to do not allow street parking, so be sure to check regulations.
How To Organize Your Garage In 8 Easy Steps
Click To Tweet
Inventory All Your Items
Take inventory of everything in the garage and make a list of what needs to be stored there. This will help you prioritize your storage and avoid storing items that you don't use often when you organize your garage.
Group your similar items together such as tools, gardening tools, and bicycles. If you have storage boxes, label them and locate them together while you are taking inventory of the contents of your garage.
In most cases, there is a lot of stuff that you no longer need. You may be storing an old drum set that no one has used for years and they take up a lot of space. You have furnishings that you are storing, and there is no time like the present to get rid of them!
Clean and Declutter Your Garage
Just like inside the home, it is a good idea to declutter and get rid of unnecessary items. Clean and declutter is a great way to organize and clean your home. You can even have a garage sale to get rid of some of the things that are no longer wanted. You can earn a little extra cash as well. Or you can donate the items no longer needed. There are companies that offer free donation pickup and will come and pick up the bags or boxes of stuff.
Clear out any junk or unnecessary items from the garage so that only necessary items are left. This can include putting away old clothes, replacing broken furniture, and clearing out any clutter from around the home.
Create designated storage areas for tools, lawn and garden items, sporting goods, appliances, and other items. This will help you to quickly and easily find the item you are looking for.
When storing heavy items, be sure to put them in a location that is sturdy and can support the weight. Place boxes on their sides so that they do not lean against each other or the wall. Hang objects from chains or hooks so they do not touch the floor.
Organize Your Items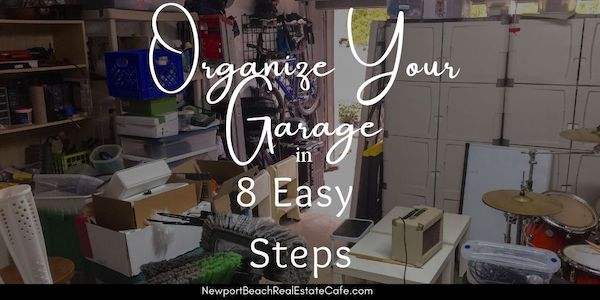 Group similar items together (e.g., tools, screws, bolts) so that they are easily accessible when needed. This will also help keep your garage organized and tidy overall. If you are utilizing plastic containers to store your items, be sure to label the boxes so you know what is inside.
Consider utilizing the clear or see-through boxes so you can see what is inside. The transparent storage containers are also great for holiday decor. So you can organize your boxes by the upcoming holidays such as the 4th of July, Halloween, and Thanksgiving. Storage containers can be organized so that you can easily access them for your projects or seasonal decor.
Install Garage Cabinets
You can either hire a contractor to have cabinets professionally installed. There are also companies that you can hire that will install cabinets and have organization systems. The closetfactory.com installs organizers for closets but also has garage organization as well. Garage cabinets can be designed in a way to allows you to store your items. If you have ski or snowboard equipment, you can store the boots and other items in the cabinets.
You can store lawn and gardening tools. Garage cabinets can be tall or short. The tall ones are ideal for long-handled tools such as a rake or broom.
Installing garage cabinets will be a home feature that will definitely add value to your home.
Install Heavy Duty Wall Storage
Wall storage is awesome when you organize your garage!! Be sure to get baskets that can be hung on the wall storage unit. It is a great way to store skateboards, rollerblades, beach chairs, bike helmets, and much more. The baskets can be moved to accommodate different sized items. This is a fabulous way to get your items OFF the floor of your garage. You can add hooks to the wall storage frame to hang items as well.
You can also obtain brackets to hang your bicycles to keep them off the floor as well. The only downside of hanging them is that you then may not end up utilizing them because it put away. Also, if you have beach cruisers, those are heavier and might be more difficult to get down.
If you live in a waterfront community or near the beach, you may have surfboards or paddleboards. There are surfboard racks that can be installed on the walls to keep the boards off the ground. When you live in Newport Beach, many homeowners do have bicycles and surfboards to take advantage of the coastal lifestyle.
A very popular trend right now is electric bikes or e-bikes. You will need to retain some space for them on the floor of the garage and near an outlet so that you can keep them charged.
How To Organize Your Garage In Eight Easy Steps
Click To Tweet
Store Your Valuables Safely
One of the best tips to keep your garage organized and safe is to store your valuable items in a safe place. Many homeowners do have a safe in their garage. A home safe is an excellent home security investment and will help to keep your home secure. If you decide to obtain a safe when you organize your garage, you will need to decide on the size, If you are storing long firearms, then you will want a tall safe. Be sure to have the safe bolted to the garage floor.
A safe is an excellent place to store valuable. If you are going to have one, try to have it in a location that is not prominent. You do not want people passing by to know that it is there.
Epoxy Paint the Garage Floor
Epoxy is the best garage floor finish because it is by far the most durable. It will last for many years and will not require any special care. If you want to keep your garage clean, epoxy can be easily cleaned with a
hose. Then you can utilize a squeegee to clean up the excess water after you organize your garage.
The best garage floor finish is a two-part epoxy because it is the most durable.
If you do not want to epoxy your garage floor, there are other finishes available that will also work well. You can choose between primer and paint or even tile depending on your needs and preferences.
Finally, make sure there is ample lighting in your garage so that you can see what you're doing while working inside!
Conclusion
Follow these simple steps to organize your garage in no time! It'll make it easier to find what you need and keep your home organized. An organized garage with built-ins is definitely something that adds value to your home.
In the end, if y9ou find out you still have items that you want to keep, you can rent a storage space. There are tips to compare storage companies so you can find one that works best for you.
About the Author
The article "Advantages to Hiring a Contractor For Your Next Project" was written by Sharon Paxson, a top Newport Beach Real Estate Agent. With experience beginning in 2005, representing buyers, sellers, and landlords, we welcome the opportunity to share our expertise with you and guide you through your real estate transaction.