Home Renovation Project
Have you considered remodeling or updating your home? When you make a few changes it can transform a house into a home. Everyone wants to have our homes updated and in good repair. Maintaining your home will enhance the value of your home. We all want our homes to have a good value as we are the ones who live in them.
It can be challenging to determine where to start and what changes need to be made with your home renovation project. With older homes, it is a good idea to important reasons to repair them before selling. If the property is a historic home or is in a historic district, other factors need to be considered such as adhering to paint schemes.
Establish a Renovation Budget
The first thing you want to do is to establish a budget before you embark on your home renovation project. This is a must-do first step.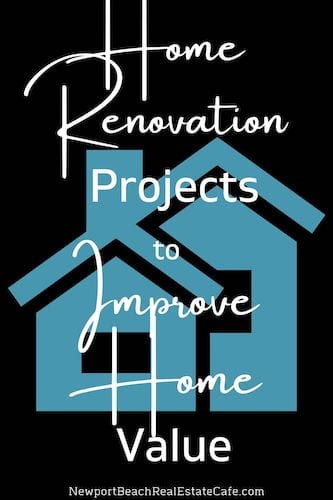 Determine what it is you are going to be doing in the home and determine the total home renovation project costs. It is a good idea to plan ahead so you know how much money you will be laying out.
If you are renovating your kitchen, it can cost anywhere from $35,000 to $50,000 depending on what you are doing. If you are replacing the kitchen appliances, they do range in cost. Viking appliances are generally more costly than General Electric. Do your research to figure out what type of appliances you will be getting.
If you are remodeling a bathroom, you may have expenses for new flooring, bathtub, toilet, and countertops. Replacing kitchen counters and cabinets do add value to the home improvement project. All of these improvements will create a new kitchen that will add value to the property. Be sure to have the money that you have budgetted for the entire home renovation project.
Be sure to plan ahead and have the money saved for your home renovation project as the last thing you want to do is run up debt on your credit cards. And try to avoid getting personal loans for the update as well. If you re-fi your home, that is a good option because of the low-interest rates.
Home Renovation Project | 11 Ways to Revive Home Value
Click To Tweet
Updating Outdated Décor
These days it is very easy to find inexpensive items that will update an old space in style – from affordable furniture pieces that add pops of color or layout changes with fresh wallpaper and paint colors, to trendy vintage finds like artwork and furniture.
An up-to-date home can be a refreshing change for you and your family, but also makes it more appealing to potential buyers. try the trendiest decor and more convenient will be to choose accessories and furnishing that remain in the interior spotlight for a longer period like chandeliers, a heavy leather sofa, and vintage-style beds.
Hire a General Contractor
Depending upon the scope of the work, it is a good idea to hire a general contractor to oversee the project. It is the only way to keep your home renovation project on the right path. And keep in mind, whatever you are going to do, one thing definitely leads to another! If you are replacing the flooring, then you may then need to replace the casing around the doors and baseboards.
Update your flooring in the living room will give it an updated look and feel. The general contractor can act as a project manager to provide guidance. It is a good idea to consult with real estate agents as well to help you to understand what projects will give you a good return on investment. Be sure to discuss a start date and the time frame for the scope of work to be completed.
Other factors to consider, if you are planning on making structural changes to the home, you will also need an architect to create plans. The plans will have to be submitted to the city for permits. This is not something you want to avoid as when selling, you want to let your buyers know that all work has been permitted!
Paint the Interior
One of the first things you need to do is to pick a color. It can be very overwhelming and you will get lots of advice from family members and
friends. It is a good idea to get paint samples at your local Dunn Edwards or Sherwin Williams paint store.
You can paint in different areas, and see what color you like the best. If you are unsure of what color to pick, you can certainly consult with an interior designer. Paint colors will depend on the color of kitchen cabinets and flooring.
Ideally, you will paint the entire home including the living room, kitchen, bathrooms, and master bedroom. Painting is relatively inexpensive when it comes to the home remodeling project. A fresh coat of paint in your own home will make a difference in the condition of the home.
After you have either peel and stick paint samples or actual paint, be sure to check it out several times a day. If you are utilizing actual paint samples, wait for it to dry completely so you can see the actual color. The paint generally dries a little darker than when it is applied.
Update Your Light Fixtures
Updating your exterior light fixtures is a good idea. It is fairly inexpensive and you can easily purchase updated ones at hardware stores such as Ace Hardware or Lowes. Adding a light fixture that is contemporary and updated will create a fresh look. You can update interior lighting in addition to the exterior. If you have existing recessed lighting, they can be replaced with LED lights that look great and are more energy-efficient.
Living on the water can cause more corrosion of light fixtures or other metal surfaces. Patio furniture that is powder-coated generally stands up to the elements. Changing light fixtures is one of the easiest ways to update both the interior and exterior of y9our home.
Home Renovation Project | 11 Ways to Revive Home Value
Click To Tweet
Update Any Outdated Décor
An up-to-date home will be more inviting to guests and if you are selling your home, it will be appealing to potential buyers. If you have old furniture that is fabric and smelly, it is time to update it. Consider a leather sofa in a light color and accessory pieces such as a coffee table. Add accent pillows on the couch or chair to accessorize the room. Consider using healthy houseplants in a corner to add life to the room. You can update your home inexpensively by shopping wisely. It is common for some to purchase items at thrift stores. Some of these items can be repurposed and made to look brand new!
Make the Home Eco-Friendly
As long as you are updating the home, there is good reason to create an eco-friendly home. As we have mentioned in the article, utilizing light fixtures that are LED not only is energy efficient but will also save money. If you are replacing the toilet, then be sure to get a low flow toilet as it will utilize less water. This preserves our natural resources. If you are replacing any windows, then get dual pane windows as they will insulate your home more efficiently. This will result in less loss of heat during the winter and keep the cool air in during the warmer months.
Final Thoughts
Updating your home can be daunting, but with a little planning ahead, it can be time within the budget established and during the time frame established. Keep in mind, that it may take longer due to the fact that some materials such as lumber are more difficult to get right now. Perhaps ordering your supplies in advance will make a difference to keep your project within your time. Having an updated house is something a homeowner can enjoy and appreciate. It is also very appealing to a buyer if you are selling the home.
About the Author
The article "Home Renovation Project | 11 Ways to Revive Home Value" was written by Sharon Paxson, one of the best Newport Beach Real Estate agents. With experience since 2005, representing buyers, sellers, and landlords, we welcome the opportunity to share our expertise with you and guide you through your real estate transaction.