First time home buyers should research before embarking on the home-buying process. The more that home buyers know about buying a home and what to anticipate with the process the better. This will reduce stress for home buyers as they will understand what can be anticipated along the way. Buying a home is most likely going to be the largest financial investment a person can make in their lifetime. It can also be an intimidating process, especially for first-time homebuyers. There are a lot of factors to consider, from selecting the right Realtor® and finding the right home to securing financing and navigating the legal requirements. There are many first-time buyer mistakes to avoid.
There are many steps for first-time home buyers, and it is important to understand what you can anticipate in the process. These tips for first time home buyers will help to make the home-buying process run smoothly.
First Time Home Buyers | 10 Important Facts to Know
Click To Tweet
How to Determine the Budget for First-Time Home Buyers?
One of the first and most important steps a buyer needs to do is to establish the budget for the home that they
want to purchase.
A budget is the amount of money you can afford to spend on a home without jeopardizing your financial stability or bank accounts. It is important for a buyer to understand how much money to save for a downpayment on a home.
The first step to determining your budget is to evaluate your income and expenses. Calculate your monthly income and expenses to determine how much money you have left over after paying bills and living expenses. This will give you an idea of how much you can afford to spend on a mortgage payment each month. Keep in mind there are other expenses to take into account including homeowner's insurance, property taxes, and other expenses. It is always a good idea for a homeowner to keep a financial reserve for maintenance and repairs of the home.
Save for a Down Payment
Saving for a down payment on a home may seem overwhelming, but with a few simple steps, it is achievable.
The first step is to set a financial goal for how much you need to save. Most lenders require a down payment of at least 5-20% of the purchase price of the home, but other programs may require less of a down payment
Create a budget and look for areas where you can reduce overall expenditures. This might mean going out to dinner less often and canceling monthly subscriptions and memberships that are not being utilized. Another way to reduce expenses is to avoid getting that morning coffee that can add up! Deposit the savings into a dedicated expense account.
Consider finding ways to earn extra income. A great way is to sell items around the house on sites such as Craigslist. If you have clothing and accessories, you might be surprised how much you can make on websites such as Poshmark.
Buyers may utilize their 401K as a downpayment, but please consult with your tax professional. Saving for a down payment can take time, but the reward of homeownership is definitely worth the effort.
Get Pre-Approved for a Mortgage
While first-time home buyers can attempt to determine what they can afford for a home, it is essential that they meet with a lender to get pre-approved. Lenders use your debt-to-income ratio to determine how much you can afford to borrow. DTI is calculated by dividing your monthly debt payments by your gross monthly income.
This along with your down payment for a home will help first-time home buyers to determine what they can afford when buying a home. It is important to consider reserves when buying a home. What that means is that first time home buyers should not use all their liquid assets to purchase a home. Emergencies can arise with home ownership and it is important to be prepared.
There may be a program for first time home buyers that will assist with the home buyer with purchasing a home that works best. There are best home loans for first time buyers as well.
Estimate Closing Costs for Home Buyers
Closing costs are the fees that are associated with purchasing a home. When buying a home, it's important to factor in these closing costs. Closing costs can vary depending on a number of factors, including the type of mortgage, and the purchase price.
The best way to determine your closing costs is through your lender. They should provide you with an estimate of what those costs are going to be. There are also closing cost calculators online that you can utilize to determine how much the costs are going to be
It's also important to be aware is that closing costs can be negotiated with the seller. Working with a knowledgeable lender and Realtor can help buyers navigate the home-buying process and ensure they have a clear understanding of the closing costs associated with their home purchase.
What is an Appraisal Contingency?
An appraisal contingency is a clause that can be included in a real estate purchase agreement between a buyer and a seller. The purpose of this contingency is to protect the buyer from overpaying for a property if its appraised value turns out to be lower than the agreed-upon sale's price.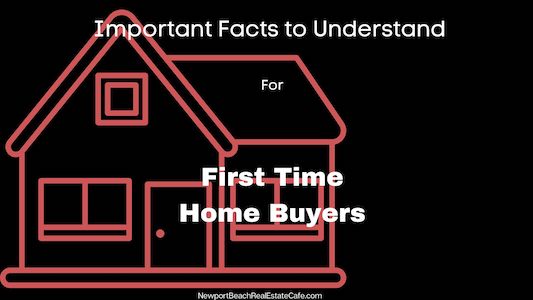 The contingency typically stipulates that the buyer has the right to back out of the sale or renegotiate the purchase price if the appraisal is lower than the agreed-upon price. This protects the buyer from being stuck with a property that they overpaid for and ensures that they only pay a fair market value for the property.
Appraisal contingencies are particularly important in a competitive real estate market where bidding wars can drive up prices beyond the property's true value. With an appraisal contingency, the buyer can have peace of mind knowing that they won't be on the hook for more than what the property is worth.
An appraisal will consider material facts about the home that influence the value. Some of the facts included are the size of the home, the lot, the location of the property, what it backs up to, the physical condition of the home, and much more. An appraiser will look at recently sold, comparable properties to come up with the appraised value.
Tips for First-time Home Buyers
There are important home-buying tips that first time home buyers should be aware of the home-buying process. Before looking for homes, buyers should put together their priorities of what is important in the home itself. It is important for first time home buyers to know what they can afford before home shopping. Otherwise, it can be a let down for buyers if they are looking at homes beyond their financial means.
Home buyers may have many real estate questions, and it is important to obtain answers to those questions. Your Realtor should provide you with information about what can happen with your real estate transaction so you are prepared.
Choose Your Real Estate Agent
The role of a buyer's agent is to guide first time home buyers through the purchase of a property. The buyer's agent will be your professional resource for all of your questions or concerns about the transaction. Your agent should be able to guide you through and explain the process throughout the transaction. The buyer's agent will go over the recent comparables and provide that information to the buyer. This is important information to know when you choose your real estate agent.
First Time Home Buyers | Seven Important Facts to Know
Click To Tweet
The agent will provide community information to the buyer to ensure they are selecting the best community to live in. The agent will provide information about the number of homes, proximity to shopping and the local schools in the area.
Final Thoughts
Buying a home is one of the biggest financial purchases you will likely make in your lifetime. Your home will provide a sense of home and security, and ideally a financial investment that will improve over time. Be sure to higher an experienced agent to assist you with the home-buying process.
About the Author
The blog post "First Time Home Buyers | 7 Important Facts to Know" was written by Sharon Paxson, a top Newport Beach Real Estate Agent. With experience since 2005, representing buyers, sellers, landlords, and tenants, we welcome the opportunity to share our expertise with you and guide you through your real estate transaction.