Waiving a home inspection can be a risky thing to do when buying a home. When you are buying a home, one of the things that you will have to do is have a home inspection done on the property. This is a process where someone will go into the home and look for any problems that may exist. If you are waiving a home inspection, you may be opening yourself up to some potential problems.
If you are waiving a home inspection, make sure that you are aware of all of the risks involved and that you are comfortable with those risks. Do your research before making any decisions about waiving a home inspection.
A buyer may wonder why would a seller not want a home inspection, and that might be cause for alarm as well.
Waiving a Home Inspection Could Cost You In the Long Run
Click To Tweet
Even if the seller is selling their home as-is, it is still the buyers right to have a home inspection, unless of course they waive it.
What is a Home Inspection?
A home inspection is a process where someone will go into the home you are buying and look for any problems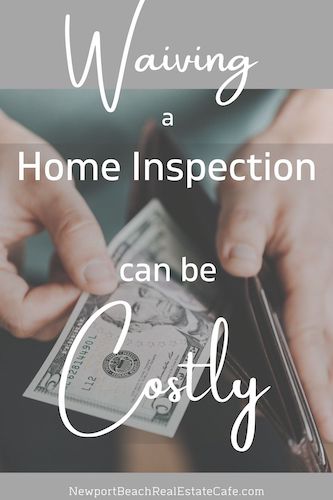 that may exist. This can include things like finding water damage, faulty wiring, and structural problems. If there are any problems found, the home inspector can provide you with a report that will outline these issues.
A home inspector is a qualified inspector who will assess the property's condition. A home inspector will evaluate all the major systems of the home. A home inspector will look at the HVAC system, and plumbing and determine if there are any leaks. There are times when an inspection can trigger another inspection. For example, if the inspector finds water staining in the attic, that may mean the roof has leaked in the past or has a current leak.
A home inspection will identify safety items as well. The electrical system is evaluated and the inspector will ensure all the GFI (ground fault interrupters) are operational. There are requirements about the use of GFI's in a home, especially near water. The inspection will cover the electrical panel as well.
The inspection will include the operations of the kitchen appliances including the dishwasher, stove, oven, and vent fan.
Overall, the inspection will give a buyer an idea of the condition of the home and the property value.
Why Would You Waive the Home Inspection?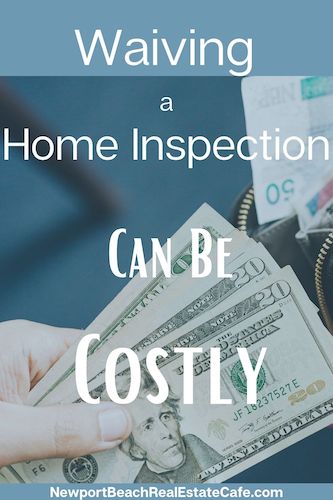 The real estate market is ultra-competitive and it is common to see multiple offers on a home over asking price. So you may ask yourself, why it is risky waiving a home inspection? There are risks of waiving an inspection. There is a chance you could be buying a money pit, a home that needs mega repairs that can cost a fortune.
There are a few reasons why buyers will waive a home inspection. The most common reason in this real estate market is to make the buyer's offer more competitive. If a buyer waives a home inspection, then the seller won't need to deal with any repairs on the home prior to closing escrow.
If a buyer has a home inspection, then it is provided to the seller along with items to be negotiated with a request for repairs. So once a seller is in possession of this report, it should be disclosed to future buyers in the event the home falls out of escrow due to a failed home inspection.
What does inspection contingency mean? It means if the buyer finds something on the home unacceptable, they can cancel escrow if they have not waived the contingency.
If a buyer is waiving a home inspection, then contractually the buyer cannot utilize the home inspection contingency to change their mind about purchasing the home. If the home inspection reveals significant defects, then the buyer is limited to making arrangements for repairs only.
If you're thinking about waiving a home inspection, it's important to weigh all of your options before making a decision. A qualified inspector can help you make an informed decision about whether or
What Are the Risks of Waiving a Home Inspection?
If you are waiving a home inspection, there are a few potential risks you may face. You want to be sure you perform all your due diligence when buying a home.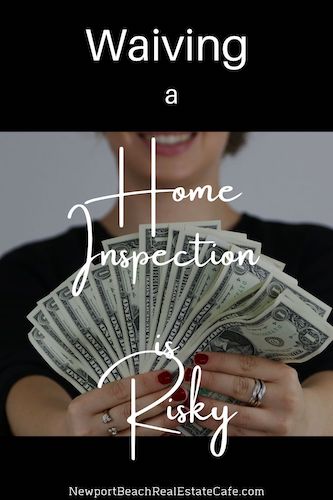 The home could be in worse condition than you initially thought. If the home has significant defects that were not apparent. These defects can turn into expensive repairs for the buyer. Imagine you have moved into your new home, and you find the home has extensive water leaks or mold. You would have to spend time and money to fix these issues, and you may not be able to do so if you had a home inspection.
Another risk is that the home could be safety issues. If there are any safety hazards that were not disclosed in the report, the buyer could be at risk if they choose to move into the home. For example, if the home had electrical issues that were not disclosed it can be very costly to repair for the buyer. It is the sellers obligation to disclose material facts that they know about the property.
Finally, waiving a home inspection can impact your ability to sell your home in the future. A buyer who knows about significant defects in a property may be less likely to buy it. This means you may not receive as much money for your house when you originally purchased it.
What If the Home Has Deferred Maintenance?
If the home has deferred maintenance, such as plumbing issues that have not been addressed, a home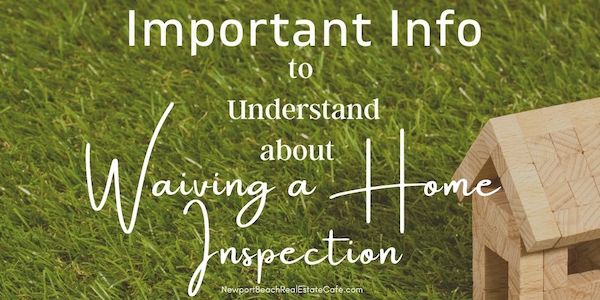 inspection may reveal these problems. This means you could be stuck with a home that has serious defects that you were not aware of. Hopefully, the home does not have deferred maintenance, and the sellers have made necessary repairs. However, that is not always the case.
If you are waiving the home inspection, be sure to have extra funds to cover any repairs that were not anticipated.
If a defect is found during the inspection, make sure you have a plan for fixing it. If you do not have this plan in place, your homeowner's insurance may not cover any costs associated with fixing the defect.
Final Thoughts
It is popular now for buyers to waive a home inspection as a result of this competitive market. If you are thinking about waiving a home inspection when buying a house, make sure you understand what this could cost you in the end. There are risks associated with this decision, so make sure you weigh them all before deciding to waive a home inspection. Waiving a home inspection may be a risk that a buyer does not want to take. If the seller will not accept an offer with a home inspection, then that house may not be the property for you. Hopefully, you are not the buyer that states "i bought a house without an inspection".
About the Author
The article "Waiving a Home Inspection Could Cost You In the Long Run" was written by Sharon Paxson, a top Newport Beach Real Estate Agent. With experience beginning in 2005, representing buyers, sellers, and landlords, we welcome the opportunity to share our expertise with you and guide you through your real estate transaction.