Selling Home As-Is
When selling home as-is, there are many things to consider. Home selling brings many costs that include getting the home ready for sale and making repairs. If you don't have the time or money to fix up the property, an as-is sale could look like a good option. There are pros and cons of selling a home as-is.
There are many things you need to think about before choosing this way of selling your home. We review the issues that should be considered before you choose to sell as-is.
What is Selling As Is?
Selling your home as-is means that you will be selling the house in its current condition. By specifying that the property is
being as-is means that a seller does not want to pay for repairs. That does not mean that a buyer will not ask for repairs after a home inspection or for a reduction in price depending upon what is found during the home inspection. Buyers will generally want to negotiate repairs on the property or financial remuneration. The buyer will normally have a home inspection carried out, with the results often leading to the seller making repairs or reducing the price. If you know there are some problems with your home, this can seem like a great idea to avoid paying out for repairs.
However, this type of sale isn't the norm and not what buyers expect to find. This will likely put off many potential buyers and could lead to a lower price being received for the home.
Reasons Sellers Choose As Is
Selling as-is could be the preferred method of sale if you know that there are problems that you don't want to deal with. This could be the case if you are aware of major structural problems that will be costly to repair.
You can't just hide these issues from buyers, even if they don't have a home inspection. If you were to try to do this, the seller could start a legal action once they uncover the problems the home has. Most of the time, issues will be uncovered by the home inspector anyway, or the real estate agent will disclose problems as they are required to do so.
Perhaps, you hope that this option will speed up the home selling process. Without the need to negotiate over repairs or set aside time to have them completed, things should, in theory, proceed faster.
When a person has inherited a home, this type of seller may prefer selling as-is. If they don't want to spend the time to fix up the property, and just sell as quickly as possible to release the equity, it could be an attractive option. This allows them to avoid having to spend money on the property to get it sold. There are buyers that are specifically looking for properties that are fixer-uppers because they think they can get a better deal and fix it up themselves.
A fixer-upper can be a great deal for the buyer providing they are aware of the all the costs to bring the home up to good condition.
Buyer's Perception
As-is listings are inevitably going to be looked at negatively by buyers. They will assume that there are serious problems
with the home, even if this isn't the case. This will put off buyers from investigating further, reducing the number of potential buyers, and lowering the likely price the home will sell for.
The house might only attract investors, looking for a property to fix up and flip the home. Even investors are going to investigate the property to ensure they are not overpaying. Whether the buyer is an investor or not, they will normally want to have a home inspection. If the results show serious problems, they will be looking for a lower selling price or will walk away from the deal completely. Investors do not want to make mistakes when flipping a home.
The seller might want to stick to their price, and this can lead to long negotiations, holding back the sale for many weeks. If you want to sell your home quickly, this situation can be used by investors to get the deal they want.
What is the Process of Selling Your House As-Is?
Click To Tweet
Selling Your Home for More
If you want to get the best price for your home, you need to attract the most potential buyers, and an as-is sale is never going to achieve that. If you know there are issues with the home you can't keep them hidden from buyers, it is better to be transparent in your home selling.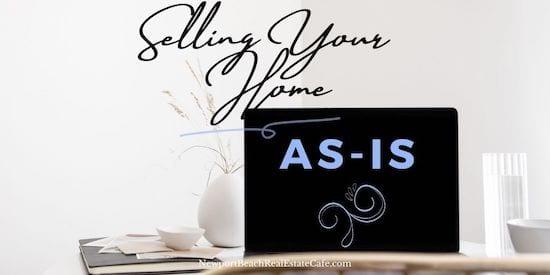 To make things as clear as possible, you could get your own home inspection done. A pre-listing home inspection will show you the exact extent of the repairs needed, and give you a better assessment of the price you should set for your home. Such a move will give buyers more confidence in the property, and they may even skip having their own inspection carried out, saving time on the transaction.
Final Thoughts
This information will help you and your real estate agent find a price for the home that will attract buyers despite any problems it has. Buyers are less likely to try their luck with low offers if you provide this level of openness about the home.
Ultimately, you will get more for your home if you use an experienced real estate agent to sell your property. Being open and fully disclosing the repairs that your home needs, is going to attract more buyers. Even if there are valid reasons to pick an as-is sale, it is rarely the best choice.
About the Author
Top Newport Beach CA Realtor Sharon Paxson with Newport Beach Real Estate has written the article "Selling Home As-Is"
Sharon has been specializing in residential real estate since 2005 throughout Newport Beach CA and the surrounding area. Whether you're looking to buy, sell, or rent she will guide you through the entire real estate transaction. If you're ready to put Sharon's knowledge and expertise to work for you call or e-mail her today.
Areas of service include Corona del Mar, Huntington Beach, Newport Beach, Newport Coast and more coastal Orange County communities.