Pricing your home correctly is extremely important. There are many factors to consider when pricing your home when selling, and it is imperative that the home is priced as close to market value as possible. If the property is dramatically overpriced, then the home is at risk of sitting on the market accumulating too many days on market, multiple price reductions to get in alignment with the market, and may result in a lower sales price.
There are many considerations to take into account when pricing your home to sell, and some of those items which include the following.
Maintenance or Lack There Of
The condition of the home is paramount when pricing the home. Ideally, the home is in tip top condition prior to listing it to sell and addressing any deferred maintenance will help to present the home in the best possible condition. Try to be objective when evaluating your home and look at it as if you were a buyer!
Consider the following when evaluating the maintenance:
Exterior paint
Exterior trim
Consider having a termite inspection to find out if there are termites and dry rotted wood
Exterior light fixtures – make sure all light bulbs are operational and ensure glass in light fixtures is clean and sparkling.
Fresh paint in the interior makes a huge difference and it is fairly inexpensive
Address baseboards
Ensure all doors and door handles are operational
Ensure windows are operational and replace screens if needed. Check to see if there is a broken window seal in dual pane windows. This can impact energy costs as they do not insulate the home as well.
Address HVAC if needed, and replace filters
Clean fireplace if it is woodburning.
Consider having a pre-listing home inspection which will help identify any deferred maintenance. Buyers will get their own home inspection and this way you will have addressed items that the buyer may want to have repaired.
If a buyer thinks there is deferred maintenance then they may not make an offer on the home, or the offer may be lower! There are costs associated with selling a home, however addressing deferred maintenance prior to listing to ensure that your home is in tip top condition and will ultimately yield a higher sales price.
Outdated Kitchen and Bathrooms
Remodeling a kitchen and bathroom prior to selling a home can be costly and you may not see a return in investment. There are some preparations that can be done to ensure the kitchen and bathrooms show in the best possible light. Address the paint and the baseboards. Consider the cabinet doors and make sure they are freshly painted with new pulls. If countertops are dated tile, then make sure that grout is clean and you can use a magic eraser which helps to clean grout or other deep stains.
Older mirrors can have black spots or marks from moistures or cleaners. Consider taking the mirror down and hanging a new one from Home Goods or another similar establishment.
Appearance and Curb Appeal
Your home has one chance to make a good first impression. The photographs of the home are imperative in today's times because a buyer is going to be looking at your home online first! Your home has to be inviting online in order for a buyer to want to come and see it in person.
Consider the curb appeal of the home! Boost the curb appeal when you are getting ready to list it for sale and have prospective buyers coming through. Your house has one chance to make a good first impression both online and in person.
Consequences of Overpricing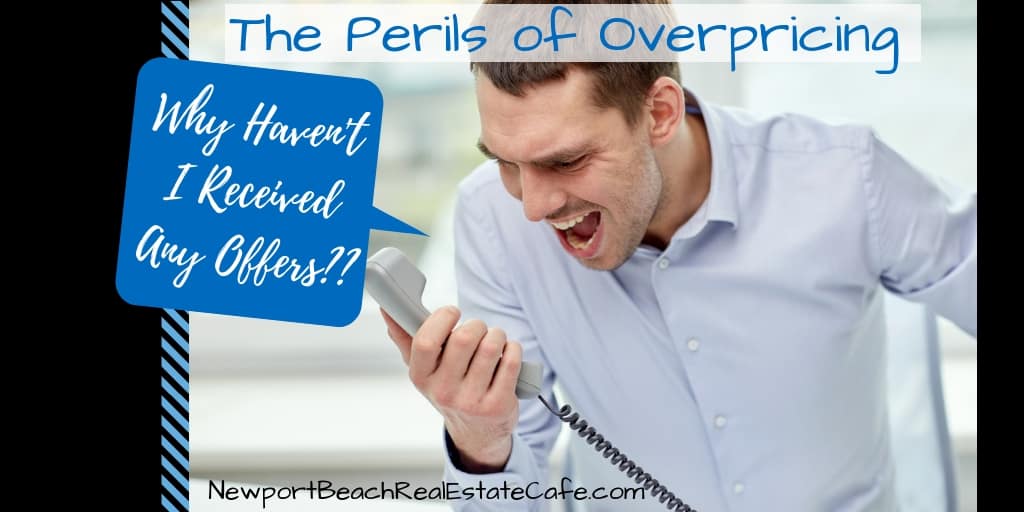 Few or No Showings
If the home is overpriced, it is unlikely you will get very many showings. When a home is just listed, it is fresh and buyers should be wanting to come and see it as soon as possible. If the home is not within the market value, then you may not get very many showings. Additionally, it sends a message to the buying public and the real estate community that you may be an unrealistic seller and buyers may not want to negotiate with you!
The home should receive multiple showings within the first week, and it is important for the listing agent to ask for feedback not only on the condition but the price as well. This feedback should be shared with the seller!
No Offers
You may not receive any offers if the home is overpriced! Buyers may think the seller is unreasonable and that the home is not within the market. Another consideration is that even if the seller thinks their home is worth more than the market, the home has to appraise even if you find a buyer who is willing to pay an inflated price! If the home does not appraise at the purchase price, then you may be facing another round of negotiations on the purchase price.
Accumulating Too Many Days on Market
Another factor to take into consideration is when a home is overpriced, it may accumulate too many days on market. This can be a red flag to a buyer as they will wonder why it is sitting on the market for so long and what is wrong with the house! When you are listing a home, it is not the time to "test" the market and overprice the home! You must consider the recent comparable sales, and look objectively at the homes which have sold with similar features, lot size, and condition.
Final Thoughts
When you are getting ready to sell, it is important to ensure that any deferred maintenance has been addressed and a fresh coat of paint always makes a property look fresh and clean. Be sure to allow the listing agent the necessary time to prepare to put the home on the market by getting professional photography, building a web presence to ensure maximum exposure. By pricing your home correctly from the start, you are more likely to sell it quickly for close to list price. Be sure to consult your Realtor when getting your home ready to sell about how to prepare your home to sell.
Find Other Valuable Resources for "The Importance of Pricing Your Home Correctly Right from the Start" from Real Estate Professionals Across the Country. Please check out the articles below, and please share across Social Media if you liked the articles.
The Dangers of Overpricing via Kevin Vitali, Merrimack Valley Real Estate
10 Ways to Know Your House is Overpriced via Bill Gassett, Maximum Real Estate Exposure
7 Mistakes Home Sellers Make via Michelle Gibson, Wellington Florida Real Estate
Home Staging Tips to Sell Your Home Fast via Luke Skar, Inlanta Mortgage
Home Staging Makes a Home Sell Quick via John Cunningham, Phoenix Arizona Real Estate
About the Author
The above real estate article "The Importance of Pricing Your Home Correctly Right from the Start" was written by Sharon Paxson of Newport Beach Real Estate. With experience since 2005 representing sellers, buyers, and landlords with their real estate transactions, we welcome the opportunity to share our knowledge and expertise and guide you through the home buying or selling process.
We service the following Orange County CA areas: Corona del Mar, Huntington Beach, Laguna Beach, Newport Beach, Newport Coast, Orange, Santa Ana, Sunset Beach, Tustin, and more! If you are considering selling your home, we welcome the opportunity to work with you and list your home with a top Newport Beach CA Realtor.