Multiple offers in theory are great, right? Because that means the price will go up on the house and the seller is ecstatic. However there can be many perils with multiple offers on a home.
Usually multiple offers come in if a home is priced under market value, then buyers will flock to the house with the idea of getting a deal.
Submitting the Highest and Best Offer
The Real Estate Agent representing the buyers had best be coaching their buyers to put in with their highest and best offer in order to be competitive. And it is not only price, length of escrow, earnest money deposit and minimal if any contingencies. Most buyers will want a loan contingency if they are obtaining a loan. That is one reason to make sure that you are pre-approved for a loan and with a pre-approval letter or letter . Many buyers are now getting "approved" for a loan before putting in their offer, so the only contingency might be the appraisal. Some buyers are now going in without a appraisal contingency, but that can be risky if the buyer does not have the funds to cover any short fall.
As a seller who has multiple offers in front of them, they can review them with all of their terms. The seller always asks about price, but the other terms are also of importance, especially if the buyer is qualified to purchase the home. Nothing is worse than to open up escrow, and then the buyer cannot qualify. Now you have wasted time. The default language on the California Residential Purchase Agreement is 21 days for loan contingency, but that can be shortened.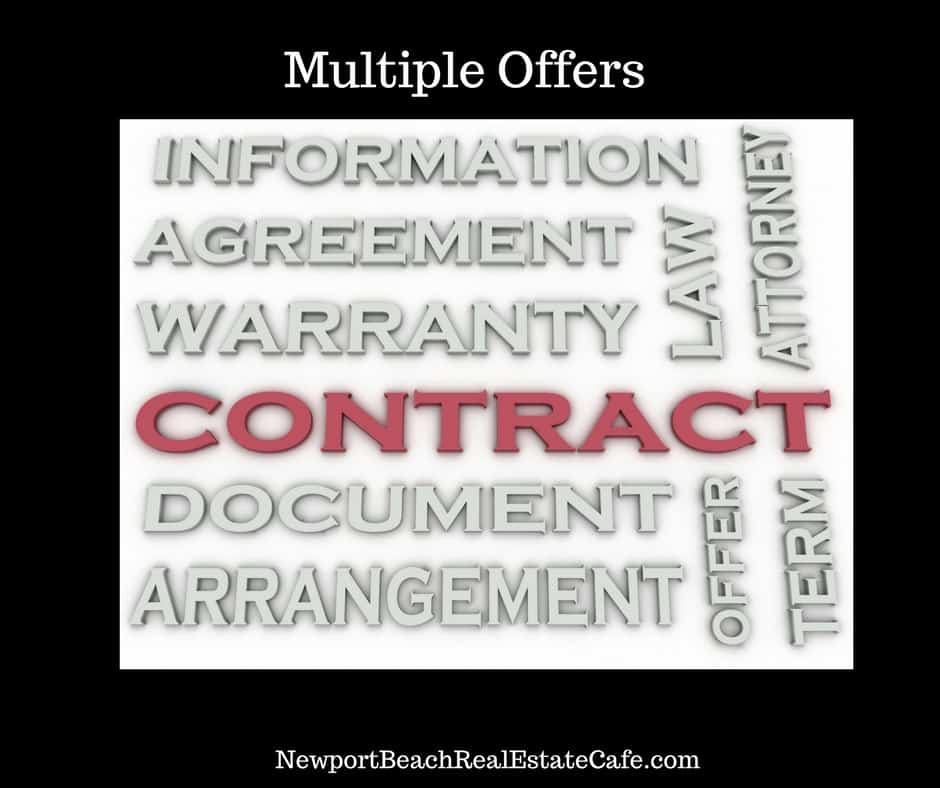 Seller Reviews the Offers
The Realtor® will present the multiple counter offers to the seller, and it is up to the seller which ones they are going to counter, and the terms and conditions of each counter may differ. Also, the listing agent should not disclose the terms to the other buyer's agents in order for the seller to obtain the highest and best price for their property.
Seller Multiple Counter Offer
The
Seller may make Multiple Counter Offers to other prospective Buyers on terms that may or may not be the same as other
Multiple Counter Offers. The
Multiple Counter Offer shall be deemed revoked and the deposits, if any, shall be
returned to Buyer when it expires, which is generally three days if not specified otherwise. If a buyer accepts the multiple counter offer, then it is not binding until the Seller signs it.
What are the pitfalls of multiple offer situations?
There are pitfalls with multiple offer situations as buyers often times do not want to compete. However, if the house is in the price point and location that they want to reside and/or invest, then they will have to compete. That is why it is so important to have the loan (if a buyer is getting a loan) in place because that is a major contingency.
Additionally, in order to "get" the house or have the offer accepted, often times a buyer will agree to not ask for any repairs. So there may be repairs that arise during the home inspection process which are very costly. Then a buyer would have a decision to make if they want to stay in the deal or not.
Final thoughts . . .
Multiple offers can net the seller a higher price point for their property, and it is a strategy that agents do employ. It is definitely a process where time is of the essence, and to present and respond to the offers in a timely manner.
If I can answer any questions about Multiple Offers on a home sale, please contact me.
If you think this article "How a Seller Handles Multiple Offers" was an interesting read and helpful, please share it across your Social Media platforms.