In real estate, fixtures are a permanent part of a house or condominium. A fixture is defined as any physical property which is permanently attached to real property. Fixtures are considered real property and will convey with the transfer of the property. Fixtures become real property when they are attached to the property.
What does this mean to a seller? It means that items that are considered fixtures will convey or transfer with the sale of the home. Fixtures will not be removed by the seller before the house is transferred to the buyer.
If a seller removes something that the buyer expected to get with the property, it can lead to legal implications.
What is Chattel?
Chattel is "personal property" or items such as furniture or barbeque. Chattel is another word for personal property.
If a buyer is interested in something in the home such as the owner's Porsche GT3 and wants to include that in the purchase, the buyer would be purchasing it as personal property. It is HIGHLY unlikely that the seller would sell the home and include their personal vehicle as well.
It is common for a buyer to ask for furnishings to be included in a purchase agreement. Most lenders are going to want some kind of addendum that states "furnishings are being transferred at no value" because the furnishings are not adding value to real property.
Should a buyer want to negotiate to purchase the furnishings, then that should be done outside of the purchase agreement.
Why Do You Need to Know What a Fixture Is?
For a seller, it is important to leave items that should convey with the sale of the home. Sellers need to be aware of what items they want to retain when they are selling. The last thing a seller wants to do is sabotage their home sale by removing items that are considered fixtures.
For buyers, they should understand what a fixture is as well. Understand that the chandelier in the dining room should stay as well as the flooring. Other items that would be considered fixtured are bathroom mirrors and towel racks.
How to Determine What is a Fixture?
There are five tests that are referenced as a mnemonic which is also known as M.A.R.I.A. that is utilized in the State of California.
Method of Attachment – If the item permanently affixed to the ceiling, wall, or floors with screws, nails, cement or glue, it is considered a fixtured. Even if it is easy to remove it, the item still may be considered a fixture. Lighting which is installed such as canned lighting is considered fixture.
Adaptability – An item that is an integral part of the home would also be considered a fixture. An example of items that are considered integral would be flooring. Even though it could be removed, it would be considered a fixture and stay with the property.
Relationship of the Parties – If the dispute is between a seller and a buyer, the buyer will most likely prevail.
Intention of the Party – The intention of the party when the item was attached, if the intent was to consider it as a permanent item, then it would be considered a fixture.
Agreement Between the Parties – The purchase contract state that ALL fixtures and fittings attached to the property shall be included in the property.
Discuss Fixtures with Your Realtor
If you are going to be selling your home, then take a tour with your Realtor to show them the items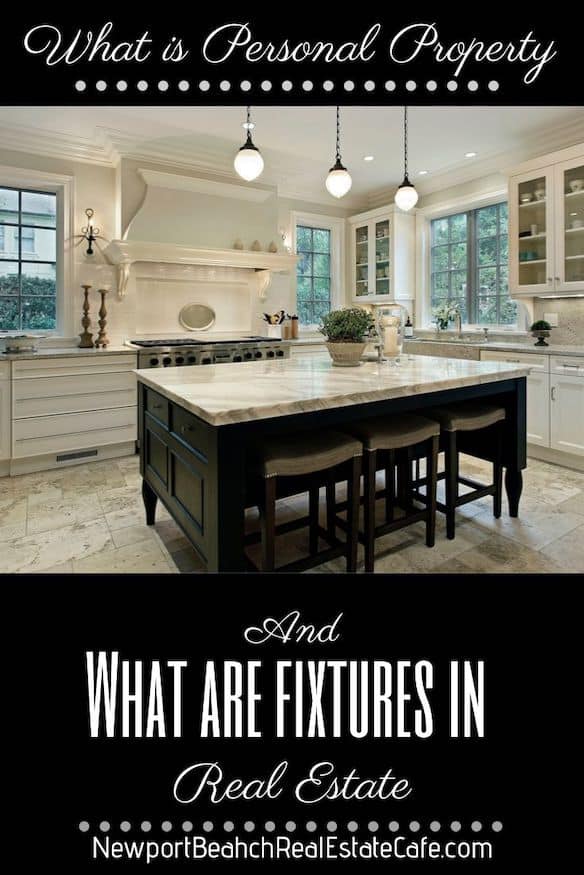 that you want to exclude from the seller. If a seller has a favorite new Miele dishwasher and your desire is that you want to keep it, then take it out and replace it with a less expensive model. Clarify what you consider personal property and what you think are fixtures, so that the Realtor can include all this information in the listing. Sellers are not obligated to sell a fixture that you want to retain. It can be excluded in the listing agreement and noted in the MLS for buyers to understand what is NOT staying with the house.
Changing out appliances after a purchase contract has been agreed upon is a mistake. However, sellers do it! Perhaps you purchased a home with a beautiful garden with stunning tulips that bloom every year. The landscaping and flower beds are considered fixtures.
What are Examples of Fixtures?
Fixtures are anything that is attached to the home as discussed previously. Examples of fixtures in real estate would include the following:
Towel racks
Window coverings
Built-in kitchen cabinets
Built-in garage cabinets
Landscaping – anything that is planted in the ground would be considered a fixture.
Appliances – in California, there are boxes to check if the buyer wants to include the refrigerator(s) and washer/dryer set.
Exterior lighting fixtures
Attached lighting fixtures
Wall Mounted Flat Screen Televisions
A flat-screen television is considered a seller's personal property or chattel. Flat-screen TVs are mounted to the wall with a bracket. If a seller removes the flat-screen that leaves the bracket, the buyer may not want it.
Specify in the purchase agreement if you either want the flatscreen television or you want to exclude it. Additionally, be specific if you want the bracket left with the home, or have it removed and with holes filled and wall painted. All parties have to agree to the terms of the purchase agreement.
What are fixtures in real estate
Click To Tweet
Include Items in the Purchase Agreement
It is best to avoid the possibility of confusion by simply adding the items that you desire and think they are included in the purchase agreement. Discuss this with your Realtor. If you LOVE the dining room Restoration Hardware chandelier, make sure your Realtor includes that request in the purchase agreement.
Realtors are now including model and a serial number of appliances on purchase contract to ensure it is the same item that they made the purchase on.
Keep in mind, everyone has cell phones with a camera. So, if a seller thinks they can remove an item and a buyer won't know, it is unlikely. A buyer probably has video and photographs of the home they took themselves!
Make Sure You Do a Walk-Through
A few days before escrow closes, it is important to do a final walkthrough or verification of property condition. This is an important step to ensure the condition and contents of the property. Look at all the appliances and ensure they are the same ones when you made an offer on the property.
Final Thoughts
Be sure to have a basic understanding of what are fixtures in real estate. Whether you are buying or selling, it is important to understand what will convey in a real estate transaction. Be sure to discuss this topic with your Realtor. If you have any questions about this topic or other topics, be sure to reach out to us!
Find Other Valuable Resources for "What are Fixtures in Real Estate?" from Real Estate Professionals. Please share across Social Media if you found this article helpful.
Bill Gassett has written an excellent resource about The Difference Between Fixtures and Personal Property. He discusses what goes and what stays in a home sale. Bill explains the difference between real property and personal property.
Are you curious about what are Fixtures and What is Personal Property when Selling? Paul Sian has together a very informative article. He discusses the difference between personal property and what items are fixtures.
About the Author
Top Newport Beach CA Realtor Sharon Paxson has written the article "What are Fixtures in Real Estate?" We welcome the opportunity to work with you and guide you through your real estate transaction and share our experience with you.
We provide real estate services to our clientele within the coastal Orange County CA area including Corona del Mar, Newport Beach, Newport Coast, and Tustin, We welcome the opportunity to work with you. I would love to share my marketing knowledge and expertise to help you. Contact me today!