An overpriced home and will likely sit on the market and will accumulate days on market. The real estate market dictates the value of a home. A home is worth exactly what a buyer is willing to pay for it at a specific time. What that means is if a home is worth $1,000,000 in today's market, there is no guarantee it will be worth that much in a year from now.
The price can go up or down, depending on economic conditions. Pricing your home at market value is imperative because if it is overpriced, the home may sit on the market for months with few showings and ultimately expire. Buyers will think there is something wrong with it and wonder why it did not sell.
No home seller wants to leave money on the table. If the seller has an overpriced home, it is priced above market value. If an offer comes in quickly, then the seller may wonder if they priced the home too low. In fact, if an offer comes in quickly then the home is priced in accordance with the market. There are many perils associated with overpricing your home.
As a seller, you have ONE chance to price the home! Even if you list it a little "higher" to negotiate, then you may have to do a price reduction which can send a message to the buyers that the seller may be desperate!
Pricing the Home High to Leave Room for Negotiation
It is easy to want to come up with a value of a property based on recent comparable home sales in the same neighborhood. Often times, sellers will want to consider what price other properties are listed for, and try to be in alignment with those active comparables.
A seller may want to list at a higher price than the other listings in order to leave room for negotiation. By listing above the market, this is a huge mistake for the seller.
Home buyers are very knowledgeable and are aware of home prices in a neighborhood. With all the listing data available to
home buyers online
, market trends can easily be monitored. If a list price is too high, then a home buyer may not even bother to view the property.
Priced Over other Comparable Homes in Neighborhood
If your home is priced over comparable homes in the same neighborhood, then buyers may think the seller is being unreasonable and may not even want to view the property. Pricing sets a precedent and an impression on the buyers that the seller may not be reasonable to work with a real estate transaction. There is give and take in a real estate transaction, and the buyers may have repair requests, and both sides need to be flexible to keep the transaction together.
Others Homes in the Same Neighborhood are Selling
Another key indicator that you have an overpriced home is if other similar homes are going under contract, and your home just sits there. It is important to consider why the other homes are selling. Some of the following may be reasons the other homes are selling:
Home square footage may be larger
Number of bedrooms and bathrooms
Size of the lot and landscaping
Location of the home in the neighborhood, nice interior location or corner lot
Kitchen and bathrooms have been updated and remodeled
Comparable homes have better curb appeal
New roof, windows or HVAC which can be big ticket items
You want to consider like for like and price it accordingly. If a home has the same square footage and one home has more bedrooms than the other, that can be more appealing to a buyer.
Few or No Showings
When a new listing comes on the market and is listed in the MLS, there is generally a lot of buzz and excitement around the listing. The first week there should be interest and there should be showings being requested. If there are very few showings it is likely the home is overpriced.
No Offers
If you have not received an offer at all, then it may be because the home is overpriced. Buyers are reluctant to put in a market value offer on a home where there is a huge discrepancy in the price. Buyers may be concerned they will offend the seller, and decide not to offer on it at all.
Sellers may ask themselves is my home overpriced? And it very likely may be overpriced!
Low Ball Offers
If your home has an inflated price in comparison to the recently sold homes, a buyer may make an offer on the property, but as a seller, it may be considered a lowball offer. Is it really a lowball offer if the house is overpriced, that needs to be taken into consideration. Countering a "low-ball" offer should be done, and the price should reflect market value.
I generally recommend responding to all offers in most cases. An offer shows good intent by the buyer, and a counteroffer can engage the buyer. The fact that a buyer's agent went through the trouble to write up an offer shows good faith. Don't be offended, just respond. Remember this is a business transaction, and not personal!
I recommend to all my sellers that they think like buyers! Objectivity is crucial when selling a home.
Too Many Days on Market
If a home has too many days on market, that is a fairly strong indicator that you have an overpriced home. Buyers can obtain this information online and it is a frequently asked question. If a home is overpriced, then it may accumulate days on market and then that can send a message to buyers that there is a reason it is not selling, and it can cause concern to a potential buyer.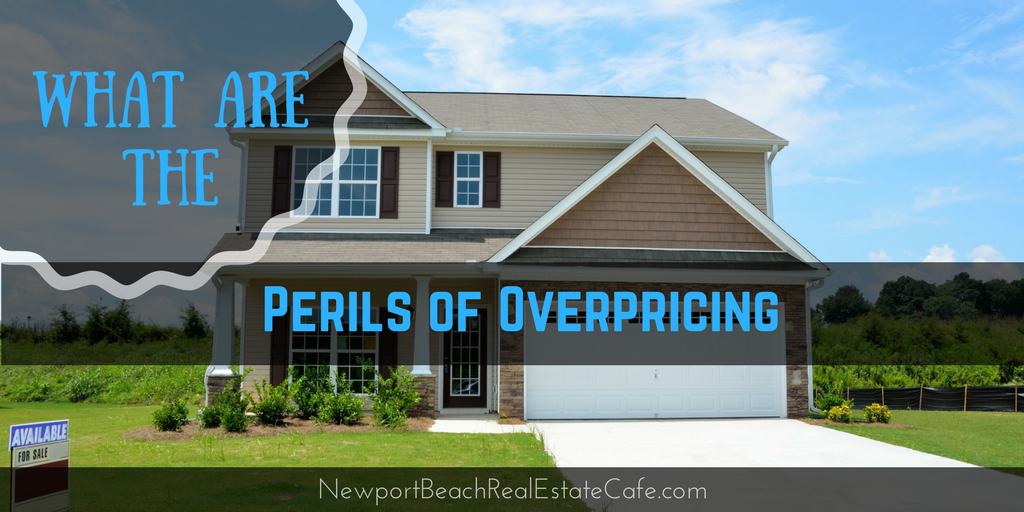 Basing Your List Price on Internet Estimates or Zestimates
Many home sellers will look at Zestimates or Internet estimates to establish the value of their home. Zestimates are broad guidelines of the value of the home and do not take into account the upgrades, condition, and more. Internet estimates are often incorrect with regard to the value of the home.
A top Realtor® will perform a comparative market analysis of the neighborhood and document the individual differences which impact value. Some of the items that can be reflected in the value are the size of the lot, the square footage of the home, the number of bedrooms, the condition of the house, remodeled and upgraded kitchen and bathrooms.
Homes that have upgraded kitchens and bathrooms is beneficial because those remodels generally cost the most amount of money. If a buyer can move into a home with these renovations already done, those upgrades will appeal to more buyers.
Feedback from Agents State that it is an Overpriced Home
Broker opens are a great way to get feedback from agents. Broker previews or opens are open houses that invite the local brokerage community into the home and ask them specifically for feedback. Ask agents about what they think of the value of the home or if they think it is overpriced.
Basically, the seller's agent is asking the broker community for their feedback on not only the price but the condition of the home, and features they liked best and I have recently seen where they have asked about staging feedback.
Additionally, each time there are showings as a matter of practice, I ask the agent for feedback on everything! Price for sure, and of course it is good to ask them if their buyer is considering making an offer. Any feedback from brokers and from potential buyers should be passed on to the seller so they know and understand how their property is being received by the real estate community! Feedback can help you make a price adjustment if needed!
The Listing Expired
Depending on how long your listing period is, if the home does not sell within the listing agreement period, then the listing will expire. In most areas, this will show up in the MLS (multiple listing service) and this is a status that will be viewed when someone is researching the history of a property.
It does not mean that there were no buyers, it means there were no buyers who were willing to pay an inflated and over-market value price.
A listing can be canceled or withdrawn, be sure to discuss these options with your listing agent.
Final Thoughts
You have ONE chance to price it correctly, and a home needs to be priced at market value when it is FIRST listed. The last thing you want is to be is overpriced, not have enough showings, and have no offers. A price reduction may send a message to the buyers that an overpriced home was priced too high, and the seller can end up even getting less by not pricing it correctly the first time around.
Be sure to consult a local professional in your community that is knowledgeable of the community.
Find Other Valuable Resources for "Top 10 Signs that You an Overpriced Home" from Real Estate Professionals Across the Country. Please check out the articles below, and please share them across Social Media if you liked the articles.
10 Signs You Have Priced Your Home Too High via Bill Gassett, Maximum Exposure Real Estate
Pricing Your Home via Paul Sian, Cincinnati, and Northern Kentucky Real Estate
Real Estate Pricing Mistakes via Kyle Hiscock, Rochester Real Estate Blog
Costly Mistakes Home Sellers Make with an Overpriced Home via Michelle Gibson, Wellington Home Team
Home Pricing and It's Relationship to Buyer Activity via Kevin Vitali, Merrimack Valley Real Estate
About the Author
The above real estate article "Top 10 Signs that You Have an Overpriced Home" was written by Sharon Paxson of Newport Beach Real Estate. With combined experience since 2005 with selling or buying we would love to share our knowledge and expertise and guide you through the home buying or selling process.
We service the following Orange County CA areas: Corona del Mar, Huntington Beach, Laguna Beach, Newport Beach, Newport Coast, Orange, Santa Ana, Sunset Beach, Tustin and more! If you are considering selling your home, we welcome the opportunity to work with you and list your home with a top Newport Beach CA Realtor.