There are mistakes home buyers make when buying a home. Home buying can be a very exciting time but can spark a range of emotions and generally speaking, home buyers are excited about the prospect of homeownership. However, keep in mind it is a business decision as it is most likely the largest financial purchase you will ever make, so it is important to not mistakes along the way! The more informed a home buyer is about the process, you can anticipate the steps along the way. Anticipating what can happen can help you to be prepared for the process of purchasing your new home!
The following are mistakes home buyers make to avoid, and they may ultimately prevent you from purchasing a home!
Not Saving for a Downpayment
One of the most crucial steps in the home buying process is saving for a down payment on a home. There are many different mortgages available depending upon your financial status, and saving ahead of time can help you to be prepared to proceed with the home buying process.
There are many ways to save for a downpayment including watching your daily spending habits to overall save your funds. Establishing and living within a budget will help you to save money. Additionally, avoid accumulating credit card debt which can negatively impact your credit score and prevent you from qualifying for a home loan.
Not Managing Your Credit Score
When you are considering purchasing a home, it is imperative that you have planned ahead and manage your credit score. Not having a good credit score will impact your ability to obtain a loan. There are some items that do impact your credit score. Not making sure your credit score is good is another one of the mistakes home buyers make.
Not making your payments on time and when they are due, not paying medical bills, accumulating credit card debt can all lower your credit score. Additionally, if you have filed bankruptcy or foreclosure, these can definitely impact your credit score and may prevent you from getting a loan. Or, you may be able to obtain a loan, but at a much higher interest rate than the prevailing rate.
The good news is, this can all be managed. If you do have items on your credit report that negatively impact your credit report, they can be cleaned up. Ensuring that you are paying your bills on time (all of them) and medical bills can be tricky. In most cases, medical institutions will work with a person in order to pay off medical bills but don't ignore them as you really want to avoid anything being sent to collection.
Shopping for a Home Before Meeting with a Lender
Shopping for a home before meeting with a lender is another one of the mistakes home buyers make. What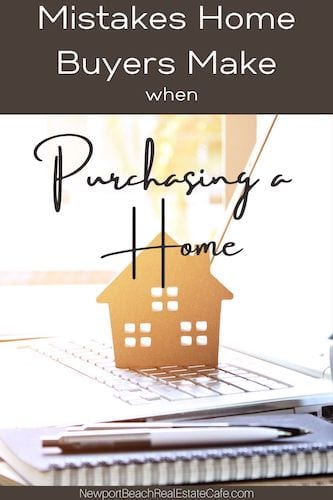 a lending institution is willing to lend on a property will depend upon many factors including an appraisal and the strength of the buyer. If you have poor credit, fluctuating income, and employment which is not stable, then you may not be able to obtain a home mortgage.
It is so easy to go out and look at homes and fall in love with an area only to find out that a home may be may not be in alignment with your price point. Establish what you can afford prior to beginning the home search process. Otherwise, you might end up searching for a home that you cannot afford and this can cause disappointment and frustration. Don't begin the home search process until you have met with a lender so you know the price point that you should be searching for. If you are considering a purchasing a condo, then this information also will need to be conveyed to a lender so they can calculate the loan to value with the HOA fees.
Obtaining a mortgage pre-qualification is the most important step before starting to even preview or look at homes.
Click To Tweet
Avoid Making a Job Change
Life can be unpredictable, and if there is a loss of employment during the home buying process, then the buyer may not be able to proceed with the home purchase. However, if a buyer has stable employment and income, then it is more favorable to a lender and more likely a purchaser will be able to qualify for a mortgage.
Avoid making a job change and this can prevent a buyer from obtaining a home loan. Keep in mind that after a buyer obtains pre-qualification, that is not a guarantee the buyer will get the loan. Generally speaking, all documents go back to underwriting, and there can be final check offs before the loan funds. Be sure to notify your lender immediately if there is any employment change.
Buying the Most Expensive House in a Neighborhood
If there is a particular home that you just love and has everything that you want and need, then you may want to consider purchasing it. There are times when a home is the most expensive home in a neighborhood, however, in five years, you may have a more difficult time selling it, and it may not have the value that you think it is worth.
Not Considering Home Re-Sale Value
A significant factor when purchasing real property is considering the resale value of the home in the future. If your needs are that you may need more space in five years or less space in ten years, then you want to consider your ability to sell the home in the future. Look at past market trends and see how the neighborhood has appreciated or has declined.
You will want to have a home that is desirable, but one that will appeal to a larger buyer pool. Having a home that is too trendy or unusual may limit the number of buyers who have the same level of appreciation of the property as you do.
Skipping a Home Inspection
This is a very important factor when purchasing a home as you want to perform all of your due diligence with purchasing a home. The last thing you want to purchase is a money pit! It is your right as a buyer to find out everything you can about the home that you are considering purchasing, and being aware of any deferred maintenance or defects may deter you from making the purchase all together! A home inspection will provide information about the systems of the house and may trigger other inspections. This is another one of the mistakes home buyers make during the home buying process.
Making a Large Capital Purchase Before Escrow Has Closed
Do not make any purchases that can impact your credit score. You do not want to have any credit inquiries either! In the event you are shopping for new furniture or mattresses for your new home, be sure to WAIT until escrow has closed.
Also, do NOT purchase a new automobile, speed boat or a wave runner until escrow is closed! Let me clarify . . . . do not FINANCE a new purchase or have a credit inquiry.
I realize spring and summer are coming, and everyone wants to get the toys for the warmer months! However, it is important to be patient and wait until the loan is funded and the property has recorded so that there are no issues with your ability to close on the escrow of your new home! You do not want any credit inquiries during this process!
Set Aside an Emergency Fund
When you are a homeowner, there are always things that come up, and best to be prepared financially for anything that might come up with the home or other personal emergencies. So when you are saving, be sure to save about 5 to 10% more so you have an emergency fund.
You may also want to save additional funds for some remodeling, painting, baseboards and any other home improvement projects that you might be considering when moving in!
Final Thoughts
You want to avoid these mistakes home buyers make during the home buying process as it will help ensure a smooth escrow and ultimate success in closing escrow with a purchase. Being sure to be respectful of the seller's property at all times during all showings. Make sure that you do not make any purchases or have any inquiries on their credit during the escrow process.
Find Other Valuable Resources for "Eight Mistakes Home Buyers Make When Purchasing a Home" from Real Estate Professionals Across the Country. Please check out the articles below, and please share across Social Media if you liked the articles.
Top 10 Questions Asked When Obtaining a Mortgage via Kyle Hiscock, Rochester Real Estate
What Does a Self Employer Need to Obtain a Mortgage via Jamohl DeWald, Portland Real Estate
Mortgage Tips for First Time Home Buyers via Bill Gassett, Maximum Real Estate Exposure
Crucial Tips for First Time Home Buyers via Luke Skar, Madison Mortgage Guys
8 Ways to Blow Up your Financing when Buying a Home via Michelle Gibson, Wellington Home Team
Costly Mistakes Home Buyers Make Via Eileen Anderson, Farmington Valley Realtor
About the Author
The above real estate article "Eight Mistakes Home Buyers Make When Purchasing a Home" was written by Sharon Paxson of Newport Beach Real Estate. With experience since 2005 representing sellers, buyers, and landlords with their real estate transactions, we welcome the opportunity to share our knowledge and expertise and guide you through the home buying or selling process.
We service the following Orange County CA areas: Corona del Mar, Huntington Beach, Laguna Beach, Newport Beach, Newport Coast, Orange, Santa Ana, Sunset Beach, Tustin and more! If you are considering selling your home, we welcome the opportunity to work with you and list your home with a top Newport Beach CA Realtor.