There are astounding benefits of owning a condo. You may be considering buying a piece of property and are going to be deciding on a condo or a single-family home. There are benefits of owning a condo that some buyers just may prefer. We will take a look at the definition of a condo along with the benefits of owning a condo.
What's a Condo?
A condominium (also referred to as condo) is an individual unit in a shared complex that is owned by an individual. A condo is a type of real estate where several units (or as few as two) are separated into individual units and surrounded by
a common area. In your condo, your specific residence would be privately owned. It is very common for condos to have shared walls, or there may be someone above or below you. There are also larger detached condos as well. Condos are a safe and hassle-free way to own a property.
Some condos have shared garages and there are some that have individual parking. While the parking is assigned in a shared garage, there may also be some individual storage.
Condos are very popular in areas that have higher property values. Condos allow affordability in certain areas and open up real estate to a newer group of people. Purchasing a condo is a more affordable way of getting into the real estate market.
If you are considering purchasing real estate, you may want to consider purchasing a condominium. There are many benefits of owning a condo.
Meet With Your Lender First
However, before you begin your condo search, be sure to meet with your local Realtor® who is knowledgeable of the area, and be sure to meet with a lender. If you are obtaining an FHA loan, there are certain condo complexes who do not take FHA loans, and your Realtor® and Lender will be able to tell you this information so that you are searching in the right areas.
Condo complexes generally have HOA fees. The community's homeowners' association (HOA) is generally paid monthly or annually, and this is to keep up and maintain the common areas in the complex or building, and generally takes care of the structure insurance. The HOA is a board of directors, made up of individual members who are generally homeowners.
There also may be CC&R's. CC&Rs are the rules of your neighborhood. They describe the requirements and limitations about your property and what you are allowed to do on the property (i.e. painting or architectural changes). The goal of the CC&Rs is to enhance the property values in the community. The CC&R's may have an assessment and dues limit, and that is important information so you will know how much and how often the HOA dues can be raised.
Some of the benefits of owning a condo are the following:
Affordable
Condos tend to be more affordable in higher price areas. If this is your first time purchase, and you are looking to reside in a certain city or area, you may be able to find a condo that fits your needs.
Condos may also have lower utility bills. Some HOA's cover different utilities such as water, and that is included as part of your monthly HOA bill.
The condos will also have lower maintenance fees. Maintenance will be kept up by the HOA. It is important to look at the HOA documents and the CC&R documents prior to completing a purchase so you know exactly what is covered.
Tax Benefits
Another benefit of owning a condo is the tax benefits. Condo owners have the same tax benefits as single-family homeowners. Please consult with your tax advisor about what deductions you can take, but it is beneficial to have a mortgage and write off the interest, and the property taxes.
Condo complexes have Home Owner's Associations (HOA) and there are HOA fees are paid on a regular basis. However, some associations do require the payment of the association fees to be either annually, quarterly or monthly. Some communities may have more than one association fee, such as a master association and the community association. This is another factor that needs to be taken into account when speaking with your lender about affordability.
Generally speaking, the HOA fees are not deductible but consult with your tax advisor for more details.
Amenities
Many condo complexes have amenities and they may include a recreation room, gym, pool, spa, tennis courts, basketball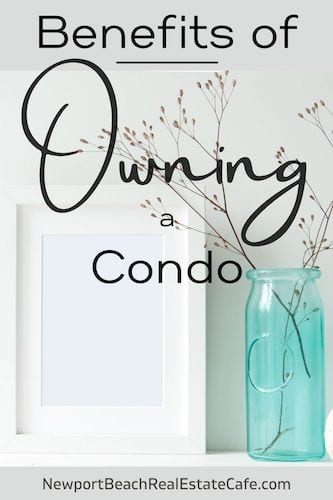 court, volleyball courts as an example. A huge benefit is the opportunity to utilize a pool and spa without worrying about the maintenance, as this is something the HOA takes care of. The amenities are for the exclusive use of the residents.
If you reside in a waterfront area, another amenity may include a boat slip, or the opportunity to get on the waiting list for a boat slip. Homes with boat slips can be a commodity. Even if you don't have a boat and want to rent it out, you will need to verify with the HOA that you are allowed to do so.
Other condo buildings and high rise have concierge services that are available for the residents.
The more upscale the condo complex is, and the more amenities there are, it is likely the HOA fee will be higher. Another consideration is if a major expense is anticipated on the building such as a new roof or new siding, does the HOA have sufficient reserves to pay for it, or will there be another assessment that may be expensive?
Pride of Ownership & Equity
Other benefits of owning a condo include the pride of ownership versus renting a property. You will be able to make the property your own at the same time while you are building equity. You are building real estate equity in a community that you want to reside in. And after a period of time and you want to sell and move to a single-family home, you will have built up some equity to buy "up". Or on the other side, if you do not have to sell it, perhaps retain the property and keep it as an investment.
Insurance
Generally speaking, if you purchase a condo, then the building insurance is covered by the HOA. However, you will still need insurance. You can purchase what is called "walls in" insurance to cover your contents in the property.
The "walls in insurance" is generally less expensive than a traditional home owner's insurance.
The benefit of paying the HOA is that it pays for the maintenance of the structure and the insurance.
Social
Other benefits of owning a condo are the social aspect. Living in an environment with shared amenities, you will have the chance to meet others, whether it is at the gym, recreation room or pool. If there is tennis, there may the opportunity to meet other tennis players. Many HOA's have social events throughout the year, there may be a Memorial Day Barbecue or a 4th of July party.
Questions to ask
The following questions are important to ask when you are considering purchasing a condo, it is important to understand the rules of an HOA community. The HOA financials to ensure there are sufficient reserves that pay for the maintenance. There are pros and condos of an HOA community. You will also want to closely review the CC&R's also.
How often has the HOA gone up over the past 10 years, what percentage have the dues been increased?
What are the condo association rules and regulations?
What utilities does the HOA pay for?
Are there any upcoming assessments?
Is there any pending litigation? (Very important when trying to get a loan on a condo)
Does the condo complex allow pets?
Ask about the rules regarding size, the number of pets, and if there are breed restrictions.
What is the percentage of owner-occupied? (Your lender will want to know this info).
What is the condo rental policy?
Final Thoughts
Purchasing a condo is an opportunity to get in the real estate market and begin building equity. There are benefits of owning a condo which includes building equity. A condo will generally not appreciate as quickly as a single-family home, however, if you are planning on staying for 8 to 10 years, then that should not be a worry.
Keep in mind there can be disadvantages of living in a condo, so you need to keep that in mind with your home search!
If I can answer any questions about the benefits of owning a condo, please get in touch with me.
About the Author
The above article "Benefits of Owning a Condo" was written by Sharon Paxson, Realtor®. If you are looking for a top Newport Beach Realtor®, please contact us.
We service the Newport Beach area including Newport Coast, Corona del Mar, Costa Mesa, and Huntington Beach area.
If you enjoyed the article "Benefits of Owning a Condo" please share it across your Social Media platforms.
For other information about the Benefits of Owning a Condo from other Real Estate Professionals around the country, please check out the articles below:
10 Tips for Buying Your First Condo via Kyle Hiscock, Rochester Real Estate Blog
Should I buy a Condominium via Paul Sian, Cincinnati and Northern Kentucky Real Estate
Questions to Ask When Buying a Condo via Bill Gassett, Maximum Exposure Real Estate
First Time Home Buyer Guide via Luke Skar, Inlanta Mortgage