Are you considering buying a fixer upper? The ideal fixer-upper is a home that home buyers will want in the future but no one wants it right now. Most home buyers are looking for a home that is in turnkey and in pristine condition. Imperfections in a fixer home stand out to a home buyer when they walk in the door. Many of these imperfections are easily remedied.
A buyer may perceive that the home has been neglected and if there are minor obvious maintenance issues, then there may be major defects in the home as well. Peeling paint, old wallpaper, threadbare carpet are all items that can be easily corrected. Other more expensive items to repair include replacing an HVAC unit, plumbing repairs and electrical.
Location
Location, location, location! This is a mantra that you will commonly hear real estate agents say. It truly is the most important consideration when you are purchasing ANY property. A home can always be fixed up, but you can't change the location. An ideal fixer-upper is in a sought after neighborhood that you want to reside.
Although you may be able to get a great deal on a dilapidated home, if you end up not liking the surroundings, you may end up having buyer's remorse.
Keep in mind the location and where it is situated in the neighborhood. If the home backs to a busy street and there is road noise, it will be less desirable. Additionally, those homes may not have good resale value. When you are purchasing a home, you always want to consider the resale value.
Other factors to consider is if the location of the home backs up to a busy street or a sports facility, that may be a nuisance for the homeowner. Sports courts or facilities may have lights that stay on until 10pm.
Consider the Condition
Obviously, the fixer-upper's will be in bad condition, and there will be some issues are more worrisome than others. There may be homes you want to avoid altogether because there are red flags with the condition of the property. The cosmetic problems need to be separated major defects in the home. There will be fixes that are relatively easy to repair and not all that costly. Some of the easier fixes would include patching holes in walls, removing wallpaper, refinishing floors, adding baseboard and casing around doors. Painting is another item that is relatively easy, and many homeowners will paint DIY.
Other more costly repairs are going to include reroofing, replacing the HVAC system, plumbing, pouring concrete for a side yard or patio, kitchen and bathroom remodel!
Inspections for Fixer-Uppers
You definitely need to get a home inspection which will likely trigger other inspections. It will be worth the investment of finding out if the house really is too dilapidated.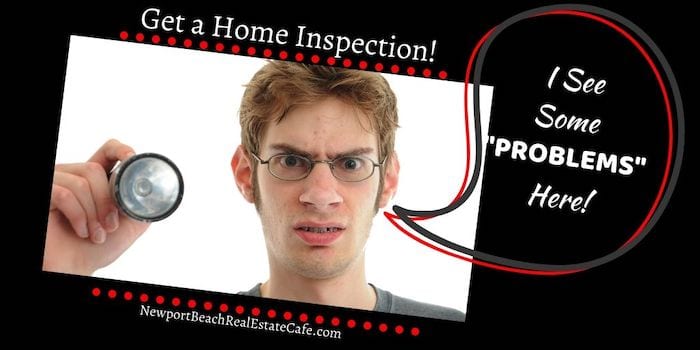 Other inspections include:
Termite inspection – will check for live termite infestation, wood rot, past evidence of termites that will need to be remedied.
Sewer line inspection – if the home is older, and there are lots of trees, then get a sewer line inspection to evaluate the condition of the sewer line. Roots can often get into the sewer line which can cause expensive backups.
Structural engineer inspection – if the home needs a structural inspection which can be a costly fix!
Soils inspection – if the area is known to have unstable soil, or you notice cracks in the driveway or sidewalks, it may be a good idea to get a soil inspection.
Getting a Mortgage on a Fixer-Upper
There are conventional loans that you can obtain that cover both the purchase price and the amount of the proposed construction
Both Fannie Mae and Freddie Mac have loan programs that cater to buyers who want to accomplish two goals with the same mortgage and that is the purchase and renovation of a home.
Luke Skar has written an excellent post about the FHA 203k loan which is a great option to obtain a mortgage and get the extra funds. that can be used for renovations or repairs.
The VA renovation loan or theVA rehabilitation loan is a VA-guaranteed loan program that allows home buyers to purchase a home and provides additional funds for any renovation and improvements on the property.
Expect Your Life to be Inconvenienced
In addition to the time it will take to renovate a home, it will also take funds to finance it! Additionally, expect your lifestyle to be inconvenienced. Decide if you are going to reside in the home during the renovation. That can be very stressful for families. If you work from home, that may not be possible during the construction. If you have young children, that may be very difficult and is a disruption to their normal life routines.
Renovating a home is a true test of any relationship. And marriages can dissolve as a result. So it is best to plan ahead before you even purchase a fixer-upper by establishing a budget, where you are going to live, and the timeline.
Hire the Right Contractor
Hiring a good reputable contractor can make or break the deal. I literally had one contractor tell me that he had four couples divorce after working with him (snickering).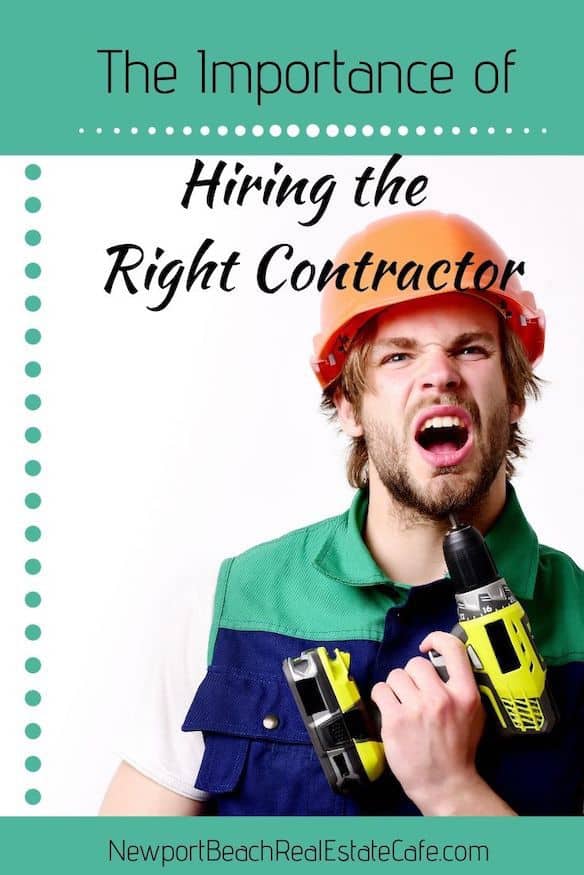 The last thing you want is some arrogant contractor talking to one party and not the other, to get them to work against each other. That is divisive and not helpful. The contractor needs to consider both parties. Find out upfront how often he will be there, what he charges to supervise his crew before he leaves to go on his trips to Lake Havasu City in Arizona for his weekly vacation! As a homeowner, that might be irritating if the contractor is always gone! (Does this sound like it happened? It did!)
Make sure you check the contractor's credentials and make sure he/she is licensed. And be sure they have insurance to work on the job as well.
You want one who is knowledgeable and understands what the expectations are from the city you are working in.
Ask for references and follow up and speak to their references. Some questions you could ask include:
Did you check the contractor's credentials?
What was the scope of work?
Did the project stay within the established budget?
Did the project go over the timeline?
Was the contractor on time?
Were they easy to work with?
How was the communication between the homeowner and the contractor?
What was working with the contractor's crew or subcontractors like?
Were you satisfied?
Did you get the results you were striving to obtain?
Would you use them again?
While We are at It
So now you have opened up the walls in the bathroom, and you look down and see that you can put in a larger bathtub then what is currently there. You were not planning on replacing the bathtub, but decide while we are at it, let's replace the bathtub. Boom!! Now you have increased the scope of work of the project which costs additional money.
Try to refrain from just making changes because the walls are open! You will increase the timeline of the job and will have additional costs of the remodel.
Consider the Costs of Renovation
If you have to live elsewhere, then you will have to consider the carrying costs. So you will not only have the costs of the remodel and if you have a mortgage on it, you will likely be paying rent elsewhere. That can be stressful because there is at least twice the money going out per month.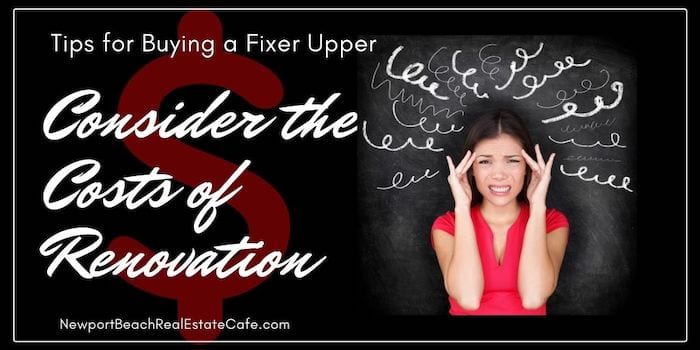 Establish a budget and timeline. Of course, in construction, things always take longer than they should. Talk to your contractor about the anticipated length of time it will take including getting permits approved by the city, the demolition and the construction.
Keep in mind that even after the construction, there were be more costs! You will need new window covers and those can be expensive for an entire home!
Other factors which add to the expense, is if are you going to be adding smart technology to the home. Smart thermostats and fabulous and save energy. There are advance smart ovens and refrigerators as well, and they all vary in cost. Do your homework and find out how much the appliances are going to be if you are remodeling a kitchen. Adding security cameras such as Ring cameras can be hardwired while the home is under construction. But remember, all these items add up!
Final Thoughts
Not all fixer-uppers require the same amount of fixing. Renovations and remodels tend to be subjective. Be sure to consider your finances, and your own expertise. Some buyers are extremely skilled at renovating a home and are not at all intimated about the scope of work. Other buyers may need to hire someone and that is when it can be costly. Determine what extent you want to go through the process of renovating a home that requires serious repairs to make it habitable.
Find Other Valuable Resources for "Tips on Buying a Fixer-Upper" from Real Estate Professionals Across the Country. Please check out the articles below, and please share across Social Media if you enjoyed the articles.
Bill Gassett has written an excellent article about Buying a Fixer-Upper. He discusses the reasons why people want a fixer-upper which generally includes they want a great deal. In the article, he talks about knowing your own limitations with respect to doing work yourself.
There are mistakes you will want to avoid when remodeling or renovating a home. Petra Norris has put together an excellent resource DIY Mistakes to Avoid with a Fixer-Upper. In the article, she discusses the importance of planning each step and knowing your budget.
Paul Sian has written a detailed post about Purchasing a Home with a 203(K) Loan. He explains the Federal Housing Administration 203(k) mortgage loan allows buyers or homeowners to finance the expense of renovations in their total mortgage.
About the Author
The above real estate article "Tips on Buying a Fixer Upper" was written by Sharon Paxson of Newport Beach Real Estate. Having experience representing buyers, sellers, and landlords with their real estate transactions since 2005, we welcome the opportunity to share our expertise and guide you through the home buying or selling process.
We service the following Orange County CA areas: Corona del Mar, Huntington Beach, Newport Beach, Newport Coast, and more! If you are considering selling your home, we welcome the opportunity to work with you and list your home with a top Newport Beach CA Realtor.