Perhaps you are being transferred to a new city or state, and you are going to be relocating. Now you need to decide if you are going to sell your home or rent it out. Some homeowners make this into a real problem. They panic and rush to sell their property. Take your time so you can make an informed decision. The last thing you want to do is make a rash decision that may be a costly one.
Selling your home is possibly the right decision for some, but not for everybody. You may want to consider renting your home and turning it into an investment property. If the home becomes an investment property, there are advantages to renting a home.
Home buying is, in fact, an investment. When you think about it in that way, you can start earning income from your home.
What You Need to Know About Renting a Home Out
When you decide to rent your home out, there are a few things you need to consider. Most importantly, you need to make sure that any rental income covers the mortgage, property taxes, and home owner's association fees (if you have one). If you determine that you can't generate enough rental income to pay for the mortgage, there is no point in renting your home out. You may be upside down and will lose money every month. Then it is pointless to rent out your home.
Check with Your Mortgage Lender
Before renting out your mortgaged property, you'll need to check all lender and Homeowner's Association rules and regulations. If renting is permitted, you'll want to weigh the risks and benefits before going ahead with the rental.
Lenders require borrowers to take out additional home insurance if renters will be inhabiting the property. Your lender may also require other accommodations, such as proof that a property management company will be utilized or documentation of who will be renting the property. These requests are typically non-negotiable. Any and all requests made by the lender should be met by the borrower.
A mortgage holder may call the note due upon rental, which ultimately may force the owner to refinance at a higher interest rate. If your original lender sold your mortgage to a new lender, the rules for renting out the mortgaged home may have changed. Be sure to carefully check the mortgage lender's guidelines and the home owner's association.
Budgeting for Maintenance
Have you heard of estimating how much money you'll need to set aside for maintenance on your rental property? There are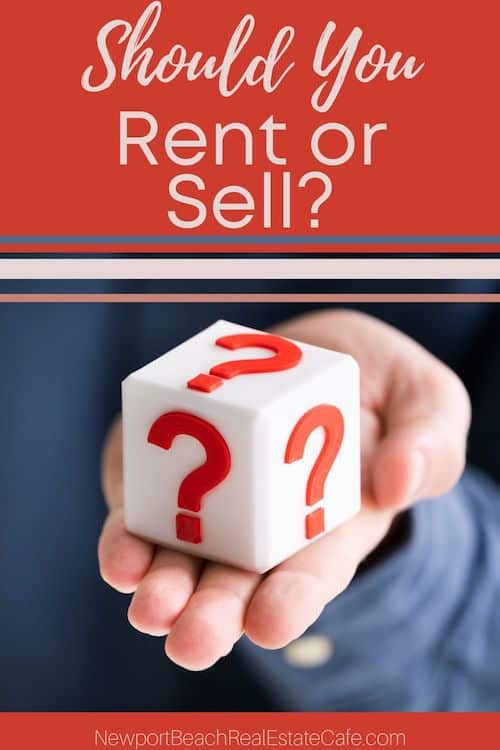 several different formulas that you can select from. Consider the following formulas for estimate maintenance.
The 1% Rule: home maintenance will cost approximately one percent of the property value per year. If your home is valued at $400,000, then 1% would be $4,000 for maintenance.
Square footage formula: Estimate $1 per square foot for annual maintenance costs. For a 2,400 foot rental should cost approximately $2,400 a year in maintenance costs.
Rules are made to be broken: Just like Murphy's law, anything can happen. So it is nice to have some cushion and be prepared.
Utilizing a formula allows you to accurately calculate the investment potential and returns. It is nice to have a rough estimation of how much money you should plan on spending to maintain your investment property, there are many variables. If the property has a pool the maintenance costs will likely be higher. Or if there is a water leak which results in mold, that can be extremely costly to remediate.
Landlord Insurance
The jump from being a homeowner to a landlord is a big one. There are many things to take into account which include demanding tenants, finicky water heaters and liability may stand between you and a pretty profitable income. To protect your investment, you must have landlord insurance.
When considering landlord insurance, you want to shop around for the best rates. Also, find out if there is a new renovation discount.
Insurance carriers are the ones with all the different products. They create insurance products and plans designed to help you when you need it most. When it comes to buying those policies, you can either go through the carrier's agent or an independent insurance agent. Consider bundling your insurance to get the most discounts.
Should I Sell My Home or Rent It Out?
Click To Tweet
Perform an Energy Audit
An energy audit is an assessment of the energy efficiency of a home or property. There are many ways to conserve energy and having a home that is eco-friendly will be easier to rent out! That is an option that you can market to future tenants.
Homes that have appliances that are aging out, drafty single-paned windows and an HVAC system that is outdated can utilize more energy than they should. It may be difficult to maintain a comfortable temperature in the home. Consider updating the windows, ensuring that there is weather stripping, and update appliances to ensure the home is more eco-friendly. Although there will be an initial investment in upgrading the home, it will then be more efficient and attractive to potential tenants.
Future Plans
Make sure that your future plans fit in with renting your home to another person or family. Do you know how long you are going to be away for, and are you planning to come back? You may even want to start the home buying process again, and buy a new home in your new location.
In that case, you need to watch your credit score and make sure your mortgage payments for your first home are always paid on time.
Never forget to declare on your tax return that you are renting your home. It will form part of your income and is essential if you would like to invest in another home.
Upsides to Selling Versus Renting it Out
Of course, there are some positives when it comes to selling your home. Hopefully, your home has appreciated significantly and you will walk away with a nice profit. But that is not all, don't forget there are expenses associated with selling your home.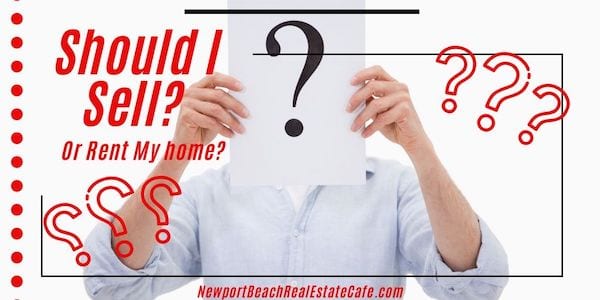 When you pay off your mortgage early, there may be pay off penalties. You will also have to pay tax on the income of the equity is above a certain amount. Is it worth selling your home? Unless you need the capital right away, you are probably better off renting out your home.
Final Thoughts
Who should rent out their property? If you can make a good profit from renting out your home, you should, by all means, do so. Try not to use the money that you are earning from your rental income. Put it in an account that earns interest.
Yes, there are many advantages to renting a home. If you get you are able to earn rent that is lower than the mortgage payment, taxes, insurance, and home owner's association, you can make a profit. You need to make sure that you see renting your home as a business.
Many landlords rent their homes but fail to put the surplus from the rental income to work. That is the secret to being a successful landlord.
Find Other Valuable Resources for "Should I Sell My Home or Rent It Out? " from Real Estate Professionals Across the Country. Please check out the articles below, and please share across Social Media if you enjoyed the articles
If you are considering renting your home out, then be sure to read you Should I Sell or Should I Rent my Home? a must-read authored by Bill Gassett. He discusses whether or not it will be profitable to rent your home out. Additionally, another important consideration is the vacancy rate while waiting for a new tenant.
Another fabulous resource if you are deciding to sell is How Long Will it Take to Sell written by Jeff Nelson. He discusses the market conditions, the condition of the home and the price. All these items can impact how long it takes to sell a home.
If you are going to be selling your home and moving to a new neighborhood then be sure to check out the great resource by Jamohl DeWald Tips for Moving into a New Neighborhood. He discusses changing utilities in advance, and the importance of being aware of HOA rules and regulations. Be sure to meet your neighbors offer to host an event, or join a book club.
About the Author
The above real estate article "Should I Sell My Home or Rent It Out?" was written by Sharon Paxson of Newport Beach Real Estate. Having experience representing buyers, sellers, and landlords with their real estate transactions since 2005, we welcome the opportunity to share our expertise and guide you through the home buying or selling process.
We service the following Orange County CA areas: Corona del Mar, Huntington Beach, Newport Beach, Newport Coast, and more! If you are considering selling your home, we welcome the opportunity to work with you and list your home with a top Newport Beach CA Realtor.