Selling vacant homes can be challenging. Many home buyers cannot imagine how the room is utilized, or figure out how their furnishing will fit into a vacant home. There are other factors to take into account when selling your home.
Imperfections Stand Out in a Vacant Home
Selling vacant homes can have its challenges. SelIf there are any imperfections in a home, they will stand out in a vacant home. If the carpet is stained or there are obvious marks on the wall, the eye will go right to them. There is no distraction with the furnishings. Buyers will only notice the condition of the property because the home is vacant.
If there was a past water leak in the ceiling, and the home has been painted, does all the texture match? Savvy buyers are looking closely at everything in the home including the ceilings, walls, exterior stucco walls, and landscaping. Any defects or deferred maintenance need to be addressed prior to listing so the home is in tip-top condition.
Photographing a Vacant Home
Taking photos in a vacant home can be challenging. The reasons are because it is difficult to differentiate one room from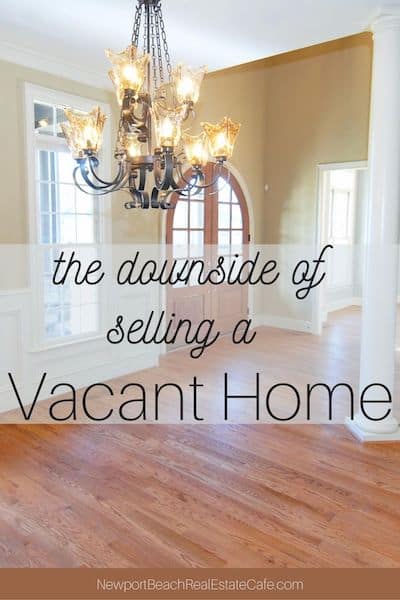 the next. The rooms all appear to look like each other, especially if there are multiple bedrooms. Photographs of kitchens and bathrooms are obvious, but sometimes even having bathroom towels will make the home more inviting.
In most cases, the first time someone will see your home is online. Your home has only ONE chance to make a good first impression. If a buyer is looking at photographs of rooms and they may appear to be exactly the same. This is not appealing to them. A buyer may not even want to come and view the home after viewing it online if it is vacant. You want your listing photos to stand out and not spooking away buyers!
Think about model homes. Model homes are not vacant. They are staged in such a way to be inviting to most parties who are coming to look at the homes. They are decorated to create warmth and so that buyers can imagine themselves living in the home.
If it is within your budget, then it is important to stage the home. Even partially staging will add so much to a room. And staging makes for better photographs!
Evaluate Your Competition
When you are getting ready to put your home on the market, it is important to do a very thorough review of what other homes are on the market. Selling vacant homes will give you an idea about the competition on the market. Consider how well each of those homes presents to the buying public. If all of the other homes which will be your direct competition are furnished and/or are staged, then you may want to consider adding some staging to make the home appealing. I recommend really going out and looking at the homes that are going to be your direct competition. If not, it is important to price the home accordingly.
Would You Buy Your Home?
After you have had a chance to look at the competition, ask yourself this question, would you buy your own home? Or would you buy one of the others because you liked the feel of it better? I have often recommended to sellers, it is important to think like a buyer. That can be difficult to do, especially if you have lived in the home for a while and have an emotional attachment to it. Try to be very objective when evaluating your home, and if you think you would buy it over the other ones.
What are The Downside of Selling a Vacant Home
Click To Tweet
Never Stage to Cover Up Defects
Staging should never be utilized to cover up any defects or faults on the home. Staging should be utilized to enhance the natural beauty of the home and to allow a buyer to imagine themselves living in it. Another factor with staging, is that it allows the buyer how the home feels and looks furnished and what a particular use room can be used for.
Staging should not be used to cover up any defects in the home. Any defects in a home need to be disclosed to a potential buyer. All buyers need to make their own discoveries about the home. Any past plumbing leaks or any material defects need to be disclosed to the buyer.
Consider Partially Staging the Home
Staging is a bit like creating a movie set. For the time the home is listed for sale, your home will
have furnishings that do not belong to you! They are staging pieces that accent the home. The most important rooms to stage are the living room, dining room, and master bedroom. Adding accents to the bathrooms including linens create warmth in the home.
Cost of Staging
Staging can be expensive and many home sellers do not comprehend the expense upfront that it may yield a seller a higher sales price in a shorter period of time. And sellers may not have the funds to pay for staging.
Generally speaking, stagers will charge a certain amount for approximately three to four months of staging. After that, there is a monthly fee to "rent" the furnishings. The downside if you pay for three months (or more upfront) is that what if you sell your home within the first week, and you have agreed to pay for the three months. But the good news is, you have sold your home. There is no template or an exact way each staging company works. You will have to reach out to the individual companies to determine their policies.
Professional staging is not for every home, however, a home that is well-cared for will be appealing to the majority of buyers.
In our current real estate market, homes that are priced well and present well will still sell quickly. The last thing you want is for your home to accumulate too many days on the market.
Stage it Yourself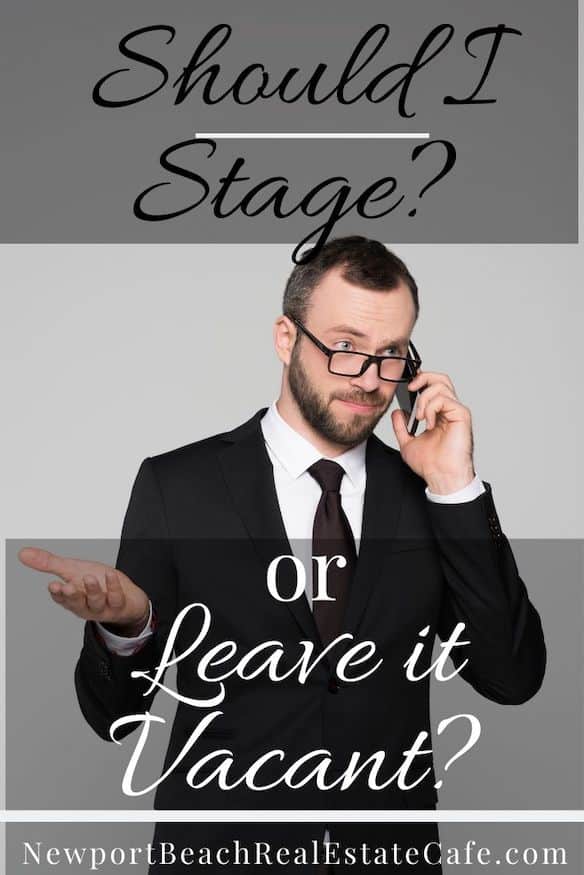 There are some inexpensive ways to stage and preparing to sell vacant homes. Adding a fresh coat of paint is ideal and not having any holes in the walls from past artwork is ideal! Ensuring that the windows are clean and let natural light in. Deeply clean the home including tile grout, flooring, carpet, bathrooms, and kitchen. If the home is vacant, then perhaps add a pretty orchid for the kitchen island which will be pretty in photos and in person. You can stage it yourself fairly inexpensively from stores such as Home Goods where you can find some furnishings and artwork that are inexpensive.
There are some tips to stage a vacant home including keeping utilities on, including water. Inevitably, you will have a buyer that may have to use the facilities when they are touring the home, and best if the water (and the other utilities) are turned on.
Final Thoughts
Selling vacant homes can be a bit more challenging to sell. However, it is preferred to sell a vacant home than a home with a tenant where the home is completely cluttered. Vacant homes should be in pristine condition with freshly painted walls and new carpet. And then a buyer may feel as though they are moving into a brand new home of their own.
Find Other Valuable Resources for "The Downside of Selling a Vacant Home" from Real Estate Professionals Across the Country. Please check out the articles below, and please share across Social Media if you enjoyed the articles.
Another option with staging is to consider virtual staging. Conor MacEvilly has written an excellent article Virtual Staging: Penny Wise and Pound Foolish. This article describes what virtual staging is and whether or not it is beneficial for a seller. It may be very confusing to a buyer as the photos will not at all look like the home.
Joe Boylan has put together an excellent resource on Staging Your Home for a Quick Sale. Buyers prefer homes that are staged and will compare the homes to other homes. Buyers will also compare the homes to what they see on home improvement channels such as HGTV.
Another important factor to consider when selling is Should I Stage my Home or Leave it Empty which is authored by Bill Gassett. He discusses in a strong buyer's market, staging a house may be just the tip to put you over the top with a potential home buyer!
Danny Margagliano has written an excellent post about Deal Breakers to Avoid When Staging a Property for Sale. He discusses the importance of keeping your home neutral with not too many personal effects, and the importance of decluttering. Other considerations include addressing the outdoors and ensuring outdoor furnishings are inviting and add to the overall style of the home.
About the Author
Top Newport Beach CA Realtor Sharon Paxson has written the article "The Downside of Selling Vacant Homes". With experience since 2005, we welcome the opportunity to meet you and assist you with your real estate transactions.
We provide real estate service to our clients within the coastal Orange County CA area including Corona del Mar, Newport Beach, Newport Coast, Tustin, and more coastal towns!