There are 10 easy home staging tips. When you have decided you are going to sell your home, there are some important steps to take before putting it on the market. Staging your home to sell can make a huge difference in how the home appears. Staging the home can create a great first impression. Buyers in today's market are very savvy, and if your home presents well and is priced appropriately, then the home will sell in a shorter amount of time and for top dollar.
You will need to be organized when you utilize these 10 easy home staging tips. Prior to staging your home, be sure to address any maintenance and deferred maintenance on the home. If there is deferred maintenance it will come up during the home inspection process. Additionally, potential buyers can see if there are items that need attention in the home. For example, if the painting needs to be done, or screens are in disrepair.
After you have made necessary repairs, paint a neutral palette, and be sure that baseboards and crown molding are also painted to create a fresh look.
Of course, you can always hire a professional Stager, and with luxury home sales, that is recommended. It is important to be objective because having someone who is not too close will be able to give better advice. Professional Stagers can provide you with a consultation and I have seen some who will work with the furnishings that you have, and some who bring in all their own furnishings to create a new fresh feel.
10 Easy Home Staging Tips
1. Be Objective
Even though your name is on the grant deed and most likely the mortgage, you have to begin to think of your house in an objective manner. I understand that homes can be sentimental with many memories, but it is now a product that is going to be sold. I often tell my sellers to think like buyers and attend open houses to see the competing homes on the market, and how they are staged and presented. It is important for a seller to write down what they liked and what they didn't like in order to be objective about how YOUR house is going to be presented.
Try to be as neutral as possible with your 10 easy home staging tips and it is important not to be offended by feedback from either Agents or potential buyers. Remember the more feedback the better. The idea is you want to appeal to the masses even though you may have your own taste.
2. De-Clutter Mercilessly
This is probably the most important factor, to begin with. Get rid of the "stuff", and keep in mind, less is more. Remember you are moving anyway, so now is the time to clean closets and organize drawers. Potential buyers do look in closets and they do open drawers. Be sure to clean the drawers and have items arranged neatly. You can purchase organizers to create a more organized appearance.
Keep in mind when you visit model homes and how simple the shelves, counters, and surfaces are decorated. The model homes give you the feel of a home without too many things that can create visual clutter. Model homes generally have the "wow" factor, you walk in and can imagine yourself living there, and that is the idea behind staging.
Visual clutter can be distracting to a potential buyer.
3. Put Away Personal Photographs
When you are listing your house to sell, then when a buyer walks in, the potential buyer will want to imagine themselves living in the house. If there are personal photographs everywhere, then oftentimes a potential buyer cannot be objective.
Additionally, people look at your photos, they want to know who you are. I have also seen agents look at personal photos as well. Take them down and put them away for your next house. Remember you are trying to create a neutral space.

4. Boost Curb Appeal
How is the curb appeal of your house? This is the FIRST impression a potential buyer will have of your house. When they pull up in front, what do they see?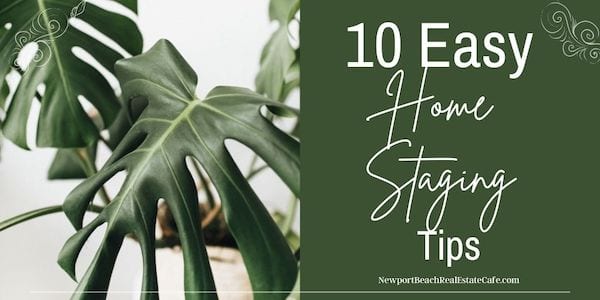 Make sure the lawn is green and tended to, and flower beds are neat. Consider adding seasonal flowers to create color. Be sure to have this maintained as buyers can make appointments at any time. Ensure that landscaping is neat and tidy.
How is the entryway to the home or the porch? If there is space, consider adding a small bench and side table with a flowering plant, or a couple of chairs to create an inviting feel.
Be sure to clean the exterior of the house, and power wash is a great way to do it. You can also power wash decks, balconies, and walkways. If the exterior paint needs touching up, then be sure to paint it so that it looks fresh.
5. Create Open Space
Consider your furnishings in the home. Is it too big or bulky, is it worn out? Consider having fewer pieces of furnishings that create a conversation area so that people can imagine themselves in the area.
Another benefit of having open space is that the home will feel larger, and will have a better flow. Additionally, the open space will allow for better photographs which is truly the first place that a potential buyer will see the home. Living a minimal lifestyle will also help to create more open space.
6. Replace Wall Art with Mirrors
Another one of the 10 easy home staging tips is to add light. Mirrors can add light to a home and can also be neutral. I am not suggesting that you hang them everywhere in the home, but if there is a nice reflection (i.e. ocean view or water view), then consider adding mirrors as it is another opportunity to enjoy that view and mirrors can add light in dark spaces.
Be cautious with photographs, however, because you do not want to get your own reflection in the mirror when taking photographs. I have seen that quite a bit!
7. Take a Good Look at your Floors
At the very least, deep clean your floors. If you have hardwood floors and they need to be refinished, that is a project to consider. If you have stone or marble, they can be deep cleaned and a finish can be added to make them look new again and the grout can also be cleaned. This will also make a difference with photographs.
If you have carpet, be sure to have it cleaned, and replace if necessary. And if you are worried about buyers walking on it, your Realtor® can require that the buyers wear booties to protect your floors.
8. Be Aware of Odors
This can be the most egregious of all. If you are selling a home with pets, it can be a challenge. Not only keeping the house clean in preparation for showings, but pets can also be a deterrence to showings as many are truly afraid of animals (cats and birds included). Pets can also create odors inside and outside, so be sure to have the yard cleaned up completely.
The best recommendation is to have the pets stay at a friend or family members while the home is listed for sale, if that cannot be accomplished, then at least take them out for showings.
If you have a cat box, put it in the garage.
Another one of the 10 easy home staging tips is to be cautious about using scented candles or plugins which can mask scents and can be offensive to some. In lieu of that, a neutral essential oil such as lemon can be utilized which is not overpowering.
9. Create an Outdoor Oasis
You have an opportunity to create an outdoor oasis. Whatever your outdoor space is, if you have a patio with furnishing or a deck, be sure that it is clean and the patio furnishings are inviting. If you have an outdoor barbecue, be sure it is clean and/or covered.
If you have a patio table and chairs, stage it with outdoor candles
You want potential buyers to imagine themselves enjoying the outdoor space, and how they can best use it for their lifestyle, once the buyers begin to imagine themselves living in the home, then
10. Flip the Switch
Be sure to turn the lights on for each show, also open the blinds, and let the sunshine in. The more natural light the better, however turning on all the lights in the home also creates better and brighter photographs.
Often times you will see the reflection of the lights on countertops and on floors. That is why it is important to have floors spotless.
Final thoughts . . .
When you are selling your home, it can be overwhelming in the beginning. By working with a top Realtor® who can provide objective feedback on what needs to be completed in order to prepare the home to sell, you will be able to sell your home for top dollar and in the shortest period of time.
If you are finding that some of the items cannot be addressed due to finances or otherwise, then it is important to price it accordingly. Ideally, you are able to address as many items as possible in order to obtain the highest price for your home.
If you think this article "10 Easy Home Staging Tips" was an interesting read and helpful, please share it across your Social Media platforms.
For other information about Home Staging from other Real Estate Professional around the country, please check out the articles below:
5 Staging Tips to Help Maximize Price and Minimize Time on the Market via Kyle Hiscock, Rochester Real Estate Blog
Is Your Home Compelling? via Kevin Vitali, Real Estate in Essex & Northern Middlesex Counties, MA