Living in a Gated Community
There are many advantages of living in a gated community. Living in a gated community can offer a sense of security for homeowners who reside in a gated community. There are also drawbacks of living in a gated community including the monthly HOA fees, pet restrictions, and architectural guidelines that need to be adhered to. We are going to review the gated community's advantages and disadvantages.
There are many factors to take into account when searching for the best community to live in, and this guide will help you to look closely at gated communities during your home search.
Why do People like Living in a Gated Community?
A gated community will have amenities and shared communal facilities. Some of the amenities may include a clubhouse, swimming pool, spa, and tennis courts. One of the very convenient benefits of living in a gated community is the access to a variety of different amenities. A gated community may offer facilities including a golf course, pickleball which is increasing in popularity, and more.
There are pros and cons to living in a community with an HOA. Residents also believe that living in a gated community is safer due to the fact that not everyone can access the streets of a community with an HOA.
5 Incredible Benefits of Living in a Gated Community
Click To Tweet
Most 55+ or retirement communities are governed by an HOA and will have amenities for the residents use. There are also many waterfront home communities that are in a gated community.
Security and Safety
One of the benefits of living in a gated community that most people appreciate is the safety and security of the community. Most gated communities have either a guard gate who allows access or a gate that requires a key fob, or a keypad to open the gate. Therefore, residents of the community along with their guests can enter the community. It is a good idea to not freely give out the keypad code to prevent unwanted people from entering the community.
The security gate ensures that trespassers do not get anywhere further than the gates. Some communities also have security cameras to record who is entering and exiting the community.
Some communities may not be gated at all such as a condo complex, but it is still governed by an HOA. A condo is an individual unit that is located in a shared complex that is owned by an individual. A condo is a type of real estate that may have shared walls. A condo community may have as few as 2 units, or up to several hundred. The condos are surrounded by common areas. The HOA fees pay for the maintenance of any common area fees.
Amenities of a Gated Community
Gated communities will have some type of amenities for the resident's personal use. The amenities of the community may include the following:
Community Clubhouse: Many communities will have a community clubhouse for the resident's use. There can be stipulations for the use of the clubhouse. Often times, the HOA will allow residents to "rent" it out for a family party or event. There may be restrictions on what you can do including whether or not you can have a bounce house. Insurance will be required to utilize the clubhouse, so it is a good idea to check out what is required.
Swimming Pool & Spa: Some things to find out if the community you are picking a community to live in, include finding out if the association pool is heated all
year long. If not, what is the time that it is heated and usable. Another thing to inquire about is if there are children's programs including swim team. Pools may or may not have full time lifeguards. During the summer months, there are generally lifeguards present.
Tennis Courts: The community may have multiple courts available for the residents use. There is likely a way to sign up to utilize the courts to ensure that everyone has a fair chance to use them. Some times, communities will host tennis tournaments which can be fun to participate in.
Basketball Courts: Communities may also have basketball courts available to use.
Children's Play Area: Most gated communities offer some type of a children's play area.
The HOA is responsible for maintaining the community amenities. There are also rules and regulations of the amenities so be sure to check those out when performing your due diligence before purchasing a home.
Privacy of the Gated Community
Many people consider privacy to have great value with home ownership. In non-gated community neighborhoods, residents can have interruptions from door-to-door marketers or random people ringing your doorbell. Unless of course, you have a no solicitation sign on your front door or entry to your home.
Gated communities are generally known for having less traffic, no door knocking, less vehicle pollution and less litter.
Higher Home Value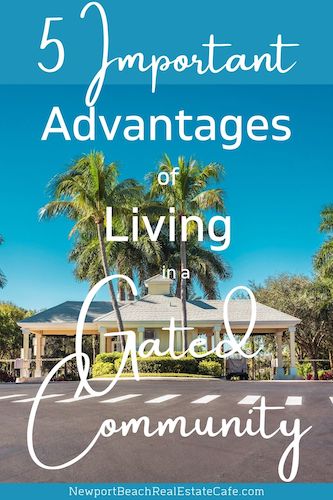 One of the many factors that must be considered when buying a home is how well it will retain its value. No one wants to lose money on one of the biggest investments of their lives. No one wants to spend 6 or 7 figures on a home and see a value decline.
Gated communities are largely insulated from the forces that can drive down a home or a neighborhood's value. A gated community will likely have architectural restrictions on what a homeowner can do with a home, which thereby preserves home value.
In a gated community, the front yard landscaping is often maintained by the association, so the homes are also appealing and have a good first impression. You won't have to worry about an unsightly property impacting your market value.
All of the factors that make gated communities desirable add to the property values for all of the residents. The appeal of the community will inspire new buyers to purchase or build homes there when the community is so desirable.
There are many ways to boost home value, however purchasing a home in a gated community will likely yield higher value when selling a home.
5 Incredible Benefits of Residing in a Gated Community
Click To Tweet
Final Thoughts
There are gated community advantages and disadvantages that one has to consider when purchasing a new home. Gated community living is not for everyone. It is a good idea to make a comparison of gated community vs non gated communities. Some buyers think why gated communities are bad and not beneficial places to live due to the cost and restrictions, so ultimately that is every home buyers option. A buyer may perceive the rules and regulations as the negative effects of gated community.
About the Author
The article "5 Drawbacks of Living in a Gated Community" was written by Sharon Paxson, one of the best Newport Beach Real Estate agents. With experience since 2005, representing buyers, sellers, and landlords, we welcome the opportunity to share our expertise with you and guide you through your real estate transaction.