Living in a gated community has many advantages such as amenities for the residents of the community, extra security, and much more. There can be other benefits of living in a gated community. However, there can be disadvantages to living in a gated community. There can be problems when living in a gated community that a homeowner can encounter. It is a good idea for a homebuyer to fully research a community before moving into a home in a gated community that has an HOA. There can be pros and cons of living in a community with an HOA. There are many residents who ask themselves is living in a gated community safer?
Gated communities bring a sense of security and community for some residents. Some of the hindrances and drawbacks of living in a gated community may include the rules and regulations of living in this type of community.
What are The Hindrances of Living in a Gated Community
Click To Tweet
Monthly HOA Fees
One of the biggest expenses you will have when living in a gated community is the monthly HOA fees. Additionally, many
gated communities have more than one HOA, there can e a master association as well as others. The HOA fees may be charged monthly, quarterly or annually. When a buyer is researching a community, it is strongly recommended to learn about the HOA fees, and what the HOA covers. If it is a condo community, the HOA fee may cover the structure insurance.
An HOA can help protect your investment because there are rules and regulations to follow. The HOA will have a gate, and it may be guard-gated or just an automatic gate. The gate and other common areas are maintained by the homeowners association. The HOA fees are one of the costs of homeownership.
When living in a gated community, the HOA will have a board that makes decisions on behalf of the community. Some of these decisions include maintaining the amenities including a pool and spa area, and any common areas. The HOA can vote to hire reputable companies to provide the necessary maintenance to the community.
Parking for Visitors
Living in certain communities may have limited parking in general including for the residents. In general, most condos in an HOA will have two parking spaces in a garage, and will often have a parking pass for other parking in the community. These parking passes may be limited. I have seen many condo communities that will provide only two additional passes. This will certainly limit the number of guests that you can have to your property.
If you were planning a pool day and wanted to invite half a dozen friends, it may not be possible unless your guests create a carpool. When you are looking to purchase a condo or home in a gated community, be sure to check out the parking situation. Also, be sure to visit the condo community at different times of the day. The parking may be very limited when the residents are getting home from work!
Pet Restrictions
When you are going to be living in a gated community, and if you love pets, be sure to check out the pet rules and regulations. There are many city regulations of breeds that you can own. Individual HOA will also have breed, number of animals and there can also be weight restrictions.
When looking for the best neighborhood to live in, be sure to ask your real estate agent to find out about any pet restrictions in the community you are interested in. Once you have submitted an offer on the property, and you are in escrow, then you will receive copies of the rules and regulations as well as the CC&Rs of the community that will describe the regulations for having pets. It is a good idea to find this out before you go to the trouble of submitting an offer, as this can be a deal-breaker.
Some condo communities may stipulate that pets may not weigh more than 35 pounds. That will certainly cut down on large breeds. If you have a Golden Retriever, then the dog may not be able to live there.
What are The Drawbacks of Living in a Gated Community
Click To Tweet
Defaulting on the HOA Fees Will Have Repercussions
If you decide to reside in a community that has an HOA, it is imperative that you pay your HOA fees on time. Defaulting on the regular HOA fees could put you at risk for foreclosure. However, if your state does not permit foreclosure in this condition, the HOA fees and penalties will continue to accrue. And they are not negotiable.
It is imperative that all residents who live in the community pay their fees. If the HOA is not financially sound, then they may need to collect the funds in order to maintain the property.
Another factor to consider before proceeding with a purchase is to review the HOA financial documents to ensure they are financially sound with good reserves. These financial documents will be provided to you once you are in escrow, and it is important to review these carefully.
The HOA May Have Architectural Guidelines
While this may be a disadvantage, this can also be an advantage. Architectural guidelines can prevent your neighbors from creating odd home designs that just don't fit in, or prevent someone from painting their home purple. Often times the HOA guidelines that are traditional neighborhoods.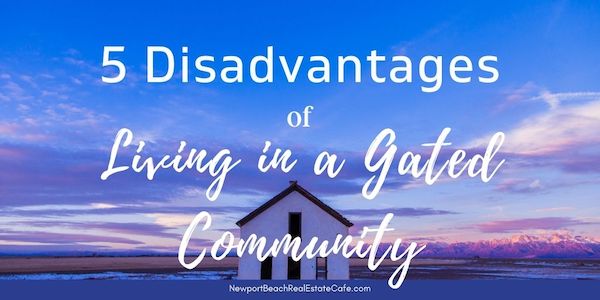 The disadvantage of architectural guidelines includes that a homeowner will be required to submit any plans and get approval from the HOA and the city before proceeding with any architectural changes to the home. The city may have height restrictions when building a new home, and the city will not permit homes to exceed that guideline.
The architectural guidelines may also include the landscape design of the home. This is very common with new construction homes as the new homeowner is required to submit a plan to be approved. The guidelines can also prevent you from installing a large dog house on the property or a jungle gym that exceeds the height of the walls. Neighborhoods that have new build construction can be very selective on what they allow you to put in your yard!
Final Thoughts
There can be problems with gated communities. Living in an HOA can definitely have its benefits and drawbacks, Living in a gated community does have benefits as it is often more private and has less traffic, but there are drawbacks. Homeowners may not be able to do exactly what they want to do with the property, and if someone in the community does not like it, they can complain. It is always a good idea to be neighborly, and if you are planning on a remodel, let your neighbors know so they can expect the inconveniences associated with new construction.
The next article will be about the benefits of living in a gated community with an HOA.
About the Author
The article "5 Disadvantages of Living in a Gated Community" was written by Sharon Paxson, one of the best Newport Beach Real Estate agents. With experience since 2005, representing buyers, sellers, and landlords, we welcome the opportunity to share our expertise with you and guide you through your real estate transaction.