Multiple offers may arise when you are selling your home. Because of the continued low inventory, if a home is priced well, it is likely that a seller will receive multiple offers on the property. When you are selling your home, you might find yourself in the fortunate position to have multiple buyers making offers. If you are selling your home in a seller's market, you'll have many options for negotiating a better deal.
When there are multiple offers, the sellers are in a great position and could increase the purchase price or improve other conditions of the sale. Buyers are making their offers as competitive as possible in order to secure a home when there is a bidding war. Let's take a look at how you can benefit when you have multiple offers when selling a home.
5 Things Sellers Should Negotiate With Multiple Offers
Click To Tweet
Multiple Offers
If there are a lot of people looking to buy your home, you might find yourself reviewing multiple offers. If this happens, you are likely in a seller's market with more buyers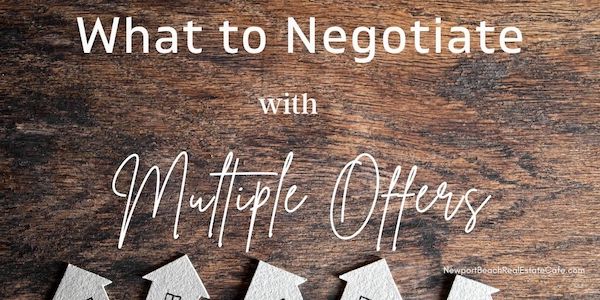 than properties available for purchase. And there are times when a buyer can put themselves at risk by making mistakes with their multiple offers.
This puts you in a powerful position, allowing you to potentially get a better deal on your sale. You have more leverage so you can choose the buyer that better meets your requirements.
When this happens, you need to be firm on what your priorities are so you can better negotiate. This could get you a higher price, a faster sale on your home, or something else that is important to your situation.
Dealing with a Multiple Offer Sale
As a seller who has multiple offers, you are in a great position. You can negotiate on the purchase price as well as the terms of the contract so that you get what you want.
There are some less obvious bonuses to multiple offers as well, let's take a look at the top 5.
1. Getting More Money for Your Property
Getting a higher price for your home is one obvious advantage to this type of situation. Sometimes the buyers can get into a bidding war competing for your property and increasing the amount of money you receive from the sale. Oftentimes buyers will add an escalation clause to the purchase agreement that allows the buyer to increase their offer price automatically over the initial offer.
While most sellers will want to get as much as they can out of the sale, it isn't necessarily the biggest consideration. A seller needs to look at all the components of a purchase agreement include the contingencies of a purchase offer. While it can be very tempting to simply go for the most money available for your home, it could be better to get a shorter escrow period or even a cash buyer.
Ideally, the seller should entertain all offers, but select the one that is the most likely to close escrow. The last thing a seller wants is for the buyer not to perform and then the escrow fails to close. Then the seller would have to put the home back on the market and secure another buyer, hopefully at the same terms. Depending upon the market, it may not be as easy to get the same terms as you have had initially. Sometimes when a home falls out of escrow, then other potential buyers may think something is wrong with it, and that is why it fell out.
2. Higher Earnest Money Deposits
When the buyer agrees to the sales contract, they'll pay an earnest money deposit. This is money that is deposited by the buyer in an escrow account. It will be released on closing and added to the down payment or closing costs.
This earnest money proves that the buyer is serious and gives more protection to the seller. With more potential buyers, you can ask for a higher earnest money deposit. Ideally, a buyer is putting down a reasonable earnest money deposit to demonstrate to the seller that they are serious about the home purchase. Most sellers may request an earnest money deposit up to 3% of the purchase price.
3. Leasebacks
With multiple offers, the seller can ask for a leaseback period. This allows the seller to stay in the home for a period of time after closing and is attractive to many sellers.
While the seller will no longer own the home, they can continue living there by agreement with the new buyer. This situation can allow for an easier transition to the seller's next home and can reduce many of the stresses involved with moving.
4. An Appraisal Waiver
With a lot more buyers than available properties, prices can rise quickly, leading to financing issues for buyers. A home appraisal is based on recent comparable property sales data, which can be out of date in a hot market. Oftentimes, the market is not keeping up with the home sales. Removing an appraisal waiver can be a risky proposition for the buyer. An important consideration is that if the home does not appraise, does the buyer have the funds to cover the shortfall.
An appraisal waiver can allow buyers to pay more for the home while making sure that they don't miss out on a cash buyer.
5. Selling As-Is
If you want to speed up the purchase of a home, avoiding any repairs normally required by the seller is going to cut the time to closing. Typically, selling a home as-is may put off a lot of buyers, but if there are already many offers on the table, this isn't going to matter. If a buyer is purchasing a home as-is, then they should definitely have a home inspection so they can anticipate the expenses to update and repair the home. There may be problems that are not visible to the naked eye, which is why a comprehensive home inspection is very important.
5 Things Sellers Should Negotiate With Multiple Offers
Click To Tweet
Final Thoughts
Selling your home when there are a lot of buyers competing for your property, puts you in the driving seat, though what is ultimately the best offer might not be straightforward. If the seller is going to be providing multiple counteroffers to the potential buyers, then one of the terms is to ask the buyer to come up with their highest and best offer.
Choosing which offer is best isn't simply down to which buyer is offering the most money, there are more things to consider. With multiple offers to choose from, you should carefully compare the details without forgetting what is most important to you in the transaction. Work closely with your agent so that you understand all the ramifications of each individual purchase agreement.
You should also be wary of promises a buyer might make that are not part of the contract. For example, a buyer might say that there won't be a problem if the appraisal is lower than expected, but you could find this is meaningless unless you have a waiver written into the contract. All terms and conditions of the purchase agreement need to be spelled out in writing.
About the Author
Top Newport Beach Realtor Sharon Paxson has written the real estate article "5 Things Sellers Should Negotiate With Multiple Offers". With experience since 2005 representing sellers, buyers, and landlords with their real estate transactions, we welcome the opportunity to share our knowledge and expertise and guide you through the home buying or selling process.