If you are buying a home managed by an HOA, you should be aware of what special assessments are and how they might affect you.
An HOA special assessment can be required to cover the cost of unexpected repairs. If, for example, storm winds have caused damage to the development, the homeowners association might call for a special assessment to pay for repairs.
Weather and winds can damage the roof can be hard on the siding of a property, especially if it is an older community. When looking for a home to purchase in an HOA, it is always a good idea to look at how the condition of the property and how it is maintained.
Keep in mind that condo complexes do have homeowner's associations in place as there is often common areas that need to be maintained.
What is a Special Assessment?
If you buy a home within an HOA, there are definite pros and cons of living in a community with a homeowners association. When living in a community, you will sign a contract agreeing to follow their rules. This agreement will include details of the fees you'll be expected to pay, the rules you'll have to follow, and will also include information about special assessments.
The homeowners association should have a reserve fund to cover unexpected expenses, however, this isn't always enough. Perhaps the HOA isn't as well managed as it could be, and they don't have sufficient funds in reserve. At other times, a special assessment might be needed if the repair bills are very expensive.
Whatever the exact reason for creating a special assessment, it does mean homeowners residing in the development will be the ones covering the costs. Common reasons for special assessments include properties that need major repairs such as a roof or siding for the property.
6 Important Facts About an HOA Special Assessment
Click To Tweet
How Do Special Assessments Work when you Own a Home?
If you live in an HOA community, you can attend board meetings to vote on special assessments or find out about them before they happen. If you choose not to do this, you might only hear about these assessments when you receive the bill.
If you attend HOA board meetings you will be able to vote on the decisions they make, potentially avoiding special assessments when they happen.
How Special Assessments are Different from Monthly Fees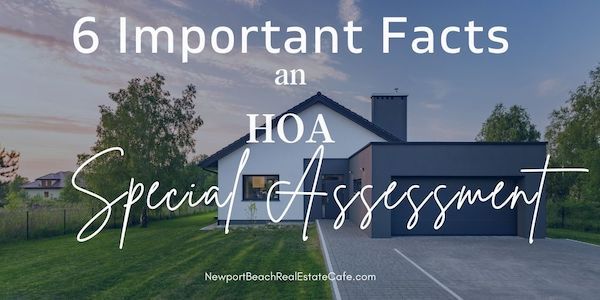 It is natural to be attracted to low monthly HOA fees, but this could lead to a greater chance of a special assessment. While reduced HOA fees might allow you to get a bigger mortgage with reduced monthly payments, there will be less money available for unexpected repair costs.
Even with higher HOA fees, it doesn't necessarily protect you from special assessments. If the association is mismanaged, they won't have the funds available to them to deal with unexpected repair costs.
Before you buy a home in an area managed by HOA, you need to be sure they are responsible in the way they deal with funds.
Check for Special Assessments Before You Buy a Home
If you are looking to buy a home that is in an HOA, you need to be sure that they aren't about to go through a special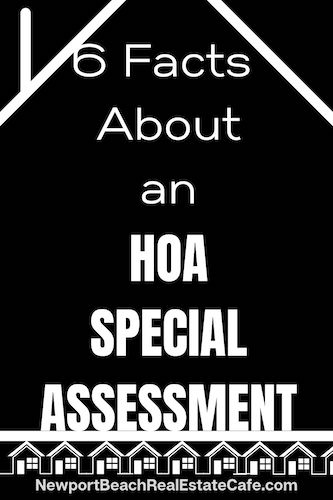 assessment. Otherwise, you will find you have a large build cover soon after you've moved into the property, something that is likely to be very unwelcome when your finances are already stretched to their max. Keep in mind that most new construction homes will have an HOA manage them.
In order to avoid this, make sure you find out how much money the HOA has in their reserve fund before you sign on the dotted line. The financial statement of the HOA should tell you exactly how much money they have available to cover unexpected costs. If these funds are low, there is going to be a greater chance of an HOA special assessment in the near future.
When you are looking to buy a property within an HOA, the condition of the communal buildings might give you an indication of whether a special assessment will happen in the future.
Can You Challenge an HOA Special Assessment?
If you don't agree with the special assessment the HOA board has created, there are potentially things you can do. A legal action is an option, but if you're doing this yourself it is going to be very expensive. If you lose, you can expect to be responsible for the homeowners association costs, so it isn't a course of action you should take lightly.
Your first course of action should probably be to check the HOA covenants so that you can check whether they have done everything correctly or not. If they haven't, you might be able to stop the special assessment without huge legal costs.
What Are 6 Important Facts About an HOA Special Assessment?
Click To Tweet
The Bottom Line on Special Assessments
No one likes unexpected bills, and special assessments are a significant and unexpected cost that could affect homeowners in HOA communities. If you want to avoid an unexpected bill when you're buying a home, you need to be aware of whether an HOA special assessment is likely in the HOA.
Hopefully, now you have a better understanding of what special assessments are, and how to make sure you are aware of them before they happen.
Final Thoughts
When considering moving to a community that is managed by an HOA, there are many factors to take into consideration. One of them is of course the monthly, quarterly, or annual dues, and the fact that you can have a special assessment. A special assessment may be because the HOA does not have the funds in place to cover the expense of an HOA special assessment.
Whether or not you are looking for a home not in an HOA or in an HOA, you want to pick the best community to live in that will suit all your needs. If you are plan to move to a community with an HOA, be sure to perform your due diligence and inquire if they are planning on having an HOA special assessment.
About the Author
The above real estate article "6 Important Facts About an HOA Special Assessment" was written by Sharon Paxson of Newport Beach Real Estate. With experience since 2005 representing clients with their real estate transactions, we welcome the opportunity to share our knowledge and expertise and guide you through the home selling or buying process.
If you are considering selling your home, we welcome the opportunity to work with you and list your home with a top Newport Beach CA Realtor.