When you are moving you need to change your address. There are multiple places that you need to change your address. When you are moving, you will have many things to think about and it is imperative to change your address when you are moving.
You may get distracted because there is so much to take into account when moving such as getting moving boxes, organizing packing, and hiring a moving company. This can be easily be overlooked, however informing everyone who needs to know that you have a new address. To help to keep you organized, we have created this change your address checklist for your convenience.
United States Postal Service
USPS probably comes to mind as one of the first places to change your address. You can make the change at the United States Postal Service website, or you can change it in person at your local post office. The post office will forward your mail to your new address for up to a year at no charge.
You can also make a change of address prior to making the move to a new city. It is important to do this right away so that you don't lose any mail.
Be sure to have the mail forwarded by the time you will be moving to your new residence. You will not want to have your mail laying around for a week or so. You don't want anyone getting your personal information if your mailbox is overflowing. As part of your home security and to protect your identity, it is ideal to have a mailbox that locks.
Social Security Administration
If you are currently receiving social security benefits, it is important to notify social security of your change of address. You will want to make sure that you don't miss out on any benefits. You can create an account on the Social Security website and on that site, you can also request a replacement social security card, check your benefits, print a benefit verification letter, and much more.
Unemployment Department
Because of the current pandemic, there are many people who are receiving unemployment benefits. If you are moving, you need to update your profile with the unemployment office from where you are receiving the benefits. Log in to the unemployment account, navigate to the profile section, and change your address in this location of the website.
Internal Revenue Service and Franchise Tax Board
There are several ways to update your address with the Internal Revenue Service. You can call the IRS to notify them of your new updated address. Additionally, you can fill out the form f8822 and mail it to the IRS. This form f8822 also has the specific addresses for each state, as it does vary by state.
The fastest way to change your address with your state tax board is to create an account. In California, it is the Franchise Tax Board. Create an account on this site, then select profile from the toolbar, choose to update contact information, view your account information, select the edit address link and enter your new address, then click the save button.
Utilities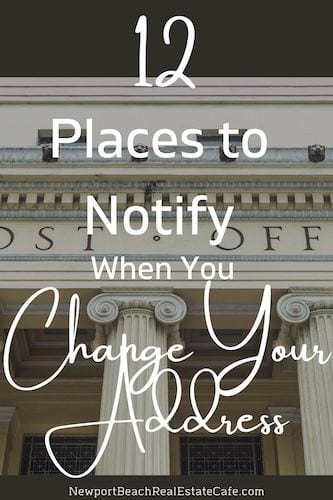 You will want to change your address at both your existing address and your change your address at your new residence. Contact your utility providers early to schedule the utilities to be turned on so you don't miss out on any essential utilities. It may take up to a couple of weeks for the change, but it generally takes one to two days. Know your moving day so that the services will be turned on when you arrive at the new home. Be sure to include the following utilities:
Electric company
Gas company – generally someone needs to be present to the gas company to light the pilots in the home.
Water
Trash
Internet service provider
Cell phone
If you are moving to a condo community, some of the utilities may be provided by the homeowners association. Some homeowners associations will provide water and trash, and there are some that provide other utilities. Be sure to find that out prior to moving.
Financial Institutions
You have to notify all of your banking institutions and credit card companies to know about your move. Any places where you have any loans such as a student loan, then they all need to be notified about the change of address. Any other accounts that you have with any financial institution, bank, credit union, investment accounts, 401K, PayPal, Venmo, or any credit reporting agency, be sure to notify them as well.
Change Your Address | 12 Places to Notify When You Move
Click To Tweet
Employer
Make sure you notify your current employer of any change of address. Most employers do not mail to an employee on a regular basis, however, it is important to notify your employer of a change in your address. Even if you are getting a new job, you still want to notify your previous employer so that you can receive your yearly tax information either a W2 or 1099.
Also, if you are changing employers, you will need to provide them with an appropriate notice which is generally two weeks. Or depending upon what your employment agreement was when you were hired, it is always a good idea to give your employer as much advance notice as possible. You may need them for a reference in the future!
Department of Motor Vehicles
Notify the DMV of your change of address right away. You may need to schedule an appointment at the DMV as they may require a new photo for your license. That can take some time as the DMV is taking longer to get an appointment due to the current pandemic. Reach out right away. You can also change the registration at the DMV for your automobiles. If you are a member of an automobile club, you can get some of these addresses changed right at the auto club. This will help you to avoid long lines and wait times.
Insurance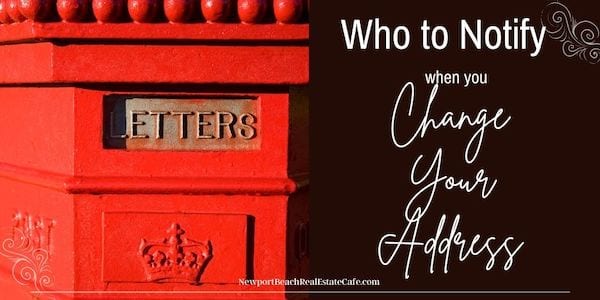 You may have your insurance needs all at one location which will certainly be convenient when you move. Because then it is generally just one call or email! Remember to change your address with your health insurance company, automobile insurance, life insurance, and other insurance providers.
Depending on who you are insured with, you can make the changes online after you have made an account.
Physicians and Medical Providers
Be sure to notify your local physicians of your change of address. You want to make sure that you are in receipt of the bills in a timely manner so that you can pay those bills right away. Most physician offices will generally bill and they utilize a billing company that might not be too sympathetic if you did not receive a bill. Also, if you are moving out of the area, ask your physician for a referral in the new city where you are moving.
Veterinarians
If you have fur babies, then you want to make sure that you notify the vet of your new address. Moving with pets can be challenging, but if you plan ahead and are organized, it can be accomplished with minimal stress. If your pet is on medication, be sure to make sure that you have sufficient medication for your pet. Keep that medication on hand and with their pet supplies so you make sure you provide it to them in a timely manner when you are moving with a pet.
If you are moving to a new city with your pet, be sure to ask your veterinarian for a referral in the new city!
Online Shopping
If you are a regular online shopper (which many of us are), be sure to update your address with the online company where you shop. If you shop at Amazon, then it is easy enough to update your address. In any of the online sites, navigate to your profile, and then update it to reflect your new address.
Final Thoughts
We are hoping that this information about how to change your address has been helpful. Bookmark this page to make sure that you don't forget to notify the above businesses so that they have your correct address. There are moving mistakes to avoid which can cause stress and create delays in the moving process. Having your mailing address organized is one of the most important steps in the moving process.
About the Author
The above real estate article "Change Your Address | 12 Places to Notify When You Move" was written by Sharon Paxson of Newport Beach Real Estate. Sharon is a residential Realtor® with experience representing buyers, sellers, and landlords with their real estate transactions since 2005. We welcome the opportunity to share our expertise and guide you through the home buying or selling process.
We service the following Orange County CA areas: Corona del Mar, Huntington Beach, Laguna Beach, Newport Beach, Newport Coast, and more! If you are considering selling your home, we welcome the opportunity to work with you and list your home with a top Newport Beach CA Realtor.