Staging Tips When Selling
There are staging tips when selling your home during the holidays. Buyers that are looking for homes during the holiday season are generally more serious buyers. Buyers may need to relocate due to a job change or moving to a new state. And there is no reason why a seller cannot enjoy the holiday season with decor even though their home is listed for sale. You want your holiday decor to be neutral, however! It is important to not over-do the holiday decor, as there are some decorations that may be off-putting to potential buyers.
Deep Clean
Before you begin your holiday decorating, be sure to deep clean your home. You want to have your windows cleaned, floors deep cleaned, and be sure to maintain it. You want to wipe down window sills where dust may have accumulated. Dust furnishings and be sure to wipe down any decor that you already have displayed.
Be sure to address the outdoors as well and ensure that your home has excellent curb appeal. The first thing a buyer is going to see is walking up to your front porch. Make sure flower beds have been tended to. Remember your home has one chance to make a good first impression.
Declutter Your Home
Other staging tips include decluttering your home! If your home is already loaded with existing tchotchkes and clutter, holiday decor can make it look even more cluttered! Before you start adding decor, make sure that your existing decor is not cluttered. You can always put some items away if you are going to be exchanging them with holiday decor. You want to make sure that the decor you are adding will complement your existing decor.
Take the time to put away the personal decor. You want your holiday decor to be as neutral as possible. Takedown personal photos as you want your potential buyers to imagine living in the home.
Put away unnecessary items that you do not need to have out! This will create more space in the home!
Complement Your Decor
There is tremendous value in staging your home when selling. Other staging tips include evaluating your current decor! Keep in mind, less-is-more when adding decor to your home. Adding a few subtle touches to your home will create a holiday feel. Add a bowl of pinecones or a bowl of holiday ornaments that can create a holiday feel. An evergreen wreath is inviting and is neutral and will add to the decor. Even consider simmering cider with cloves and cinnamon sticks to create an inviting aroma.
Complement Your Color Palette
Before you get out the tinsel, make sure your holiday collection complements your current decor. If your living room is painted a soothing gray hue, avoid using the clashing red ornaments. Instead, select a silver glass wreath, silver ornaments, silver crystal ornaments, or white snowflakes. There are lots of ornaments that you can select to blend with your current decor. These staging tips will help your decor to blend with your current colors in your home.
You want to accent the color scheme that you have in your home. If your home has dark accents, consider accenting with tones such as deep reds, or fresh pine garland. Not only will the pine garland be attractive, but the aroma of the garland will also be inviting.
Showcase the Positive Attributes of Your Home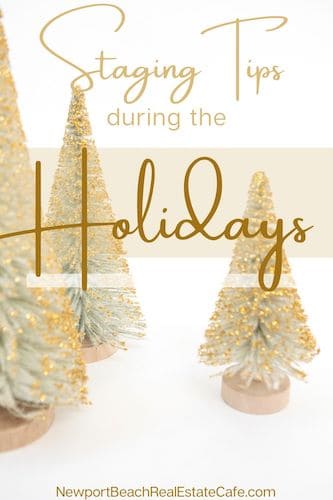 If you have too many holiday trimmings, they can be distracting to the features of the home. Utilizing the right holiday accessories can highly your home's best features! If your home has an amazing fireplace and mantle, consider adding tasteful pine garland and accent with fresh cranberries or clear or crystal holiday ornaments. Avoid hanging personalized stockings to clutter the fireplace. Be sure not to obstruct a beautiful view with don't block a beautiful view taped up snowflakes on your windows!
You want to select a holiday tree that accents your home is another great staging tip. If your home has tall ceilings, then you may want to select a taller tree to highlight the two-story-high ceilings! Make sure the tree is not too wide at the base and does not overwhelm your floor space. Be sure to trim your tree with a neutral theme. Avoid utilizing gaudy ornaments, and select clear or silver ornaments with icicle lights. If you have presents displayed under the tree, then put those away during showings. A good place is to lock them in the trunk of your car! There are inconveniences when selling a home, and one is to put away your valuables.
Go Easy on Holiday Decor
Utilizing just a few holiday decorations can create a lovely holiday spirit. It is not necessary to utilize every single holiday ornament that you have. A lot of people like to use all their holiday ornaments, but remember, less is more! You want to keep the space open so a potential buyer can still see the house. You want your home to appear to be as spacious as possible, even with the holiday decor.
The last thing you want is your holiday decor to be off-putting and impede your selling efforts.
Tastefully Add Holiday Lights
If you plan to decorate with holiday lights the exterior, just utilize white string lights. Avoid utilizing an inflatable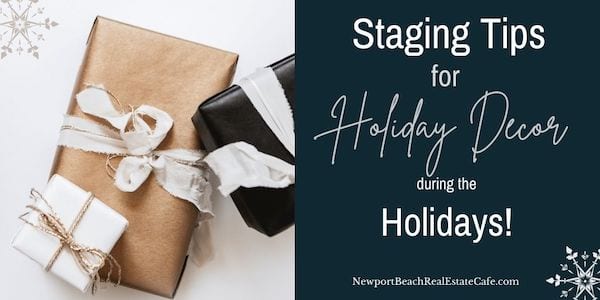 Santa Claus or huge outdoor reindeer. Utilize simple string lighting to accentuate the architecture of your home. Or if you have a beautiful tree in your front yard, decorate your tree with the white string lights. You want to avoid having an overwhelming light display. Selling your home during the winter months can have its challenges, but you want to highlight the features of your home.
Add an Elegant Wreath
You can select a simple elegant wreath for the front door. If you are going to be adding a holiday ribbon, be sure that it matches the color palette of your home. Bring red may clash with a blue home. Select silver ribbon to accent your evergreen wreath. The wreath will be inviting on the front door or front gate of your home. The holiday wreath should add to the curb appeal of the home.
Final Thoughts
Remember that less is more with holiday decorating when selling your home. You can go all out when your home is not listed for sale. You want your home to be as inviting as possible to a broad spectrum of homebuyers. Keeping your decor neutral and avoid using religious decor as it may be off-putting to potential buyers.
About the Author
The above real estate article "Staging Tips When Selling During the Holidays" was written by Sharon Paxson of Newport Beach Real Estate. With experience since 2005 representing clients with their real estate transactions, we welcome the opportunity to share our knowledge and expertise and guide you through the home selling or buying process.
If you are considering selling your home, we welcome the opportunity to work with you and list your home with a top Newport Beach CA Realtor.