Yes, you love your home just the way it is and that is fine. But, if you have decided to sell your home, it is all about making someone else love your home. This is called staging, and if you have never done it before, you should get some staging tips from your listings agent.
Staging is a bit like creating a movie set. For the next few weeks, your home may not feel like your own, but with the right staging tips, your home will sell faster. At the end of the day, it is what it is all about.
Would You Buy Your Home?
Start by going around your home with a list in hand. Make a note of problems and that includes the teen's unmade bed. It is time to take charge and make sure EVERYTHING looks neat and tidy.
Also make notes of problems with paintwork, dripping faucets, windows that don't shut properly and screens that need to be replaced. All of these things need to get fixed. Save time by doing so before you call a real estate agent.
Declutter Your Home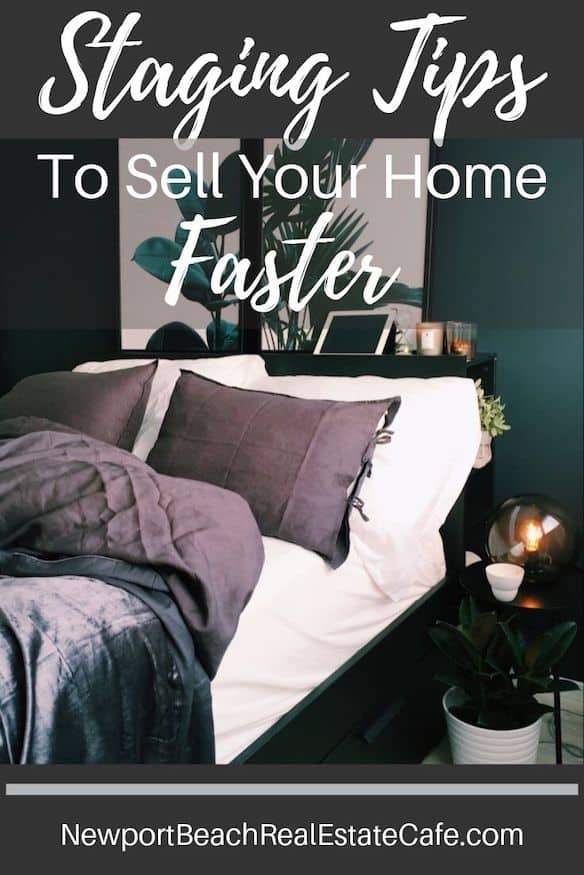 As you walk around you are bound to notice a lot of clutter. If you don't need it, you should find a new home for it. Make decluttering the entire family's business. That means posters need to come off the wall and work stations should be cleaned up.
You want a potential buyer to be able to see himself and his family in YOUR space. That is difficult for many homeowners, and it is often said you should move in your mind before you list your home. But it is true, making your home less personalized will help it to sell quicker.
Clean It Up
Once you have decluttered your home, you need to make sure it is nice and clean. For some reason, many homeowners find this a very stressful experience. In fact, it is a good idea to call in a professional cleaning company.
Cleaning companies use professional products and can make your home really sparkle. It is that extra touch, or sparkle, which is going to sell your home.
Fix-It Before You List It
An important part of staging is to fix everything that is broken. That door handle that sticks or the drawer which does not open easily may not bother you but could become a major issue. Get everyone on board with helping you to fix small problems which can make a lot of difference when it comes to selling your home.
Take a close look at your kitchen and determine how it can be updated to ensure the home shows in the best light. Look at the lighting, do you have recessed lighting but the halos around them have yellowed, consider changing those.
Decorate for Success
Once you have cleaned and decluttered your home, take a step back. What is missing? Your home should by hopefully look as neutral as possible. The time has come to make it special.
Making it special and "endearing" is not difficult at all. There is nothing that says home more than a bunch of flowers. Put them in a central place such as the dining room table. It will create a focal point and add a touch of class at the same time.
Don't Forget About Your Front and Back Yard
The way you tend to your garden will influence the sale. Make sure your front and back yard look nice and tidy, and plants look healthy, It is better to have an empty space than an unhealthy plant. If in doubt digging it up is the best policy.
Also, make sure that children toys such as slides and swings look neat. You don't want toys strewn all over the garden.
Your lawn should look healthy, and you can easily get it looking healthy in a matter of weeks. Just aerate it, add feed and water it. There is nothing like a nice looking lawn to make sure your home sale goes smoothly.
Enhance the curb appeal of your home, especially if you are getting ready to list it for sale and have prospective buyers coming through. Keep in mind, your house only has one opportunity to make a good first impression both online and in person.
Cheap Staging Tips
Staging tips should not cost you a lot of money, but it is a good idea to perhaps spend some money. Colorful cushions on the den sofa can lift the entire room.
Don't forget about the smell of your home. Candles will give your home a natural smell much more so than artificial air fresheners. Avoid utilizing scented candles as they can be noxious to some. Consider diffusing a neutral essential oil. Open the doors and let the fresh air in to fill the house with oxygen.
A top staging tip is not to paint your home after you have listed it. Instead, paint it before you list it. A freshly painted home looks nice, but can also hide problems.
Final Thoughts
Finally, remember that staging is all about putting yourself in the mind of the buyer. Do what you have to do achieve a sale, and maybe even a better price for your home.
Find Other Valuable References for "Top Staging Tips to Sell Your Home Faster" from Real Estate Professionals Across the Country. Check out the articles below, and please share on Social Media if you found the articles helpful.
Eileen Anderson has written an excellent article about Getting Your Home Ready for a Smooth Sale. In this article, she provides tips to prepare the exterior of the home and shows before and after photos. Additional resources include interior home staging including using neutral colors, appealing fabrics and adding some throw pillows.
Do you have a small home and want it to appear larger? Check out Kevin Vitali's post about Staging Tips for Selling a Smaller Home. In this article, he discusses utilizing minimalism and this can be achieved by selecting a neutral palette of colors to avoid a choppy look. He also says removing the clutter and having fewer items in the home will make the home appear to be larger.
Paul Sian has put together an excellent post about Marketing and Staging Tips For Selling A Luxury Home. Selling a luxury home is no different, however, marketing a luxury home should be elevated so the buyer understands the home is a truly a luxury home. Many times luxury home sellers resist making changes to the decor of the home because they utilized a designer to decorate. The design may be too trendy or outdated for today's buyers. Consider removing custom curtains, bold colors or wallpaper that may be a turn-off to some buyers.
Home sale preparation may be a lot of work for the seller, however, in the end, it is beneficial to have the home show-ready. Bill Gassett shares a post about Staging and Home Sale Preparation. He discusses curb appeal and provides details about how to enhance the exterior of your home. Interior tips include decluttering, deep cleaning including floors and windows. Spruce up the closets because buyers look in closets as well.
Lighting can also improve the value of a home. Eric Jeanette has written an informative post about How Lighting Increases Home Value. He discusses the areas of the home where lighting can have the greatest impact which includes the front entryway, exterior landscape and more.
About the Author
This real estate article "Top Staging Tips to Sell Your Home Faster" was written by Sharon Paxson at Newport Beach Real Estate. With experience since 2005, we look forward to the opportunity to meet you and work with you.
We work with clients within the coastal Orange County CA area including Corona del Mar, Newport Beach, Newport Coast, Tustin and more! If you are considering selling your home, we welcome the opportunity to work with you and list your home with a top Newport Beach CA Realtor.