There are inconveniences a seller may experience during the selling process. There is massive preparation when selling your home to ensure that the home makes an excellent first impression! When selling, it is imperative to address any deferred maintenance and make necessary repairs as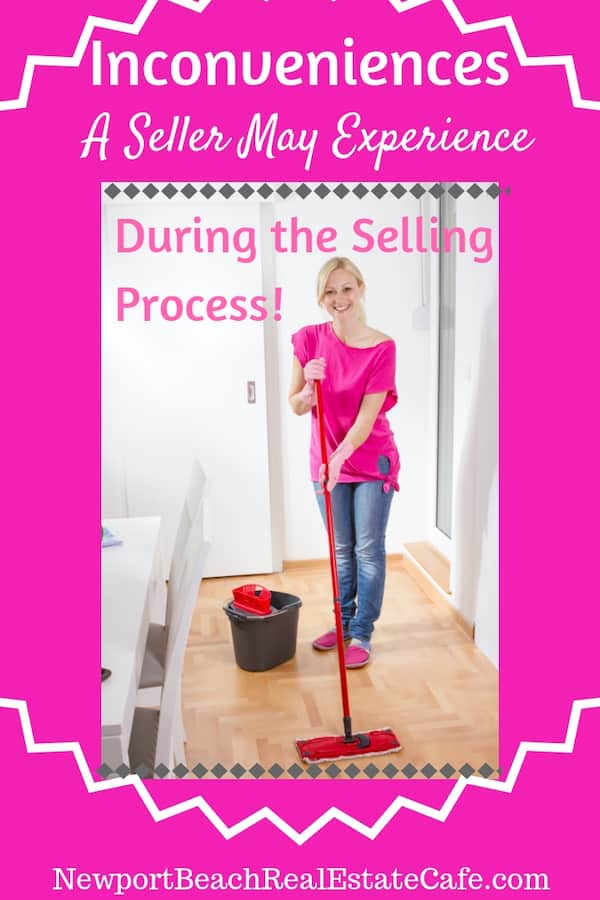 they will be uncovered on the home inspection. Initially, it is ideal to address the exterior with landscaping needs so the home has wonderful curb appeal. Sellers will want to make sure the interior has been staged – whether it be with your own furniture or items brought in from a stager.
These initial steps will pay off as the photographs and videos of the home will be stellar, and will invite the buyers to come and view the property in person!
By now you will have listed your home for sale and will have discussed the showing instructions on the house. And another question to discuss will be whether or not a seller should use a lockbox.
How Does a Buyer Schedule an Appointment to View Your Home?
When the listing agent lists the home, the showing instructions are discussed. There are different methods for showing instructions, whether it be a call or computer service many agents are using now (such as Showing Time), text messages, email or phone calls. I personally prefer text messages if I am either showing or responding to a showing request because the request and instructions are in writing.
In the MLS (Multiple Listing Service) the listing agent will provide showing instructions to the buyer's agent. And in most cases, the buyer's agent will follow those showing instructions.
The showing instructions may be VERY specific. I once had a listing and the showing instructions were specific such as follows:
Showings between 12:00 and 2:00 PM, Wednesdays only. No exceptions
Now, this is not an ideal way to show a home, but the home was tenant occupied, and this was what the tenant allowed. So even though I had many agents contacting me telling me their client was only in town for one day on a Saturday, there were NO EXCEPTIONS!
Or you might see showing instructions that state:
24 Hour Notice Required. No Showings Between 2 pm and 4 pm as the Seller's Have a Baby. Be Sure to Lock the Doors and Don't Let Dog Out!
Often times these showing instructions are written in the private remarks which means only an agent can view that information, it is not for public view. However, that does not mean that an agent will follow the showing instructions. Locking the door seems like common sense, but I have had it happen multiple times when an agent is putting a key back in the lockbox they may forget to lock the door. This can be very unnerving for a seller when they come home to find the home unlocked.
And regarding the pet requests to take care of someone else's dog or cat puts the responsibility on the buyer's agent. The pet needs to be put either in daycare, boarded or out on a walk. An agent and their client should NOT be responsible for a seller's pet! Not to mention the potential liability if the pet gets spooked and demonstrates some undesirable behavior such as growling or biting! Do not put the responsibility of your precious pet on a buyer's agent!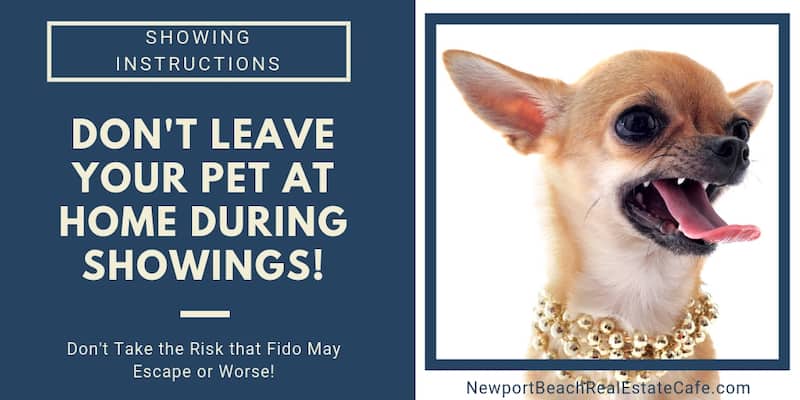 Other Requests During Showings
Perhaps you just installed NEW CARPET or just had it professionally cleaned, and you are asking the buyers and their agents to use shoe covers. There are some who ignore these requests. As a buyers agent, I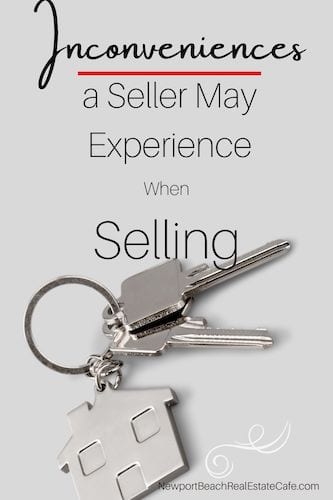 do remind and ask the buyers to please put the shoe covers per the seller's request.
Also, are you requiring your agent to accompany every single showing? Not all potential buyers are going to feel comfortable walking around with the listing agent describing every single detail of the property. Depending upon the price point and what was agreed with the seller, having accompanied showings is not always necessary.
Sometimes potential buyers and their children might need to use the facilities and a seller might need to be prepared for that. Ideally, a potential buyer's agent is not allowing them to use the facilities at a home that is vacant and the water is off. I have had vacant listings before, and I always disclose in the private remarks, water is turned off!!
You Might See Some Lurkers
When a house gets listed for sale, a for-sale sign generally goes up in the front of the house. You want to sell the home as quickly as possible and having a for sale sign is a beneficial marketing technique. Additionally, a listing agent may utilize a sign rider with a web address for buyers to learn more about the property. As a listing agent, I create single property websites for potential buyers to view the property along with the photos and utilize a sign rider with this web address!
However, the sign can be inviting to others who may want to walk on your property and even walk in the backyard just to "see" it! There are some who figure every home for sale is vacant!! I have had this experience multiple times with people walking on the property. If you have someone walking around your property, they should not be there and authorities should be called. Having your home listed for sale is not an invitation to trespass!
Sometimes Agents Don't Show Up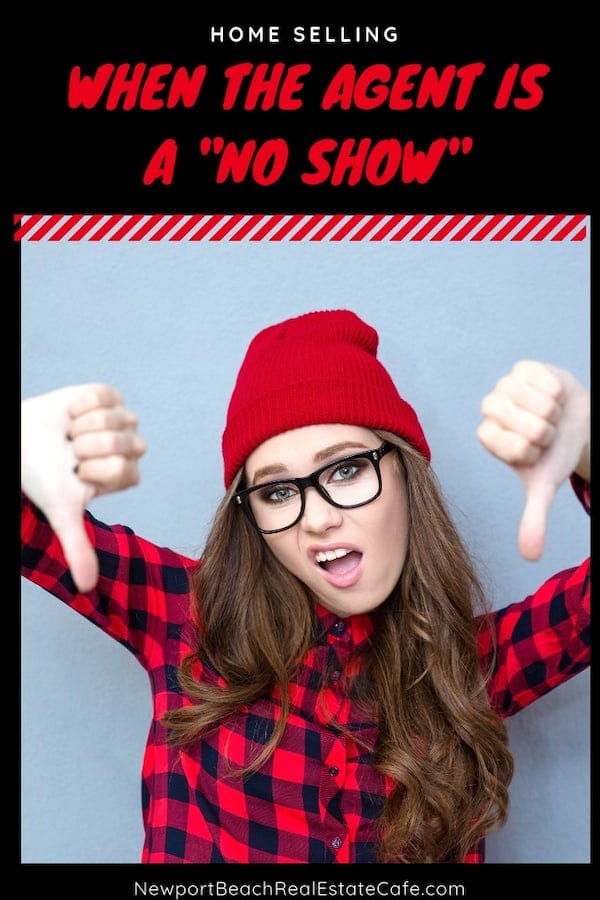 You have run around your house, made sure the beds are all made, kitchen counters cleaned off, bathrooms organized and a quick vacuum and head out of the house with your two dogs, a cat, and 2 children. You wait about 30 minutes and you get a call that the agent canceled or worse . . . no show!! This can be very frustrating for a seller when they have gone to all the trouble to prepare the home to be shown to no avail. Unfortunately, that does happen sometimes. There are even times when a buyer may pull up out front and not want to bother going in as something about the home does not suit them!
What Can You Do?
Your listing agent should qualify the potential buyers before they come to visit the property. As a seller, try to be reasonable with your showing requests, because the more flexible you are, the more showings and the sooner the house will be under contract. Another important consideration is having a conversation with their buyer's agent and ask the following questions can be beneficial as it lets the listing agent know if they are just "looky loo's" or serious buyers. Questions an agent should ask a buyer's agent include the following:
Have your clients met with a lender and what amount are they pre-approved for?
Have your clients shown proof of funds for down payment and closing costs?
Have they made any offers on a home?
How long have they been looking for a home?
Have they been in escrow?
If the escrow fell apart, what is the reason?
Why are these buyers looking to buy?
Are they looking for a single-family home or a condo?
This process does take more time, however, it does screen out clients who may be unqualified, and the listing agent is doing their job of allowing entry into the home.
Final Thoughts
Preparing to sell is crucial and covering all the bases will help you avoid unexpected surprises. Be sure to secure valuables and do not leave them in the house when your home is being shown to potential buyers. It is important to buyer's agents to adhere to the home showing instructions. Preparing to sell is important as it will shorten the home showing process if the seller is flexible with the home showing process!
Find Other Valuable Resources for "Inconveniences a Seller May Experience During the Selling Process" from Real Estate Professionals Across the Country. Please check out the articles below, and please share across Social Media if you enjoyed the articles.
Accompanied Showings Do Not Sell Homes via Bill Gassett, Maximum Real Estate Exposure
Strangers Will Pee in Your Toilet via Conor MacEvilly, My Seattle Home Search
Home Selling Tips for Picture Day via Michelle Gibson, Wellington Home Team
Top 5 Showing Tips To Showing Your Home via Kevin Vitali, Essex, and Northern Middlesex Counties Massachusetts
Staging a Home for a Quick Sale via Joe Boylan, Colorado Springs Real Estate
Tips for Improving Curb Appeal via Paul Sian, Cincinnati and Northern Kentucky Real Estate
About the Author
The above real estate article "Inconveniences a Seller May Experience During the Selling Process" was written by Sharon Paxson of Newport Beach Real Estate. With experience since 2005 representing sellers, buyers, and landlords with their real estate transactions, we welcome the opportunity to share our knowledge and expertise and guide you through the home buying or selling process.
We service the following Orange County CA areas: Corona del Mar, Huntington Beach, Laguna Beach, Newport Beach, Newport Coast, Orange, Santa Ana, Sunset Beach, Tustin and more! If you are considering selling your home, we welcome the opportunity to work with you and list your home with a top Newport Beach CA Realtor.