Living close to the sea creates different influences on your life and the home that you live in. For Newport Beach homeowners, the large harbor, the two piers including the Balboa Pier and the Newport Beach Pier, and ocean views offer inspiration when redesigning their homes. There are some top trends that Newport Beach homeowners are considering right now whether they are building new construction or remodeling their existing home.
You do want to start with a budget and plan before embarking on a home remodeling project. When remodeling it is very easy to go over budget. You may prefer higher-end finishes which may end up costing more in the end. Avoid those mistakes when remodeling, by starting with a plan.
California Coastal Style
Coastal decorating in the California style tries to recreate the sensation of being on the beach, with the use of more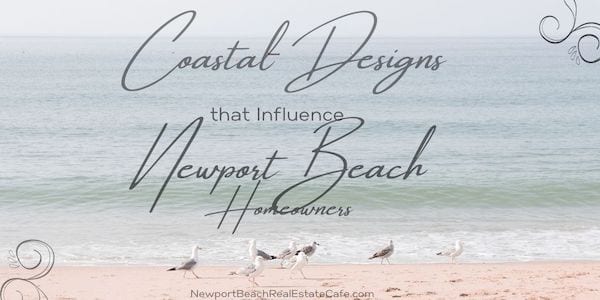 neutral colors representing the sand. A lot of white, cream, and tan make up the largest areas of color. The ocean and sea are reflected with the subtle use of blues and greens in accessories and furnishings.
This style sticks to a more neutral color palette, staying away from bolder colors that can make a room seem untidy and cluttered. Neutral palettes can make rooms feel airier when there is a lot of natural light.
Bright Light
Making the most of the available natural light makes any home a nicer place to live. Larger windows, skylights, and glass doors allow the light to enter, and minimal use of blinds or curtains adds to this. There are solar tubes that do bring natural light into the home where windows do not exist. Natural light is ideal.
Consider utilizing energy-saving lighting as well to ensure the home is energy efficient. LED lightbulbs can significantly reduce your electric bill versus traditional lightbulbs.
Simple Layouts
A more straightforward layout makes the home look less cluttered. This allows the air to flow through the home, keeping rooms cooler and increasing the sense of space. The furniture should be functional, with lots of room to store your possessions, but still letting the rooms be enjoyable spaces where you want to spend time.
Kitchen Remodels
It is very popular to utilize synthetic quartz for countertops which does come in a range of colors. Many homeowners are trending to the white and gray countertops which have a similar look to Carrera marble but are more durable.
When remodeling a kitchen, many homeowners are utilizing glass tile backsplash in the sea colors including blue, green, and aqua to add a soft yet inviting feeling in the kitchen. Kitchen cabinets are generally white which creates a new open and inviting feeling in the kitchen. Adding cabinet doors that are made of either obscure or clear glass can be a very nice upgrade to the kitchen. Not all cabinet doors need to be the same, you can utilize just a few if you have beautiful stemware that you wan to showcasae with clear cabinet doors.
Shelves
To help with storage and avoid clutter, built-in shelves offer a great solution. You can use it as a storage place for books and other possessions, or as a place to display ornaments. The built-in shelving could include a cupboard, drawers, or even a desk to really make the most of the space-saving opportunity. Be sure to keep the shelves neat and organized. Avoid collecting too many items that you will eventually have to declutter to retain the look you have created.
Porches
Homes with large porches or California Rooms take indoor living outside. The porch lets you relax in comfortable surroundings while sitting in the shade and staying cool. A porch can make better use of your outdoor yard space, combining yard design to create a new living area that is very appealing and inviting.
Hardwood Flooring
When living in a humid area close to the sea, hardwood floors are a better choice. They are not only hardwearing but also fit with the coastal decorating theme and style. Hardwood flooring also provides you with a floor that is easier to keep clean, repair and looks great too. Hardwood flooring is another upgrade that will add value to the home. It is a very popular style.
Cushions
Comfortable cushions can add a finishing touch to your redesign. They can inject some neutral colors to contrast your furniture and fit with the coastal decor. Stripes are popular, as are natural prints like flowers or leaves, and can offer more to attract the eye against a plain background.
Textures
When creating a home with neutral colors and a simple layout, interest can be added through the use of texture. You
can use different textiles of different colors to improve the space if the room feels too bland. Adding furnishing with different textures and accenting with cushions of different colors to add interest and texture to the interior. There are some tips for making your home luxurious on a budget and you can search for different textured cushions and furnishings to obtain the best price.
Other ways to achieve the use of texture in your home is to consider adding an upholstered headboard. They are very popular now, and can be obtained in different colors and textures. The texture of the fabric would stand out amongst a white or slightly off-white wall.
Utilizing different texture of fabric with your furnishings throughout the home can add interest and help you to achieve your goal of coastal style decor.
Metal Accents
If your home is feeling a little too plain, mental accents can add more interest to any area. Metal accents can come in many forms, but often less is more to create the look you want. A word of caution with the use of metal accents, however. Keep in mind, when you reside close to the beach, metals may not last as long due to the salt area which can be corrosive to metal and other finishes.
Create an Outdoor Oasis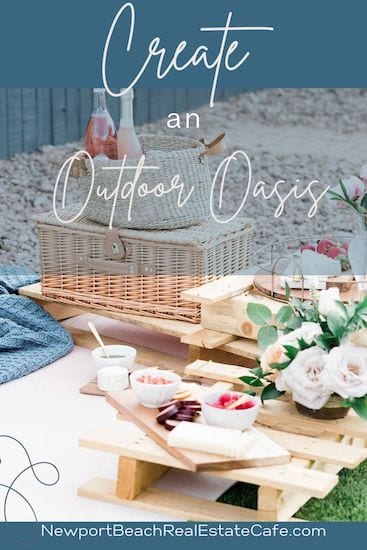 Don't neglect your outdoor space. Newport Beach homeowners do enjoy indoor-outdoor living due to the temperate climate in this area. You can create an outdoor oasis by adding some plants and trees and utilize container gardening as well. Consider your outdoor living furnishings and they outdoors can be an extension of the indoor space. It is common to see many homeowners adding hidden doors or nano-style doors which when opened disappear into the wall. This creates this open indoor-outdoor space. There are some excellent ways to accessorize your backyard by adding colorful cushions, container plants and even adding a water feature.
Utilizing plants indoors will also soften the indoors and creates a more comfortable space to live in. Some types of trees can do very well indoors, palm trees can do particularly well indoors. They can freshen up your home, with certain types like Kentia and Parlour palms working best.
Exterior Redesigns
Painting your home white will keep it cooler, reflecting the sunlight away. It also makes the home look clean and fits with the coastal palette. Many Newport Beach homeowners are redesigning their homes with the farmhouse style which utilizes white finish with black accents. It is not uncommon to see a home designed in this style with a turquoise front door to add color.
Another way to reduce heat buildup is to change to clay roof tiles. This goes very well with white walls and aids in reducing the heat inside the home. This is commonly found in Spanish villas, and for good reason, it is increasingly becoming popular with Newport Beach homeowners.
Wrapping Up
All of these factors when redesigning your home will boost home value. It will be more appealing to you as you reside in the home, but when you decide to sell, these upgrades will add value. Other considerations include what appraisers consider when appraising the property once you do decide to sell.
There are many options to give your home a redesign that is in keeping with Newport Beach. You can take your time and make changes gradually, or hire a contractor to renovate your property in one go, depending on your budget or how much you want to change. This should add value to your home and create a better living space for you and your family that reflects the coastal setting.
About the Author
Top Newport Beach CA Realtor Sharon Paxson with Newport Beach Real Estate has written the article "Coastal Designs that Influence Newport Beach Homeowners When Redesigning Their Home".
Sharon has been specializing in residential real estate since 2005 throughout Newport Beach CA and the surrounding area. Whether you're looking to buy, sell, or rent she will guide you through the entire real estate transaction. If you're ready to put Sharon's knowledge and expertise to work for you call or e-mail her today.
Areas of service include Corona del Mar, Huntington Beach, Newport Beach, Newport Coast, and more coastal Orange County communities.