A FSBO or For Sale by Owner is a term used to describe homeowners who decide to undertake the difficult task of selling their home without the help of a real estate agent. In general, FSBOs attempt to sell their house on their own to save the hefty commission that goes into the pocket of real estate agents. Unfortunately, according to the National Association of Realtors, only 10% of FSBOs can make a sale. There are several possible reasons why FSBOs are unable to sell a property. If you are an FSBO, this article is a must-read for you. Here we discuss the top 10 reasons why FSBOs fail to sell a property.
Home is Not Presented Properly
Most FSBOs fail because they do not understand the importance of an excellent first impression. They do not know how to present a home to potential buyers properly. Before a property is listed, homeowners must prepare the home to sell and should add a fresh coat of paint, take care of repairs, update fixtures, make sure the carpets are clean, and ensure that the house has an excellent curb appeal. These small tasks take only a tiny bit of time but can play an important role in landing you a buyer and a reasonable price.
Lacks Understanding of Qualifying Buyers
FSBOs generally do not have an efficient screening process in place. To be able to make a sale, it is essential to have a quality buyer screening process in place. You must be good at checking if an interested buyer will actually be able to buy a home. It's also important to know and understand the basic concepts, such as pre-qualification and pre-approval. If you are an FSBO dealing with an interested client, always ask: are you pre-approved for a mortgage? If not, you are probably wasting your time. Getting in touch with a local mortgage lender will help.
Seller not Available to Handle Inquiries
Here's a common misconception: real estate agents make a humongous amount of money by working only a few hours. The truth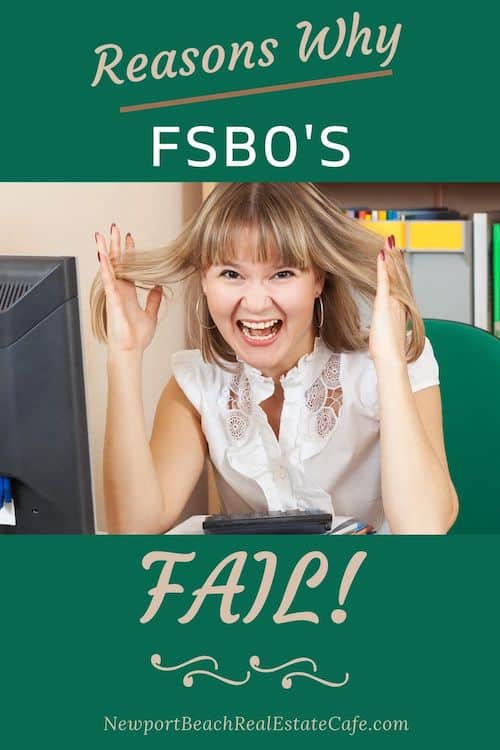 is the job of a real estate agent is a difficult one; they spend hours handling queries and showing homes. FSBOs, on the other hand, often fail because they do not have the time to handle questions or give house tours. Potential buyers do not linger for long. They quickly move to the next listing if they don't get a response.
Sellers utilize many different ways to communicate including texting, email, voice mail, and messenger on the different social media sites including Facebook and Instagram. It is imperative for a seller to monitor all those sites because you really don't know where your next buyer will be coming from.
Also, if you have a full-time job it will be more difficult to monitor the buyer inquiries on your home if you only have a limited amount of time to return calls and set up showings. Keep in mind in today's current climate with the Pandemic, there are more restrictions in place when showing homes.
Seller Does not Understand Buyer Behavior
It is imperative to give space to potential buyers while they are touring a house. Give them the time to discuss the property and whether it fits with their plan. Constantly pressuring them can have a negative effect. Since FSBOs are sentimentally attached to a property, they frequently make the mistake of continually discussing how beautiful their home is. This is a terrible mistake that often backfires.
Does Not Understand how to Handle Home Inspections
Home inspectors inevitably find something wrong with every house. While some homes have more issues,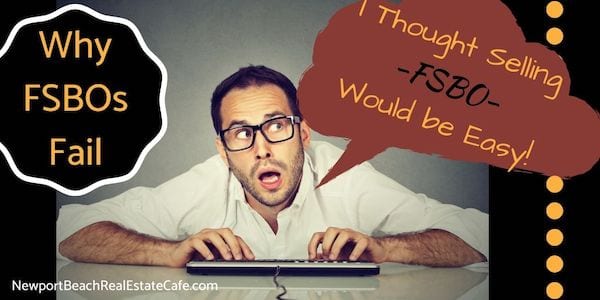 some need very less work. The problem arises when FSBOs firmly believe that their home has no problems. Thus, when buyers or home inspectors point out even the glaring issues, homeowners take offense and often scare off potential buyers. It is imperative that a seller is prepared for a home inspection, and be prepared to properly negotiate repair requests.
FSBOs Do Not Negotiate on the Right Things
A critical trait taught during the real-estate licensing process is the art of negotiating real estate contracts. Real estate contracts have several clauses and contingencies. FSBOs often negotiate on the price when they should also be negotiating on the different stipulates in a real estate contract. Other contingencies in a real estate contract include the length of escrow, contingency removal, and contingency or purchase.
Fails to Give Their Home the Right Market Exposure
Many websites allow FSBOs to list their homes. However, these websites do not give the property any marketing exposure. This lack of exposure is one of the critical reasons why FSBOs fail to make a sale. Real estate agents, on the other hand, can give property proper exposure through various platforms, including social media campaigns, Instagram, Facebook, Twitter, and other online websites.
Why Does a For Sale by Owner Sale Fail?
Click To Tweet
FSBOs Are Reluctant to Pay Buyer Agents' Fees
Many buyers choose to work through a buyer's agent. FSBOs choose to sell their property on their own primarily to save the real estate agent's commission. It is, thus, that when it comes to parting with the buyer agent's commission, many FSBOs downright decline to pay any buyers fees. This significantly reduces any chances of an FSBO making a sell. If you are trying to sell your house on your own, it is a good idea to agree to pay the buyer agent's fee. Keep in mind that in light of the pandemic, buyers will prefer to utilize their own agent.
They Overestimate the Prices
A common mistake that FSBOs make is overpricing the home. Many factors must be taken into account while deciding the price of a property. An excellent way to gauge the correct cost is to check for the other listings in the area. Alternatively, FSBOs can also choose to obtain an appraisal. An appraisal allows homeowners to check if the price they are asking is in line with the appraiser's suggested price.
May Not Know How to Close a Deal
Accepting the purchasing offer isn't the final step in the process. There are many tasks to be completed before a home is considered sold. It's essential to complete inspections in a timely, obtain mortgage commitment, obtain the title report, order a home warranty and much more. All of these tasks must also follow a timeline. Most FSBOs think that once a purchasing has been made and accepted, the deal is done. It is, thus, that most FSBOs are unable to sell their home on their own.
Final Thoughts
Most FSBOs fail to sell their home, primarily because they make one or more than one of the mistakes mentioned above. If you are an FSBO, you must take some time out to understand the task you are dealing with and the common mistakes other FSBOs make.
Find Other Valuable Resources for "Why Does a For Sale by Owner Fail?" from Real Estate Professionals. Please share across Social Media if you found this article helpful.
There are Pros and Cons of Selling by Owner. Michelle Gibson explains that a homeowner who is selling on their own will be in charge of the sale of their home, and there will not be a commission to a listing agent. However, the seller will most likely still have to deal with a broker if a buyer's agent brings a client and will want a commission for procuring a client.
The real estate market is in constant change. Eileen Anderson has written an article about Thinking About For Sale by Owner. In this article, Eileen shares the importance of being aware of the real estate market. Know if you are in a buyer's market or a seller's market. There is also information about how to prepare to sell your home including adding staging to make the home have an excellent first impression.
Paul Sian has shared a resource on How to Sell Your Home by Owner. Paul explains that if it were easy to sell your home on your own, everyone would be doing it. He discusses repairing any deferred maintenance and to consider staging the home so it is in the best light. There is additional information about the importance of cooperating with other brokers because they are most likely going to be the one(s) who produce a buyer!
Another excellent resource the Pros and Cons of Selling FSBO authored by Bill Gassett. It is explained that the most common reason that a for sale by owner does not sell is that it was improperly priced. Additionally, sellers may not understand the nuances of the real estate market or how to properly market the home. Even with your full attention, it may be a struggle to sell your home. You should really consider hiring a professional to sell your home!
About the Author
Top Newport Beach CA Realtor Sharon Paxson has written the article "Why Does a For Sale by Owner Fail?" With real estate experience since 2005, we welcome the opportunity to work with you and guide you through your real estate transaction.
We provide real estate service to our clients within the coastal Orange County CA area including Corona del Mar, Newport Beach, Newport Coast, Tustin and more! We welcome the opportunity to work with you.