Staging your home for maximum appeal is a great way to get top dollar when you sell. Here are five easy steps for staging your home for maximum appeal.
When you are preparing your home to sell, it is important is presented in its best condition. Staging your home will most certainly help you accomplish this!
8 Easy Steps To Staging Your Home For Maximum Appeal
Click To Tweet
What is Home Staging?
When you are staging, it can be done in a way to minimize the flaws of the home and highlights the best features of the home. When staging, you are packaging the home in the most appealing way. This can be done by rearranging furnishings, having less clutter in the home, and ensuring it is kept clean. Staging your home will create an inviting atmosphere, where buyers would imagine themselves living. Ideally, the value of staging will result in beautiful photos that will be seen online, and invite the buyers to view the property in person.
Begin with Curb Appeal
First impressions matter when selling your home. You want to make sure your home stands out amongst the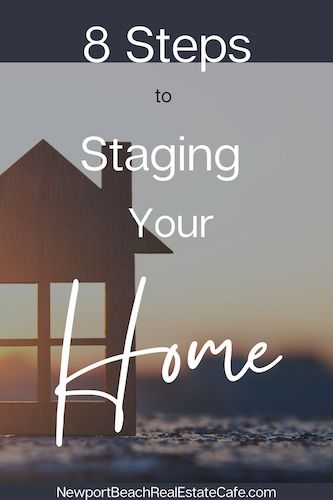 competition. Updated curb appeal is the first thing a buyer will notice is the exterior of the home. Most exterior upgrades can be completed in a weekend and is not that costly. A good start is to utilize a pressure washer to clean the exterior of the home. Be sure to look in the eaves of the home for spider webs. Paint the front door a contrasting color. Be sure it coordinates with the rest of the home. There are some popular colors that homeowners are using, but make sure it is an appealing accent.
Replace the old address numbers so they are fresh and clean. A new mailbox and a welcome mat will definitely be inviting to a buyer when they walk up to the front door.
Add fresh mulch to flower beds. Add seasonal flowers about a couple of weeks prior to getting ready to put them on the market. This will allow the plants to begin growing and produce flowers. Another important factor is to address deferred maintenance on the home.
Declutter Everywhere
Make it look good from the inside and out. Use fresh new decorating ideas to brighten up rooms without having to redecorate the entire house. Spring into action by updating window treatments and bedding, painting walls neutral colors, or adding plants and flowers in window boxes and pots.
Many people forget to take things like furniture, photos, and knickknacks down to the basement, attic, or garage. When you are staging your home, it is important to make sure everything is accounted for and looks natural in the room.
Be sure to organize drawers and clean them as well. Buyers do open drawers to determine if they have self-closing hardware installed. Organize and clean cupboards and the pantry. Buyers will appreciate this! Buyers will assume if the house is neat and tidy that it has been maintained.
Deep Clean Everything
Clean everything. This may seem like an unnecessary step, but neglected surfaces can make a big difference when it comes to how your house looks from the outside. Spend time cleaning all of the windows, ceilings, and doorsills – even if they don't need it! This will show that you've taken care of business inside and out. Clean windows and screens as well.
When you are cleaning your home, there are some areas you might not realize needs attention. Be sure to clean doors and door frames will gradually become dirty, but since you see these things all the time, it's easy to not notice they are slowly accumulating grime. Don't forget about the handles, since these are touched frequently they will be dirty.
If you have hardwood floors, be sure to keep them clean and free of dirt and dust. Opt for light colors instead of dark ones when painting your walls so that the wood doesn't show fingerprints or dirt easily. Laminate flooring is a good alternative as it has the look of hardwood floors and is much easier to maintain.
Remove Personal Items
Take down any personal photos or memorabilia that you don't want potential buyers to see. This includes anything
from baby pictures to holiday decorations. Put away diplomas or anything that has the seller's name on them. Don't leave mail laying around as well or anything that has your name on it for your own protection.
There are times when a buyer might be more interested in looking at who lives in the house versus the house itself. By taking care of the little things, you will be ensuring that your house is presented in the best possible light when it's time to sell.
Be sure to put away your personal hygiene items including hairbrushes, and toothbrushes, so a buyer can imagine themselves living in the home.
If you have a family heirloom that you would like to protect, store it in a safe and private place. You don't want potential buyers to see it as they walk through your home.
Highlight the Best Features
Put your best features front and center. If you have a beautiful view, put up a picture or window treatment to show it off. If you have an interesting feature in your home, such as an impressive fireplace in your living room, then you can make it the focal point of the room.
Think about what will make your home stand out from the rest. If you have a unique feature or item that sets your home apart, make sure to highlight it prominently.
Consider updating the baseboard to enhance the rooms. Add crown molding if it will fit in the home. Paint the walls a neutral color to create a clean and appealing feel. Home staging ideas include adding accent pillows and throws to make the rooms look inviting.
Put these five simple steps into practice and you will be on your way to staging your home for maximum appeal.
Update the Lighting
Make your home look brighter and more inviting with updated lighting. Change out light fixtures and add light fixtures or other types of high-end lighting to create an atmosphere that is luxurious without being garish.
Lighting can change the entire feel of a room, so be sure to adjust the brightness, direction, and placement of lamps, chandeliers, and other lighting fixtures. Use natural light as much as possible to reduce glare and create an airy feel.
Avoid using trendy lighting that may be a turn-off to some buyers. Keep in mind you want to appeal to the majority of buyers who walk through the door.
Reasons for Staging Your Home
There are many reasons to stage your home for maximum appeal. By decluttering your home, deep cleaning, and updating lighting, you can make your home look and feel more like a home.
Most buyers begin their home search online, and it is imperative that the presentation and photos of the home be appealing. If it is not appealing online, then the buyer might pass on viewing the home.
Staging provides the best opportunity to get an offer on the home for the price you think it is worth. Competition from other buyers could drive up the offering price for your property. Therefore, staging your home is a good return on investment.
Staging will also boost the home value as the home will be cleaned and well-presented.
Final Thoughts
By following these five easy steps, you will be on your way to staging your home for maximum appeal. Use a Realtor who is experienced and can provide guidance to you with regard to preparing your home to sell. There are some great tips on how to stage a house for sale inexpensively, so you are able to get your home ready to sell. Consider utilizing a home staging checklist to ensure you address every area of the home.
About the Author
The article "8 Easy Steps To Staging For Maximum Appeal" was written by Sharon Paxson, a top Newport Beach Real Estate Agent. With experience beginning in 2005, representing buyers, sellers, and landlords, we welcome the opportunity to share our expertise with you and guide you through your real estate transaction.