When it comes to renovating your home, there are a few things you need to keep in mind to ensure a safe project. You will want to ensure that the environment you are working in is a safe environment.
Keep your work area clean and well-organized. This will help minimize the chances of accidents. We will provide a guide to renovating your home.
Tools and Equipment
Use common sense when working with tools and equipment. If you are not sure how to use them safely, ask someone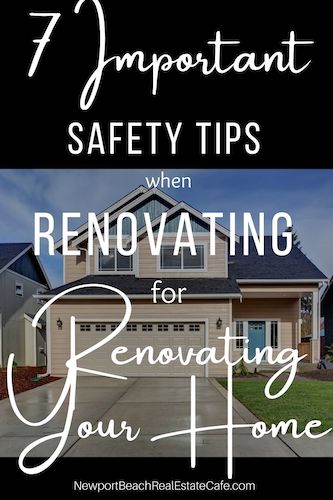 else for help before starting. Always unplug devices when you are not using them in order to avoid potential accidents.
Do not work on high or unstable surfaces. Stay away from areas that could collapse, like stairs or roofs.
Protect your property by keeping objects out of the work area that could be dangerous if they were to fall or get knocked over while you're working on the project. Make sure all materials you use during the renovation project are safe and properly labeled for use in a wet environment, such as caulking or paint rollers.
Be aware of your surroundings at all times and never leave your project site without checking that everything is okay first when renovating your home.
7 Important Safety Tips When Renovating Your Home
Click To Tweet
Wear Proper Safety Gear
It is important to use proper safety gear when renovating your home. You will want to protect your eyes by wearing safety glasses. If there is going to be loud equipment, it is a good idea to utilize ear protection to preserve your hearing.
Utilize gloves to protect your hands as well. Work in a well-ventilated area and wear a mask to ensure you do not inhale any particulates. There is always going to be dust during a home renovation project. The dust can accumulate in the work area. Clean and vacuum every day. Dust can trigger asthma attacks for some if they are susceptible to it.
Use a shop vacuum to help keep the area clean on a daily basis. Keep a well-stocked safety kit including extra gloves, masks, protective eyewear, and more.
Utilize Eco-Friendly Products
When renovating your home, it is important to use eco-friendly products. These products will help conserve resources, reduce waste, and protect the environment. Using environmentally friendly products will help to create an eco-friendly home. When painting or caulking, be sure to use environmentally friendly products that are made with low VOCs.
Install energy-efficient lighting when renovating your home. You can utilize LED lighting. This will help to save money and reduce your carbon footprint.
Upgrade windows to dual pane windows to help reduce heating and cooling costs. If you are not going to replace windows, then seal the windows and doors to reduce drafts coming into the home.
A tankless hot water heater is another excellent investment and will reduce overall energy costs. Tankless hot water heaters heat the water on demand. There are other benefits of a tankless hot water heater including they last longer, are smaller, and conserve water.
Keep Children Out of Work Area
Keep children out of the work area for their safety and for the safety of the workers when renovating your home. Children can be harmed by the tools and equipment that are being used for the project. You also want to make sure they are protected from any harmful smells as well.
Hire a Contractor
Depending on the scope of your project, you may need to hire a contractor. A contractor will ensure that project has the necessary permits. A contractor will also be able to help with the overall management and coordination of the project. When hiring a contractor, make sure you interview several candidates and select the one that is best suited for your needs.
It is important to file all of the necessary paperwork when renovating your home. This includes obtaining permits, getting quotes from contractors, and filing insurance. Be sure to contact your local government office for more information on what needs to be filed and when.
A contractor can help you navigate all of the safety and renovation steps. They will also be able to provide guidance on what products to use and how to safely handle the various tools and equipment.
Keep a Record of What was Done
Keep a record of what was done during your renovation project. This will help you track down any mistakes that were made and ensure that everything is completed in accordance with regulations. Be sure to list the date, time, name of the contractor, and products used on each task sheet.
You always want to have permits as any home upgrades will need to be disclosed to a buyer if you decide to sell the home.
Keep the receipts for any materials and money spent on labor. You will need these receipts in the event you sell the home for tax purposes. It is a good idea to repair the home prior to selling it.
7 Important Safety Tips When Renovating Your Home
Click To Tweet
Maintain Home Security
If it is necessary to move out of the home during the home renovation, be sure to secure your valuables. Either store them in a safe and take them with you. Vacant homes are a target for thieves if they think there is anything worth stealing.
Additionally, power tools are expensive so having a home that is secured during the work and when the workers are not there. Ensure the property is completely secured so the homeowner does not suffer a loss.
Secure the home to prevent the risk of theft. Make sure doors are locked and windows are closed and locked as well. if the windows or doors are being replaced, then ensure it is sufficiently secured.
Final Thoughts
There are benefits of renovating your home. The benefits include increased home valuation and keeping the home in a good state of repair. You want to maintain a safe work environment at all times for the safety of the workers and families. By planning ahead with your home renovation project, then you can have the necessary materials and safety kit.
About the Author
The article "7 Important Safety Tips When Renovating Your Home" was written by Sharon Paxson, a top Newport Beach Real Estate Agent. With experience beginning in 2005, representing buyers, sellers, and landlords, we welcome the opportunity to share our expertise with you and guide you through your real estate transaction.