Shipping containers are used to move goods around the world but are increasingly being used in home construction. Since they are built to survive being transported on land and sea, they should be strong enough to form the basis of home too. Whether you're purchasing a starter home or a forever home, a shipping container home is a viable option.
If you are considering purchasing a shipping container home, there are some important facts to know. Let's take a look.
What are Shipping Container Houses?
A shipping container house is exactly what it sounds like, a home built out of a shipping container. They are houses that are made from the steel shipping containers that you see on trucks, trains, and ships. Shipping containers are being utilized to build homes, studios, cabins, and offices in all parts of the world including the UK, United States, and Costa Rica.
People are opting to utilize the shipping container concept because there is a huge surplus of out-of-service containers in the world. Shipping containers offer an eco-friendly way to build a home versus traditional construction.
Buyers wanted to invest in shipping container houses can purchase new containers or a used container. By utilizing a used container, it helps the environment with the excess of containers that currently exist.
Checking Zoning Laws
Before you commit to planning your home and buying your containers, you need to be sure this type of property is allowed to be constructed. Shipping container houses aren't allowed in every county. You will need to make absolutely sure your local zoning laws and local building codes permit these homes before you go any further. Most cities will require a building permit to construct your shipping container house.
These shipping container houses are often considered to be non-traditional structures, and as such, may be subject to more rules than other types of homes.
Buying a Shipping Container
Most shipping containers are manufactured overseas, but you can buy them more locally, either nearly new or used for multiple journeys.
Not all shipping containers are the same, however, with some being more damaged than others. Containers can also be certified for different requirements. Some will protect against wind and be watertight, for example.
It is better to choose a shipping container that has only been used for a single journey, rather than one that has been used repeatedly. Single-use containers will be more expensive but will also require less work to prepare them for use in a home.
It is better to see the container before you buy it. If you are near a supplier, you should make sure the container is in a good condition. Otherwise, you could end up with a container that has suffered a chemical spill, if you buy "as is" without checking.
How Expensive are Shipping Containers?
The cost of shipping containers is based on the size and condition. With small containers costing from around $3,000, and new 40 foot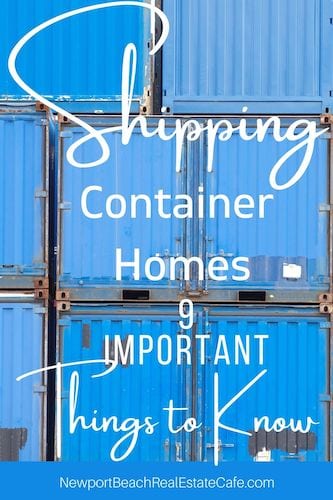 containers costing nearer $6,000 or more. On top of this, you need to pay to have your own container delivered and craned into position.
There is a slightly larger type of container that gives you more height. This is known as a High Cube Container, and it gives you an extra foot of headroom inside. This is better as it provides more space for insulation and the internal ceiling. These containers are, however, much more expensive, perhaps costing 50% extra. Shipping containers are utilized for tiny homes. An architect can create an interesting living space when utilizing a shipping container for a home.
Shipping containers are available, extremely strong, and inexpensive when they are compared to conventional building materials like steel, concrete, and lumber which is in high demand and the cost has increased dramatically.
How Fast are Shipping Container Houses Built?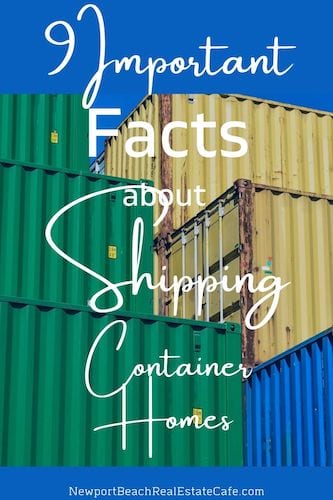 Since using shipping containers to build a home gives you a starting point for your construction, it should be quicker than a traditional build. A lot of this will depend on the size of the home you are constructing and the specifications you choose.
As with any home, added complexity will lead to longer construction times. While a simple container home might only take weeks to finish, more ambitious designs can take many months.
Another factor in the time it takes will be your contractor. If your contractor isn't experienced with this type of building, the construction time is likely to be longer than expected. Be prepared with a list of questions to ask prior to hiring a builder and inquire about the costs. And any building project can suffer from unexpected delays, shipping containers included. There are container home builders such as Backcountry Containers that are experienced with building container homes.
You can reduce the chances of delays by choosing a prefabricated container home. This will mean more of an outlay to start with, but the home will be ready to move into very quickly. Your lot will need to be prepared, and once the prefab is delivered, there will just need to be finishing touches to complete the home. You want to avoid mistakes when remodeling or designing your new home.
Are Shipping Container Houses Eco-Friendly?
While this type of home makes use of a container that might otherwise be discarded, is reusing these steel boxes really eco-friendly? There are some tips to make your home eco-friendly.
It might appear that the answer is obvious, but things aren't quite as straightforward as that. Materials and resources are needed to convert the containers into a livable space.
There can also be hazardous waste produced when converting the container into a home, though some shipping containers can be worse than others. Containers can be used to transport chemicals across the seas, and this can lead to spills. When the home is converted, any chemical residue will have to be cleaned up.
The saltwater the containers will have been exposed to will cause a lot of corrosion. This may have meant the container you buy has been treated for rust and is another hazardous chemical to deal with.
Shipping container architecture is considered as sustainable, or an eco-friendly form of building a home as it focuses on recycling. When constructing the home, you will need less cement as opposed to building a new home. Additionally, you can utilize systems to make the home more eco-friendly and adding solar panels to keep utility costs to a minimum. Utilizing energy star appliances will also help to keep utility costs down. An eco-friendly shipping container house definitely reduces your carbon footprint.
Shipping Container Houses | 9 Important Things to Know
Click To Tweet
Size of Shipping Containers
Shipping containers typically come in two sizes. either 20 feet in length by 8 feet. The larger shipping container is 40 feet by 8 feet. The smaller shipping container is 160 square feet, and the larger container is 320 square feet. A homeowner can utilize multiple containers when creating their new home.
High cube containers have the same dimensions as the 40-foot container with length and width, and it has a height difference of exactly one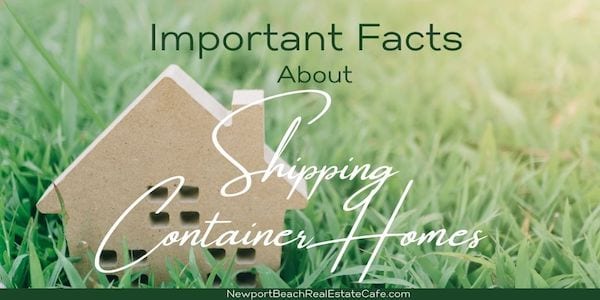 foot. A high cube container provides additional storage if it is to be used as a shipping container. If it is utilized as a hone, then it provides higher ceilings. Because it is taller, this type of container will be heavier than a standard container.
The cost of the containers also depends on wear and tear. Containers that have only a one-way passage are generally in better condition. Recycled shipping containers are ideal to be utilized as a tiny house.
Floor Plans
You can put them together in any manner you want such as building blocks to create interesting floor plans. The cubes can be stacked or adjoined to create your custom home. Interior walls can be created with lumber and drywall. There are also sustainable options to utilize for interior design and floor plans. The floor plan can include a living room, kitchen, master bedroom, dining room, and home office. If you do not have enough space, utilizing multiple containers can be put together to create large buildings. These shipping container houses can be designed as custom homes with all the features that are desired.
Adding a second floor which provides an upper level and could be utilized as a bedroom. Another feature is to consider adding a rooftop deck for outdoor space. When designing the interior, it is a good idea to add large windows which will bring in natural light. Glass doors can add to the design if you are going for a more contemporary architectural design and also do create more light inside the space. These home upgrades will have a good return on investment for future resale.
Benefits of Shipping Container Houses
Utilizing a shipping container for a house has some definite benefits. Shipping container houses are fire-resistant, and not likely to get mold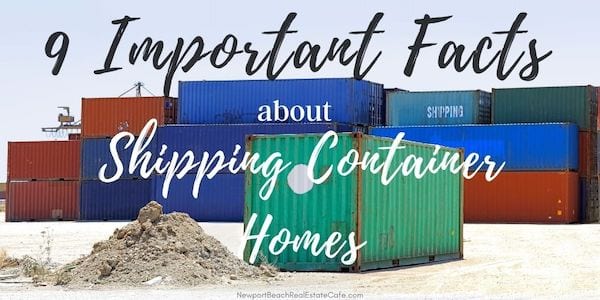 or pests such as termites. They are made of heavy-gauge steel, a material meant to last for very long periods. Shipping container houses are a likely option versus a traditional home. A shipping container house is a unique home and you can create your own custom container living space that works well.
If you live in a very sunny climate, then you may choose to utilize wood shingles that have been recycled, to cover the exterior walls of the container structure. Planting large bushes or trees will help to create shade which can prevent it from getting too hot.
Shipping container houses start with a flat roof if you do not add a roof upfront. Adding a roof will help to keep the structure cooler during the summer months and keep the warm air in during the winter month. By not choosing to add a roof to your container will save you money initially. In the long run, installing a roof with insulation will save money with energy costs. Additionally, you can grow your own vegetables on your green roof which will keep the cost of groceries down. There are tips to create an epic garden in a small space that should be considered.
Hot air rises, so the heat lost in your home is be due to it escaping through the roof. Consider adding a green roof which is first waterproofing the roof, then adding a layer of vegetation over the top. This is another benefit of a green home.
Final Thoughts
Shipping container houses are gaining in popularity in general. It is a very viable option when considering building your new home. Whether you are buying an investment property or your principal residence, a container home may be suitable for both. Not only does it help with the environment if you are purchasing a recycled container, but it also saves on the building costs as well. There are some very creative shipping container houses that are being designed and built!
About the Author
The above article "Shipping Container Houses | 9 Important Things to Know" was written by Sharon Paxson, one of the best Newport Beach CA Real Estate agents. With experience since 2005, representing buyers, sellers, and landlords, we welcome the opportunity to share our expertise with you and guide you through your real estate transaction.