New construction home buying is a viable option when buying a home. Many buyers will go directly to the builder when considering purchasing new construction. There are similarities between buying an existing home and buying new construction. Understanding how to buy a house will help you tremendously in your new construction home buying process. There are important questions to ask when buying new construction.
Buying a New Construction Home
You will have options when considering buying new construction. There are many builders that are building tracts of homes. There can be three or four different builders within the same tract or community. The builders may have different specifications and floor plans of homes that a home buyer can select from.
The options when buying a new home include the following options:
1. Custom homes. If are you are able to afford your time and money to build a home, this will allow you to customize every aspect of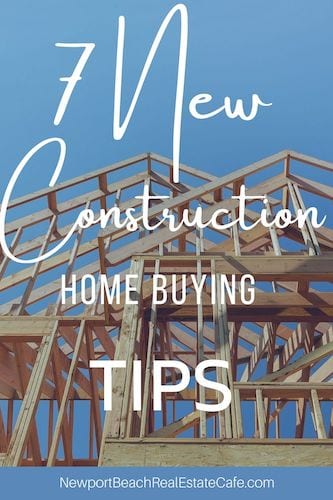 the home. A custom home is going to take longer to build, as you will need to find the land where you intend to build your home. Additionally, you will need an architect to design the home for you and have the plans submitted to the city for approval. You will be able to provide input with the floor plan of the home.
You will also need a General Contractor to oversee the building of a new home. You will need to find the land to build your home or perhaps a home that is a teardown or an older home. Buying a resale home may help you to be in the best neighborhood. New construction home buying mistakes include not performing your due diligence before you proceed with the home purchase. You want to ensure that you can build exactly what you have in mind. For example, there are cities that do have height restrictions and you cannot build the tallest home to obtain the view you are seeking.
2. Semi-custom home. With a semi-custom home, you are most likely going to be purchasing a home in a higher-end community. The home may exist in an HOA and there may be HOA restrictions on what you can do to remodel and update the home. In general, an HOA is not going to have restrictions on the interior or floor plan of the home but will have guidelines on the exterior of the home.
There may be mandates on what type of windows to use, and there may be a palette of colors for the exterior of the home. This is also seen in historic neighborhoods. You will have fewer choices when compared to new construction, however, you will still be able to customize it more to your liking when comparing it to a production home.
3. Spec or production home. A spec home is a brand new, move-in-ready home built by a home builder. This may be a viable option if you would still like a home that is new construction. Buying a spec home may still take several months for the home to be completed. Especially during this time, the price of lumber and the length of time, it takes to receive it will slow the building time. If you do not have the time and finances to participate in the customization of a custom home, then buying one that is pre-built may be the best option.
Whatever direction you decide to go, it will be determined by how much you can afford and the length of time you are willing to wait to move into your new house. It is a very exciting time, even if working with a spec home builder to be able to pick out your finishes and color scheme!
Research the Builder Prior to Purchasing
Whether you are building a custom home or a spec home, it is important to fully vet the builder. It is pretty easy in today's times to find out about the reputation of the builder. Be sure to do a Google and Yelp search about the building and this should give you a good idea about how the builder performs. You should be able to find online reviews.
I find that most people are fairly vocal if they have had issues. If you find there are some questionable reviews, and you still like the builder, then be sure to discuss those issues with the contractor or builder.
Other ways to find out about the builder is to find out where they have built homes in the past and go to the neighborhood and ask the neighbors about the new construction home buying process. Also, it is a good idea to ask if the homeowner has had any issues with the house
Builders cannot build homes fast enough to keep up with the demand which creates a new set of challenges when negotiating with builders to get the best sales price. That's why it is imperative for you to ensure you're working with a top local real estate agent.
Hire a Realtor with New Construction Home Buying Experience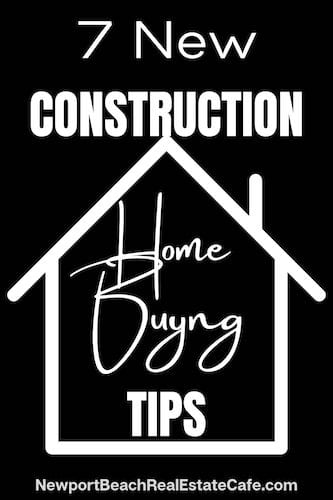 Be sure to hire a real estate agent who is knowledgeable about buying new home construction. Builder contracts and the building process is different from resale home sales. Having new construction experience is important. Be sure to have a detailed list of questions to ask your real estate agent prior to hiring them!
Homebuilders will have a sales office and their own agents. However, builders do cooperate with buyers who have their own real estate agents. Builders will pay the real estate commission or a referral fee to the agent. It is a good idea to have your own independent agent so that you represented fairly.
Your real estate agent will help you to review the builder contracts because most builders will have their own contracts that they utilize. It is a good idea to get an idea of the closing costs upfront and make sure there are no additional costs to anticipate. Your real estate agent will also help you to review the purchase price of the home and provide recent comparables to ensure you are not overpaying.
If you have your own buyer's agent that you have been working with, then be sure to register the agent at the builder's office so they can get credit for the sale. Some offices do require that the real estate be present on your first visit to the builder tract, so be sure to notify your agent if you plan to visit a model home.
Your own agent can help you through the new construction home buying process to ensure you are making a wise investment. Your real estate agent can help you to set up an independent home inspection of the home prior to the close of escrow. There can be delays with building a home and this can cause a delay in the close of escrow.
7 New Construction Home Buying Tips | Buying Your New House
Click To Tweet
Builder Incentives
Builders will have incentives for home buyers with new home construction. Builders will offer incentives because they need to sell the existing new home inventory to generate cash flow. Builders will utilize this cash flow to begin new developments. As long a builder has existing inventory sitting on the market will money to the builder as that inventory of homes must be maintained.
The builder may offer different types of incentives including financial inducements, outright price cuts, financial inducements, and material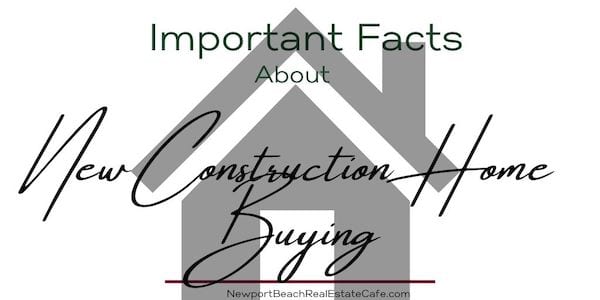 upgrades. Typically a builder will offer substantial upgrades as their first choice. Keep in mind that they are builders, and when they are building a project, they buy the materials at bulk rates so it is less costly to offer upgrades versus a price cut.
Upgrades may include countertops, cabinets, energy-efficient appliances, lighting, or even adding square footage when buying new construction homes. Builders will have a base price on a home, and this price gets adjusted with the different upgrades that are added to the home. Generally speaking, a model home will have ALL the upgrades, and that is what makes it so appealing. You will have to decide what is the best deal for you when making your selections of upgrades.
Using a Builder's Lender
Builders of newly-built homes may offer very attractive financing packages to home buyers with new construction home buying. The builder will also incentivize a buyer to utilize their lender and they will offer very competitive interest rates. It is up to you as you are not required to utilize the builder's lender. If you have your own lender that you have worked with previously who offers very competitive mortgage rates, then you may decide to stay with your existing lender.
It is not a bad idea to get a rate quote from the builder's lender and review all closing costs from the mortgage lender. That way you can review all the costs upfront and understand the expense involved.
Get a Home Inspection
It is important to schedule an independent home inspection on the home. The home inspector can review all the systems of the house including HVAC, plumbing, electrical and more. That way you will have an objective and independent assessment of the home that you are purchasing with new construction home buying.
Your real estate agent can schedule the home inspection with an inspector that you want to utilize. Remember that unless it is written into the contract of sale, the home inspection may not be a contingency of purchase.
7 New Construction Home Buying Tips | Important Tips for Buying Your New House
Click To Tweet
Does the Builder Offer a Builder's Home Warranty?
A builder's home warranty applies only to new construction or a remodel that has been completed by a builder. Unlike a home warranty, that is purchased by a buyer or a homeowner, a builder's warranty on a new home is provided by the builder. This is an important consideration with new construction home buying.
A builder should offer a builder's warranty on new homes that have been built. A builder's warranty will offer limited coverage on the workmanship and materials for a specified period of time. That will be in your purchase agreement and it is important to review what is covered and for how long. On average, a builder's warranty will last between six months and two years.
You may decide to purchase a home warranty which depending upon the coverages selected will cover the appliances and major systems of the house. It will not cover anything to do with the building of the house.
Final Thoughts
Buying a new construction home is very exciting. If your home is either a spec home or custom home, you will be living in a home that has never been lived in before. Because of the newer construction, it will offer energy efficiency which will be beneficial with your utility bills and costs. A semi-custom home will likely have been lived in before, but with your remodeling and upgrading, you will make it your own. It is important to work with a seasoned real estate agent to guide you through the new construction home buying process.
About the Author
The article "7 New Construction Home Buying Tips | Buying Your New House" was written by Sharon Paxson, one of the best Newport Beach Real Estate agents. With experience since 2005, representing buyers, sellers, and landlords, we welcome the opportunity to share our expertise with you and guide you through your real estate transaction.