What is Aging in Place?
Aging in place is for Seniors to be able to identify and reside in a home for as long as they physically are able to, as opposed to residing in an assisted living or a skilled nursing facility. Moving into an assisted living can be stressful and depressing for a Senior. I believe we all want to maintain our independence as long as we are able.
Aging in place is a choice, so a person can make plans to find a home that fits their needs, and if the home needs to be modified or adapted to accommodate any disabilities if needed in the future. Many families will raise their children in a larger home and they no longer need the space, so many Seniors are looking to downsize and looking for a home to live with minimal barriers. This can be a very challenging process if it is a family member and they are living in another city.
Having a plan in mind is important before you begin your home search, and make a list of must-haves and the following are considerations when searching for a home when aging in place.
Single Story
There is nothing like a nice single story home for Seniors who are considering purchasing a home to age in place. Level entries, no stairs eliminate many barriers.
When you begin your home search, you can set filters in most home searches to look only for a single level. I have seen when homes are listed in the MLS as a single level home, however, the entry is on the first floor, and then you ascend an entire flight of stairs to get to the main level.
Work with an experienced Realtor who is knowledgeable of the area, and consider looking only at homes that are single story.
Avoid Buying a Home with Stairs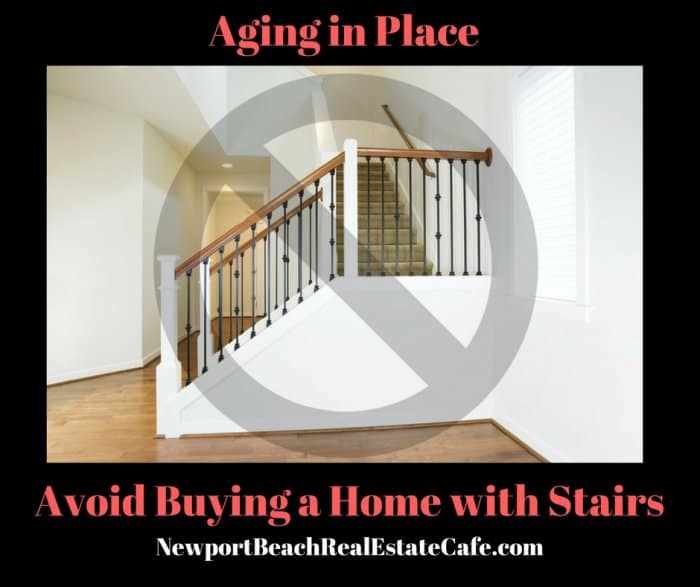 When searching for a home, look for a home that is level and does not have stairs. If you purchase a two-story home and all the bedrooms are located upstairs, that can be challenging if a disability occurs. Stairs can be modified, and there are lifts that can be added to modify the stairs, however, these adaptations can be expensive. So it is best to find a home that is a single story without stairs.
There are some older homes that were built and they do have step downs, for example into a formal living area, these should be avoided if possible. If a person is using adaptive equipment such as a cane or walker, this can be another obstacle for a person to navigate. And it can also be a trip and fall hazard.
If it is unavoidable to find a home without stairs, then be sure to find a home with a main level bedroom and bathroom. And make sure that the stairs have handrails.
Level Entry
Another consideration when searching for a home to age in place, look at the entry. Often times, a home will have one or two steps to enter the home. This needs to be taken into consideration.
If in the future a ramp was needed, the fewer the steps that exist, the easier it would be to build a ramp that is not too steep. Or if a person is using a walker, that could be a barrier for a someone to enter the home.
Also look to see if the entryway with steps has handrails as that is safer for residents and guests when they are entering the home.
Flooring
Many home buyers are searching for homes with hardwood floors, and the benefit is that they are a smooth surface and less of a trip hazard. Many like the addition of throw rugs and Seniors need to be aware that there is a change in surface that they need to be aware of.
Additionally, looking at the threshold between each room if there is a change in flooring surface which might go from a hard surface such as hardwood floors to carpet.
Proximity to Medical Care
Many people like to live in suburban neighborhoods that have good medical care. And the proximity of physicians and medical care are important if someone is living with any medical diagnosis which requires frequent visits to physicians. I know many Seniors who want to live nearby medical facilities and their physicians.
Direct Entry from Garage
Having direct access from the garage is ideal for accessing the home and if the person is residing in inclement weather, then auto stays in better condition.
Being able to bring groceries and supplies in the shortest distance is helpful, and Seniors can use wheeled carts to bring groceries into the home.
Bathrooms
Bathrooms are an important consideration for someone who is considering aging in place. A stall shower with a handheld shower is more accessible than a tub shower. If someone has any kind of disability, navigating over the side of a tub can be challenging. However there are bath benches (if needed for the future) which can be purchased, and there are several different types and they can go over a bathtub if that is the only type of shower that exists. Using nonslip mats in the shower and outside is recommended to prevent slipping after a shower.
Grab bars that can be installed is another good safety recommendation. And avoid having anyone hang on to towel racks, as that is not what they are intended for.
Having sufficient space around a toilet is important and a raised toilet seat with grab bars can be added to most if needed.
Community Amenities
Consider moving to a community that has a 55+ community which has home owner's association with amenities for the residents. There are active adult communities and there are HOA fees which supports the recreational activities and takes care of the common areas.
Some of the recreation may include a community clubhouse, fitness centers, hobby and game rooms, arts and crafts studios, tennis courts, pool and golf courses. If someone is used to being active, having these amenities will be beneficial to keep them active and socially involved.
There are some HOA's which may have an HOA fee which covers just the basic services (i.e. maintenance of common area and trash collection) and has a separate membership fee which would pay the recreational and social activities.
Level Community & Pets
Consider a nice level neighborhood with nice wide sidewalks which are level. Take into consideration if there are mature trees with tree roots which encroach on sidewalks and driveways which can create uneven surfaces. Ideally, residents are out walking so they can remain physically active. Uneven sidewalks can be a trip hazard for anyone, but for someone using a walker or cane, may be more of a risk to that person.
Another consideration is if you are moving into a 55+ community with a pet, then be sure to find out if there are breed and size restrictions before making that purchase. Many HOA's do restrict the size and weight of a dog, some are as small as 35 pounds. And find out information about the number of pets you can have in a particular home owner's association.
This is especially important, if that is part of your daily activity to take a walk, and if you have a dog to be able to walk your dog.
Final Thoughts
Thinking about getting older is not something that any of us what to think about, however, it is a fact of life. Consider your parents and what their needs are, and what their needs may be in the future. Finding the right property to age in place is ideal, as the person living there will have their independence for as long as possible in the safest environment possible.
Basic considerations such as single story, no stairs, level entry and community amenities should all be considered when moving into a new area. Consider your lifestyle and what you want daily life to be like.
As a Newport Beach CA Realtor, I welcome the opportunity to answer or assist with identifying that home to age in place, please contact me.
If you enjoyed reading this article, please consider sharing this across your social media platforms.
10 Considerations for Seniors Searching for a Home to Age in Place #ageinplace https://t.co/w5XDwFMWKe pic.twitter.com/JvT1lIQWgC

— Sharon Paxson (@SharonPaxson) November 27, 2017
Please find other valuable resources from top professionals across the country.
Downsizing – Preparing A Home For Aging in Place Via Wendy Weir Relocation
Downsizing Tips for Seniors via Anita Clark, Selling Warner Robbins
How Seniors can Make a Big Move into a Smaller Home via Karen Highland,
Family Opportunity Mortgage Program via Luke Skar, Inlanta Mortgage
Summary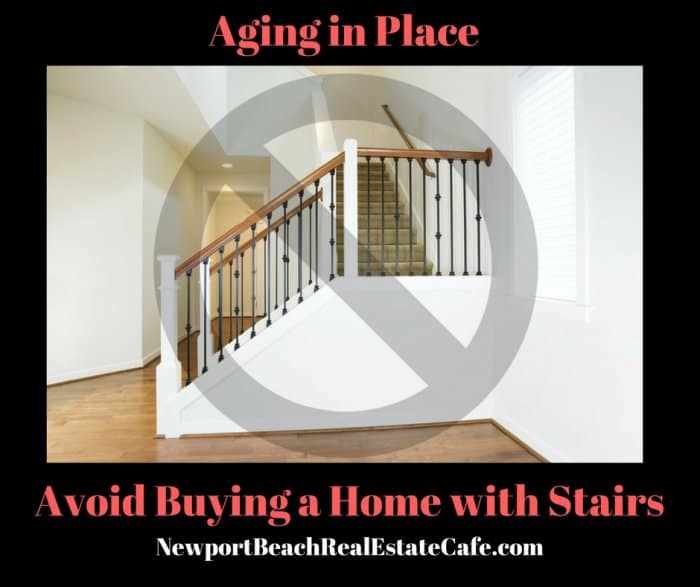 Article Name
10 Considerations for Seniors Searching for a Home to Age in Place
Description
Aging in place is something that Seniors consider when getting older to live in a home as long as they physically are able.
Author
Sharon Paxson | Newport Beach Real Estate Agent