Selling a house where pets live can have its challenges. Home sellers who have pets love their pets. I am a home owner's who love pets, and have two dogs. However, not everyone will have the same perception of household pets as I do. But I do keep my dogs contained when I have visitors to ensure that my visitors feel comfortable in my home.
Whether or not you have dogs, cats or even birds, having pets in a home when trying to sell your home can be a detriment and may prevent you from getting top dollar for your home.
Having pets in the home when you are trying to sell it, may also be a liability. It is natural for a family dog to feel territorial over where they live and will want to protect it, even though homeowners with pets think their pet is friendly. Selling a house where pets live will be a disruption to a pet's life and this could change their behavior when someone is entering the home.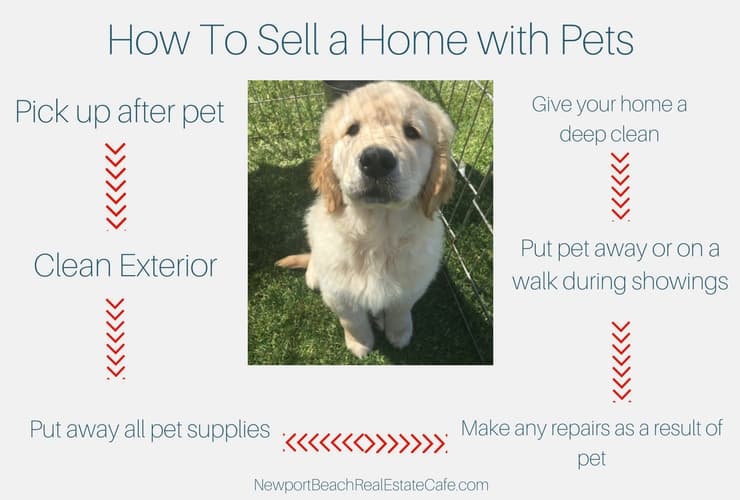 Let's face it, pets can cause damage in a home and outside in the yard. If a dog is not properly trained, it may jump on your back doors damaging the doors and leaving marks on the back doors of the house. There may be scratch marks on doors and hardwood floors which is an obvious sign that a pet has resided in the home. You will want to address that when selling a house where pets live.
Also, there are some dogs and cats who shed, long hair, short hair, it doesn't matter, most pets do shed. And if there is a pet that sheds, the hair can be everywhere in the home.
There can also be odors associated with having pets in the home. If the animals are not clean, or if there is a litter box in the house also, the odors can be offensive.
Why potential buyers don't like your pet?
Having pets in your home can be a turn off for a potential buyer as there are many considerations why a home buyer may not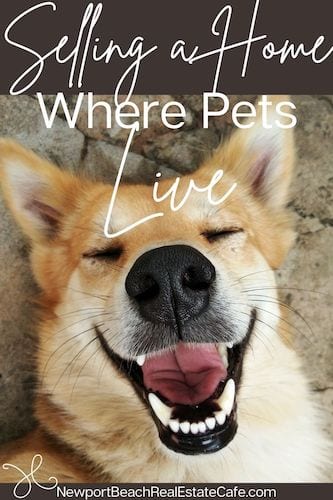 like your pet.
Potential buyers may be afraid of a dog, do not want it to smell them or get near them, or jump on them. I am a dog person, but I don't let other people's dogs get too close to me. And dogs and cats can smell fear! And for that matter, so do birds!!
Homebuyers may be afraid and nervous when around unfamiliar pets. I have had clients who are terrified of cats, and would not stay in the house with a cat in the house.
And buyers may not like all the hair. And be real, most pets do shed.
Exotic birds or canaries can be messy (really messy). Seed can be on the floor and cages are often not clean.
And if you have terrariums with reptiles or snakes, you may want to consider boarding them at a local pet shop or your vet as many people are afraid of reptiles.
What should you do with your pets if you are selling a house where pets live?
Before selling a house where pets live, be sure to have the home professionally cleaned. Carpets need to be cleaned and if pet stains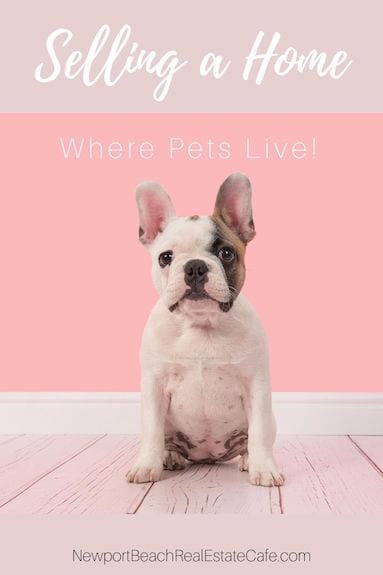 and/or odors cannot be removed, consider replacing carpet.
Ideally, remove the pets from the house and any signs that they lived there. If possible, try to board them, have them stay at a family member's home. You want your home to be "show ready" and if you need the time to remove the pets or take them out, otherwise, you might be missing out on showings.
I recommend also removing a bird from the house. Birds and pets can be a liability, what if a potential buyer comes through the house and has a child who puts a finger in the cage, what if the bird bites a child? If it is a larger exotic bird who is not friendly, then they can certainly inflict some damage.
If you have an aquarium, then keep it clean so it presents as an asset to the home as opposed to something messy. If there are not any fish in it, and it is not appealing, then consider removing it!
Listing photos should not include interior photos of your home with a pet on furniture, I have seen it and for a buyer who is turned off by an animal, they may not even want to schedule a showing.
If you cannot board or remove the pets from the home, then the following is a reasonable checklist for you to consider:
If you can take your dog(s) with you to work, please do. Or at least take them out for a walk during a showing so an agent and their potential buyers do not have to worry about a dog.
And if you cannot have the pets out for showings, be sure to secure all pets (dogs or cats) in crates so they are secure.
Try to board a cat if possible or have it stay with a family member. Cats can be territorial too, or skittish. And it is not fair to instruct the showing agent not to "let the cat out", best not to have it there at all!
Clean up all dog toys and store them neatly in a closet or out of the line of sight.
Pick up dog or cat bowls and water bowls as well. Try to remove signs that a pet exists in the house. Some of the pet items may include their bedding, crates, bowls, toys, water bowls, and litter box.
Avoid having photos of your pets around also, no need to let potential buyers know that a pet is living in the house!
If you have a cat and you cannot board it, try to keep a litter box in the garage so it is not in the living space.
Be sure to clean floors and vacuum on a regular basis (i.e. daily).
Keep in mind that pets can leave odors, a deep cleaning will help that. You may want to diffuse a neutral essential oil to remove the scents which can be offensive. Be cautious about using scented candles or "plugins", and those can be very powerful and distasteful to some people. I have had clients who are allergic to those very potent candles. And when showing a home, the point is to keep in the house and comfortable for as long as possible!
Be sure to clean up the dog yard outside. If you have a lawn, and it is damaged or burned by a dog, then have your landscaper re-seed or replace grass to ensure that the lawn looks fresh and clean. Be sure to completely clean up after a pet outside, because you would not want a buyer to "step" on something that was missed!
If you cannot remove a bird from the house, then be sure to clean the cage completely on a daily basis and be sure water is fresh in the birdcage daily, birds can be very messy, and this can contribute to an odor in the house.
Replace all HVAC filters in the house, but maybe clogged with hair from a family "pet", this will help reduce odors and if the air conditioner or heater is running, and the system will be more efficient.
Another important item to consider when selling a house where pets live is making sure that your home is flea and "bug" free. If needed, get a service to have that taken care of before listing it for sale. Some people are highly allergic to fleas, and I have had people walk into a property and know there were pets there because they immediately were bitten! Nothing would chase a home buyer out quicker than being bit!!!
Be sure to address any deferred maintenance on your home before listing it, if there is damage from having a pet (i.e. scratched back doors, scratched wood floors, or ripped screens) then make the repairs before listing your home for sale. Wood flooring may need to be refinished, and for ideal presentation, this should be refinished prior to listing it. Be sure to repair screens, touch up paint on baseboards, floors to reduce the signs that a pet has resided in the home! Be sure to have the windows professionally cleaned to remove any "nose prints".
Think of Your Pet
Selling a house where pets live can be a stressful time and your pet will be able to pick up on this stress. Be sure to plan ahead with regards to your animals to ensure it is not too stressful for them either. Be sure that the pets are contained in a safe environment whether they are being boarded or if they are in a crate, make sure they have plenty of water and food. And during the off times from showings and preparing for showings, be sure to take them for walks to help them with their own stress and anxiety.
Lastly
Homeowners will be selling a house where pets live all the time. The point of these suggestions to make sure that your pets are secure and that having pets, it will not turn off a potential buyer, and to make sure that you don't leave any money on the table. And these tips will help you to prepare your home to sell, and ensure that it presents in the best possible light.
If you would like a complimentary consultation on selling your home with a pet, please contact me.
Other Top Resources For Selling A House Where Pets Live
How to Sell a Home with Pets via Kyle Hiscock, Rochester Real Estate Blog
7 Tips to Sell a Home with Pets via Bill Gassett, Maximum Exposure Real Estate
Tips for Selling a Home with Pets via Paul Sian, Cincinnati, and Northern Kentucky Real Estate
6 Helpful Tips for Selling a House where Pets Live via Xavier DeBuck, Luxury Homes in Johannesburg
How to Blow Up Your Home Sale in 7 Easy Steps via Kevin Vitali, Real Estate in Essex & Northern Middlesex Counties, MA
If you thought this article to be an interesting read, please share it across your Social Media platforms.
If you don't have a Newport Beach Realtor® please contact us, and we welcome the opportunity to assist you with the sale of your home. If you need assistance with finding assistance with boarding, we can provide you with reputable companies that take good care of your dogs or cats! We look forward to hearing from you!