Pet-Friendly Rentals
Are you looking for a pet-friendly rental in Newport Beach CA? If you are, you may have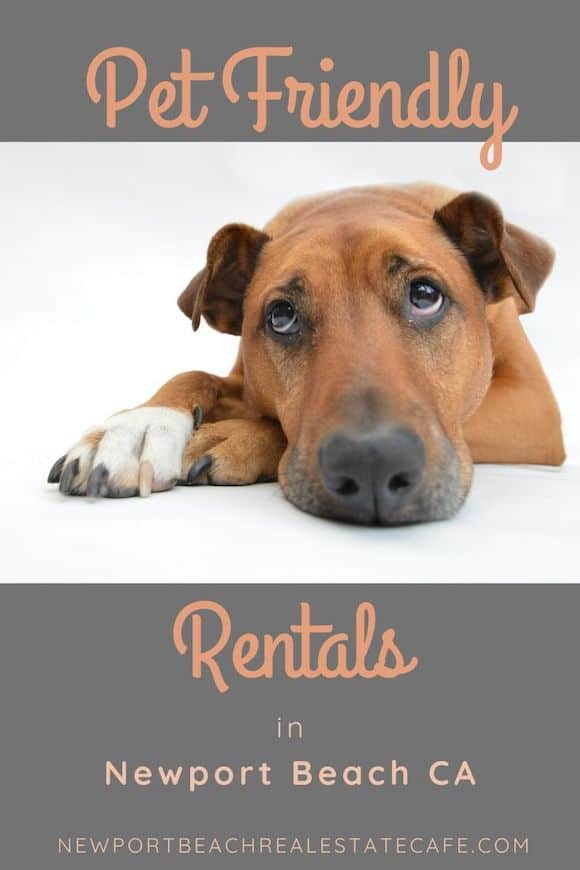 noticed not every landlord will accept pets. The landlords that may consider pets will have pet restrictions. In addition to the landlord's restrictions if the Newport Beach home is located in a community with a Home Owner's Association, there are often pet restrictions.
Pet restrictions may include the breed, size or weight of the pet and the number of pets an occupant is allowed to have. Finding a pet-friendly rental in Newport Beach that will accept more than one pet or a large dog can be challenging. Many of the lot sizes in Newport Beach are not that large especially homes that are located near the beach. Condo communities such as Villa Point do have pet size restrictions.
Search for pet-friendly homes in Newport Beach. This search also includes the call feature, so there may be size and breed restrictions when calling.
[showcaseidx shortcode encountered an error]
Tips for Successfully Renting a Home with Pets
Include a Pet Resume
When submitting an offer on a home for rent make sure to include a pet resume. A pet resume should be a positive, but realistic, introduction to your pet. It should include their breed, weight, age, temperament, and name. You'll also want to include their health records from the vet and ensure that they are current on all vaccinations.
If your dog has any AKC titles such as Canine Good Citizen or Trick Dog Novice, be sure to include copies of those certificates. If your dog has any conformation titles such as Grand Champion. The titles and training certificates will demonstrate to a homeowner that you are a responsible pet owner, and have invested time and money into the dog to make it a better dog.
In the resume, describe the daily routine with your pet. Do you walk the dog every day, and if so how far? Is the pet going to be alone all day long, or is your office home based so the dog will not have to be alone all day long? Where does your pet go when you're not home? Do you crate your pet, or gated in a specific area. Include photos of your pet as well.
Write a Cover Letter to the Owner
In addition to the pet resume include a cover letter to the owner/landlord. Include a family
photo, describe your life, who is going to be living in the home, and the pet. Other important information is past references especially if you had a pet in a prior residence that was leased.
Be sue to tell the owner how you take care of the house. If you have a robot vacuum such as a Roomba, that you utilize that to maintain the home. A landlord wants to know that there is minimal risk to the home and that the tenants will maintain it.
Renters Insurance
As a tenant, offer to obtain renters insurance upfront for the landlord's pet-friendly rental. Some landlords will require renters insurance. There can be a liability with pet ownership, and the landlord does not want the liability. Renter's insurance policy includes liability, which will cover any claim arising from your pet. Most landlords will want to be named as additional insured.
Tips on How to Find Pet-Friendly Rentals in Newport Beach CA
Click To Tweet
Introduce your Pet
Offer to introduce your pet to the landlord so they have an opportunity to make their own judgment. If the pet is well behaved and has basic obedience, this should not be an issue. The landlord may decline this, but it does give the landlord the option when searching for a pet-friendly rental.
Pet Deposit
Landlords will require a pet deposit in their pet-friendly rental. If the pet does not damage to the property at the end of the lease, then the deposit is generally refunded to the tenant. The amount of the pet deposit can vary as I have seen anywhere from $500 to $1500. Some landlords may require a non-fundable pet deposit. If they do, as a tenant I would agree to pay it.
Final Thoughts on Pet-Friendly Rentals
Although it may be challenging to find a home that will take pets and is a pet-friendly rental, it is not impossible. Invest some time with your pet including regular exercise, walks and keep them on a schedule. It is not unkind to crate a dog, and a dog can be trained to be comfortable in its own crate. Dogs are den animals and once they are crate trained, they generally go in on their own, even with the door open. Be prepared with your pet resume and a family photo including the animal.
If you need assistance with finding a pet-friendly home to lease in Newport Beach, please take a moment to fill out the form below.