What is the minimalist lifestyle, and is this a lifestyle that you are wanting to create in your home? If so, we have some tips to help you with a slow transition to simplifying your lifestyle. Honestly, less is more. Many of us (I am guilty too) have collected so many things over the years, that you don't even know where to start.
By getting rid of the extra stuff and living with just the essential items such as furnishings, kitchen items, countertops and organization of closets and drawers. By creating an organized lifestyle you will be creating more open space in your home. There will be less to clean because there will be just fewer items.
Find a space in your home that will be considered clutter-free, and have the family support your efforts to create an environment of less, and more open space.
Begin by De-Cluttering:
De-cluttering or getting rid of "things" can be a daunting process. You may have collected things over the years that really are no longer meaningful, but at the same time, these items may be taking up space. And everywhere you look, you see drawers that are overflowing, closets that need to be organized, bookshelves with too many things on them from year's past.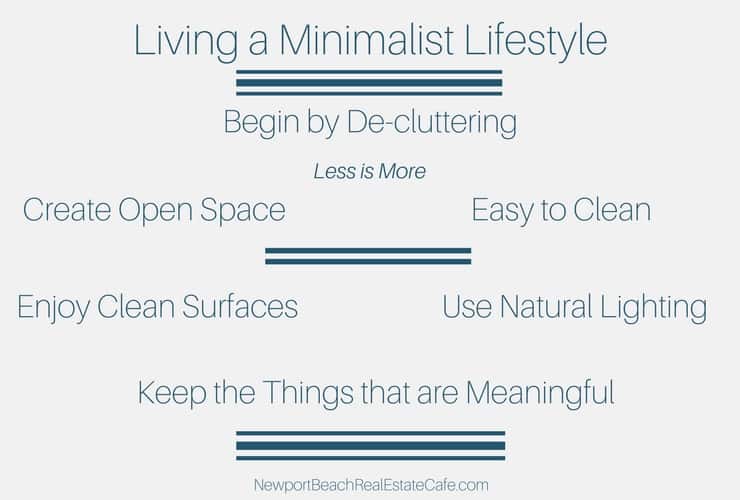 A few suggestions to get you started:
Be sure to prioritize, if you have a gift from a child, something they made at school and you know you never can dispose of that, don't put pressure on yourself to get rid of everything to create clean space. The whole point behind the minimalist lifestyle is to keep the items that are most meaningful to you and dispose of the others.
Begin by picking one room and start with the smallest area, whether it be a drawer, cupboard or closet, and begin to look at items that you no longer use.
A good way to start by donating 5 clothing articles to charity. Good Will is a popular place, and there are many charities that will come and pick up the items. Additionally, the charities appreciate the donations as there are many people who are in need.
I have seen groups where they get rid of "one item per day" so that in a year's time you will have disposed of 365 things that you no longer needed.
During this process, try not to spend any money on anything which is no longer essential.
When de-cluttering the kitchen, do you have mismatched utensils, plates, glasses? Select the items you want to keep and you can donate the others.
Clear off the kitchen counter or place that accumulates everyday items such as mail, magazines, and reusable grocery bags.
Look at your holiday decorations, do you find that at each holiday you are not using all of them, consider how many you have, and do you need them.
As you are finding new open space as a result of de-cluttering, you are creating a cleaner environment, there is less to clean, and less things.
Keep in mind, the de-cluttering process can be taking outside, so you can enjoy your outdoor space even more.
Create Open Space
As you continue to create a minimal lifestyle you will find that you have more organization in your home, you will be more productive. You will be creating more open space in your home by keeping only the essentials items that you need. Another benefit of more open space is that it is easier to clean and keep organized because there is less.
How organized is your workspace? Who wants to sit down at a desk with paper and clutter all around. Organize your workspace, and you will become more productive in all aspects of your life. I personally am a list maker for the day, and it helps keep me organized with the tasks I want to complete, and of course, I get a feeling of satisfaction when I am crossing those items off your list.
And you will find that with a more open space and lifestyle, it will be easier to keep it clean and organized.
Use Natural Light
Let the sunshine in . . enjoy the open space using natural light as well when creating the minimalist lifestyle. Using neutral colors on walls and floors will bring out the use of natural light.
By living the minimalist lifestyle, you will be doing your part for the planet, accumulating less items that would need to be disposed of at a later time.
Benefits of a Minimalist Lifestyle
Less chaos, more organization, visually pleasing to see a wide-open and organized space.
In the event you ever decide to list your home to sell, then your home will be ready with the organization in place. But, if this is the lifestyle you are desiring, then gradually make the changes now so that you can enjoy the lifestyle.
If I can answer any question about your home or making suggestions for a minimalist lifestyle, please contact me.
For other information about Minimalist lifestyle, please out the articles below:
9 Killer Home Staging Tips for Your Bathroom via Kevin Vitali, Real Estate in Essex & Northern Middlesex Counties, MA
What is a Tiny House via Paul Sian, Cincinnati and Northern Kentucky Real Estate
Staging your Home on a Budget via Sharon Paxson, Newport Beach Real Estate
Killer Tips for Staging Your Home to Sell via Anita Clark, Selling Warner Robbins