Celebrate the 4th of July 2021 in Newport Beach CA. Happy Independence Day! The 4th of July Declaration of Independence was originally signed on July 4, 1776. Enjoy this post about the holiday weekend in the Newport Beach area for the fourth of July celebration!
Visit Newport Beach CA!
If you are going to be coming to the beach to celebrate the 4th of July, I recommend that you arrive early to secure legal parking. Most of the parking lots do have meters that will take credit cards. Bring your beach supplies including beach chairs, umbrellas for sun protection,
sunscreen, snacks, water, and drinks. Keep in mind alcohol is Be sure to bring supplies including beach chairs, umbrellas, sunscreen, snacks, and drinks (alcohol is not legal in public in Newport Beach). Dogs are not allowed on the beaches, so you may want to leave your pup at home!
A great location to visit in Newport Beach is the Newport Beach Pier. There is parking however it fills up quickly and very early. It is also a very popular surf spot and it is called Blackies. There is metered parking in this area, however, expect it to be full! In the area near the Newport Beach pier, there is shopping and dining. There are some excellent restaurants including Dory Deli, Fly N' Fish, Oceanfront 21 which is an upscale restaurant, and there is even a Taco Bell.
Another fabulous area of the beach to visit is the Balboa Pier. This is located further down the Peninsula in Newport Beach.
When you leave the beach, be sure to pick up all your trash so we can keep our beaches pristine for all to enjoy!! There are plenty of trash receptacles on the beach as well as off the beach! Please do not bring illegal fireworks to Newport Beach, they are not permitted in the city. The local police department will be enforcing the no fireworks in Newport Beach, so please do not bring those to the city.
Swim Near a Lifeguard
it is always recommended to swim next to a lifeguard tower. If you are unsure about the condition of the surf, then be sure to ask the lifeguards. In Newport Beach, there are flags that are flown from each lifeguard towers in Newport Beach to show the condition of the surf. If you are not sure or have questions, be sure to ask a lifeguard about the ocean conditions.
The means of the flags flown from the lifeguard towers in Newport Beach are as follows:
Green Flag – Indicates that there are small waves, however, rip currents may be present. Never swim again a rip current, and you want to swim parallel to the shore until you are safely out of the rip.
Yellow Flag – the yellow flag hung at a lifeguard tower indicates moderate conditions. Larger waves. Rip currents are present.
Red Flag – Hazardous conditions, large waves. Expert ocean swimmers only!
Blackball – No surfboards or skimboards due to crowds. Bodyboards are OK, except at the Wedge.
Celebrate the 4th of July in Spectacular Newport Beach CA
Click To Tweet
Fun July 4th Activities in Newport Beach
The Old Glory Boat Parade
The annual Old Glory Boat Parade is sponsored by the American Legion Yacht Club and the American Legion Post 291 is a fabulous way to celebrate the 4th of July and enjoy a treasured tradition. The boat parade will be held on July 4, 2021, at 1 pm in beautiful Newport Harbor. Enjoy seeing all the boats decorated with patriotism in red, white, and blue! The theme this year is Let Freedom Ring! Enjoy the renowned Newport bay and the miles of gorgeous waterfront estates pristine Newport beach coastline.
The Old Glory Boat parade is a free event, and a great way to view it is on a Duffy boat to enjoy the event. The route begins at the tip of Lido Isle and runs along the Peninsula, around Bay Island to the end of the Harbor, around Balboa Island and Collins Island, and finishes back at the end o Lido Island. The parade route is below!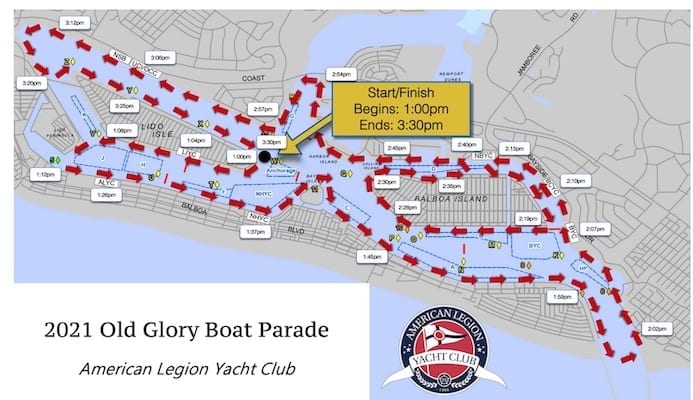 Newport Shores in Newport Beach 4th of July Events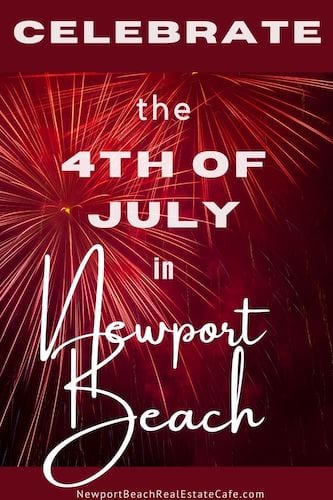 Newport Shores has its own festivities for the residents of Newport Shores. There is a community clubhouse to enjoy all the activities in Newport Shores in Newport Beach. Celebrate the 4th of July with Newport Shores.
9:45 AM – Come on down to the clubhouse in Newport Shores in Newport Beach for donuts and coffee!
10:15 AM – Newport Shores Community Parade, feel free to participate or to spectate from your home!
11:00 AM – 1:00 PM – Carnival Games, Live Entertainment, Food + Fun at the Newport Shores clubhouse!
House Decorating Contest!
Games, Music, Food + More!
This year in Newport Shores will be a LITE 4th of July event. There will not be a bounce house as there has in previous years! We will ensure a great time, while still keeping everyone safe!
4th of July Flyover in Newport Beach
Be sure to look to the skies between 5:35 and 5:40 pm as the Condor Squadron Officer's and Airmen's Association, (a non-profit organization founded by a group of WWII fighter pilots), will fly AT-6's over Huntington Beach, Newport Beach, Laguna Beach, Dana Point, and San Clemente on July 4. The flyover is a fabulous way to celebrate our country and celebrate the 4th of July. The flyover will begin at Huntington Beach and proceed south to Newport and Laguna Beach.
Fireworks Extravaganza at Newport Dunes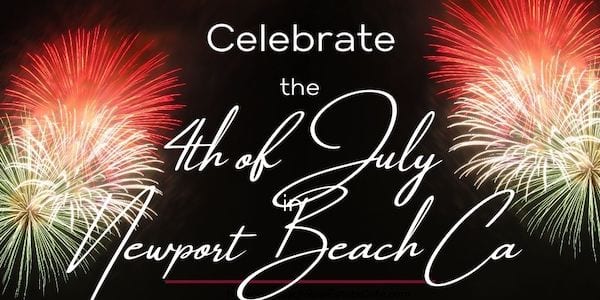 The City of Newport Beach will be is co-sponsoring a fabulous Fireworks Extravaganza with the Newport Dunes Waterfront Resort. Newport Dunes is located at 1131 Back Bay Drive in Newport Beach and the evening fireworks show will begin promptly at 9 p.m. on Sunday, July 4. Note: If you are a resident of Newport Beach, you can walk into the fireworks extravaganza, you just need to show ID. Newport Dunes is a very popular fireworks display and a great way to celebrate the 4th of July.
Mariners Park July 4th Parade
The 48th Annual Mariner's Park 4th of July celebration begins with a bicycle parade on Mariners Drive which will begin at 10:30 AM. At 11:00 AM enjoy the 4th of July celebration. There is no better way to celebrate on the 4th of July than with your neighbors and members of the local business community.
Be sure to visit Mariners Park and enjoy the festivities which include games for children, food, and entertainment. It is an excellent way to celebrate the 4th of July. The proceeds from the event will benefit Mariners Elementary School.
Celebrate the 4th of July in Spectacular Newport Beach CA
Click To Tweet
Huntington Beach
Surf City has a 4th of July parade! 117 years later, the annual tradition annually attracts more than 500,000 attendees to this fabulous parade. The route of the parade includes Main Street in Huntington Beach. There is a pier plaza festival on the Huntington Beach pier. You may want to start your day at one of the local restaurants such as the Sugar Shack and enjoy a pancake breakfast. If you attending the parade, you need to arrive early to secure a front row seat to the Huntington Beach 4th of July parade. You may find food trucks in the area as well. Many residents from the Huntington Beach neighborhoods will come down to Main Street to watch the parade!
Enjoy a huge fireworks display over the Huntington Beach Pier which begins at 9 pm also. Many residents of West Newport Beach should be able to view this by walking out on the beach! Or if you reside in Newport Crest, you may be able to view the fireworks from that location. Huntington Beach also has an amazing Fourth of July parade and the theme for 2021 is "Surf City Dreamin'". You may experience some street closures as a result of the parade. Enjoy live music and live performances along the parade route. Huntington Beach goes all out to celebrate the 4th of July.
Seal Beach July 4th Fireworks Display
There will be a fireworks display at the Los Alamitos Joint Forces Training Base, 11200 Lexington Drive, Los Alamitos, CA
The cities of Seal Beach and Los Alamitos will be hosting a Drive-Up 4th of July Fireworks Spectacular held at the Los Alamitos Joint Forces Training Base and the fireworks will begin approximately at 9:00 p.m.
Fireworks are ILLEGAL in Newport Beach
Fireworks of all types are illegal in Newport Beach. To report the illegal use of fireworks, call the Police Department's non-emergency line (949-644-3717) only if you know the exact location. Please do not bring them!!!
Final Thoughts
There are many different options for Independence Day events, and the most important thing is to enjoy and be safe. You will have the option to see some of the best Southern California fireworks display at Newport Dunes or over the Huntington Beach pier. From 1776 to the present day, July 4th has been celebrated as the birth of American independence, and there are festivities ranging from fireworks displays, parades, live entertainment, and much more. Wish you all a very Happy 4th of July!
About the Author
The article "What Is a Tiny House? Celebrate the 4th of July in Spectacular Newport Beach CA" was written by Sharon Paxson, one of the best Newport Beach Real Estate agents. With experience since 2005, representing buyers, sellers, and landlords, we welcome the opportunity to share our expertise with you and guide you through your real estate transaction.